Happy 4th of July!!!
I am falling more "in love" with my
Julep Maven subscription
every month! I really adore this months box!!!
In honor of the 4th of July, Julep sent out a spectacular patriotic-themed July
Julep Maven box
!!! Not only was the packaging cute and festive (as usual), but also Julep sent out
an additional limited-edition bonus polish
"America the Beautiful"!!! This patriotic polish is perfect for my 4th of July manicure with its red shade and silver and blue stars and glitter! What a nice addition to the box! Julep totally spoiled me this month with a fabulous box!!!
Subscribing to Julep Maven: The Monthly Nail-Lovers Beauty Box!!!
Without going into too much detail, lets talk the basics of the Julep Maven program:
For $20.00 per month, you get a beautifully packaged Julep Maven box! Yes, this is more than many $10/month subscriptions. But, remember, you are getting *full sized* products with Julep!
Typically the box is 2 full sized nail polishes plus one full sized product.
Unlike other Beauty Box subscriptions, the products included in the Julep Maven boxes are all full sized products.
The Julep Maven boxes have a "nail" theme and contain Julep nail polishes and Julep spa products. If you have never tried the Julep brand before, the polishes are fabulous and the spa products are very nice too! Actually, I can honestly say that I love everything that I have ever gotten in my Julep Maven boxes!
You get to pick your box! Julep per-selects a box for you based on your beauty profile. Every month Julep emails you with photos of your selection. If you do not like or want what is selected for you, you can choose another theme box.
There is no obligation to get a box each month! If you do not feel like forking out the $20 on a particular month or if you do not wish to get a box, you can always opt to "skip the month". Plenty of options!
So, you guys already know that I love this month's box...but, lets peek together and see what is inside!
my Boho Glam box: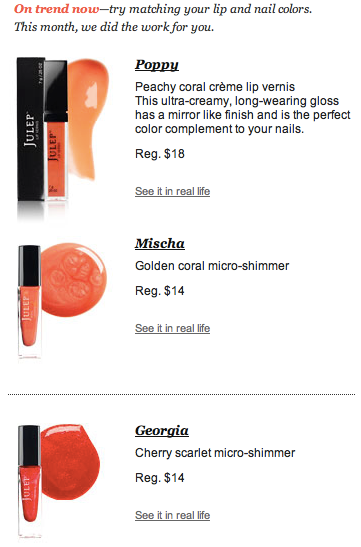 In addition, they also previewed the special July 4th Polish: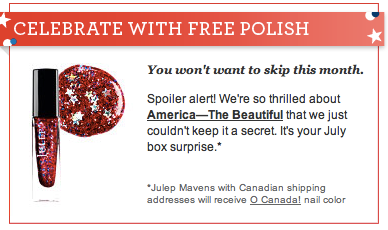 So, ya'll can see why I was so super-duper excited about the arrival of this box! I already knew that there would be fabulous items inside. I mean, OMG, 3 *full sized* (and cute!) nail polishes plus one full-sized lipgloss? Swoon! Not to mention, what a great deal for $20.00!
The Box Itself:
Super duper cute!!! The products are wrapped in white tissue with silver stars and tied with a red ribbon. The packaging paper is shredded red, white, and blue paper, They even included 3 "atomic fire ball" candies. The overall effect is very festive and cutesy.
The Products:
OMG! What a perfect assortment! Yes, you do get to choose your box with Julep. But, I remember this month I had the hardest time choosing as I really wanted ALL of the boxes, lol! ;) I did end up going with my automatically generated "Boho Glam" box (which is the box that is based on my Julep profile). What swayed me to choose this box? The peachy coral lippie in "Poppy". I am obsessed with the color of the year, so I couldn't resist a peachy-coral-orange lipgloss.
Poppy Lipgloss: (see description in graphic above): Love this pretty peachy coral gloss! This is my first time trying a Julep lipgloss! Honestly, I wasn't even aware that Julep made lipgloss. So, I am thrilled! This full sized gloss is packaged nicely with a clear tube (that lets the shade show through) and a brush-style wand. The product itself carries a sweet vanilla-based scent. The gloss is somewhat thick (but not overly sticky). I am going to love wearing this! Thanks Julep for including this gloss! I would love to see more glosses in future Maven boxes!!!
Polish in Mischa: Such a pretty and summery coral! I love the tip included in this month's card: Polish nails with Mischa and use the other shade, Georgia, on the tips! I am totally going to do this!!!
Polish in Georgia: Ya'll know that I love this shade just based on its name alone! As an Atlanta, GA native, I am a Georgia-girl down to my core!!! This is a pretty red with silver sparkle.
This month's "extra": Polish in America the Beautiful: OMG, LOVE this pretty and festive polish!!! I am nuts for holidays. Seriously, I almost always have "theme" based manicures and outfits. So, this is just perfect for my 4th of July "look"! This polish is a heavy red glitter with larger glitter dots in silver and blue.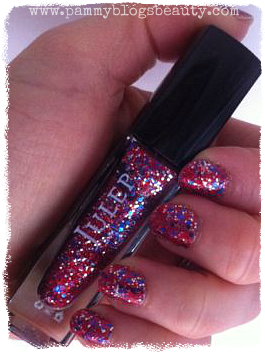 The Value:
I think the value is pretty clear with the Julep Maven boxes. This month's box contained 4 full sized products! If purchases separately, the items in this box would retail to $60.00! So, I got $60.00 worth of products for $20.00. It is a no-brainier for me to continue with this subscription! I love the boxes and use the nail color and products all the time (from all of my previous boxes).
What a great July box from Julep! I continue to love my
Julep Maven subscription
and highly recommend it!!! I think it is the perfect beauty box for nail polish lovers! Curious about what I got last month? Check out that post here:
Julep Maven June 2012.
Any fun 4th of July plans? We are heading over to a friend's house for a Pool Party and to view the parade. It is the first 4th of July for my baby girl Skylar. So, this 4th of July is extra special for us! Hope ya'll have a Happy 4th!
I pay for my Julep Maven Subscription.
Post contains referral links.