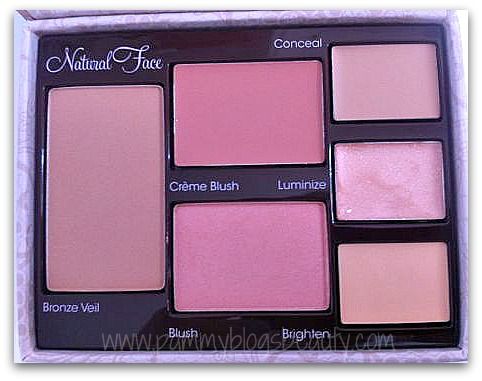 Wouldn't it be nice to have all of your essential face products in one place? Well, that is what you will get with
Too Faced's Natural Radiance Face Palette
!
This palette has everything you need: Blush, Creme Blush, Bronzer, Concealer, Brightener, and Luminizer. How convenient to have this all in one place! I have never had a face palette before and am having a lot of fun playing around with this adorable kit!
Too Faced is one of my favorite brands! I have yet to meet a Too Faced product that I did not like. How did this face palette work for me? Keep reading for more swatches, photos, and my impressions!
Too Faced Natural Radiance Face Palette:
It is so fun to experiment with a face palette! Sure I have plenty of eye palettes; but, a face palette is a novel thing for me! I am liking this palette so much that I want to investigate more face palettes in the future.

Shade Selection:
The shades are all in the neutral range to appeal to a variety of complexions. I have very fair skin and these colors work quite well for me. The concealer is just a tad too dark (but is workable). I think this palette is likely best suited for those with fair-medium skin tones. If you are any darker, the concealer will likely be too light and the bronzer might not show up well.

Do you know what would be great? If Too Faced came out with a few versions of this palette geared towards certain skin tones! You know, a light, medium, and dark version? One can only hope!!!

Packaging:
The packaging is your standard Too Faced palette design. It is a cute and chunky cardboard palette. The design is cute, the products are well labeled, and it comes with face "look" how-to cards. I normally don't use these cards. But, I feel that for contouring, I always need a little extra help. So, I find the cards to be useful!

While the palette is super cute, I would love to see a slimmer design for this palette as a full face palette has great travel implications. I will still use this for travel as I find it to be so convenient (but just wish it was slightly slimmer).

Only time will tell if the cream products start to dry out. I always wonder about cream products that are packaged with powder products without a tight seal. So far, they don't seem to pick up the powder from "living' in the same package.
The Face "Colors":
(source)
Face "Colors": Blushes, Bronzer, and Luminizer:
What a nice assortment for face color! The shades are all quite natural and wearable. Nothing too bold here. Just the "basics" for a natural and pretty look.
Bronze Veil: A nice medium toned bronzer with some very subtle shimmer (Shimmer is not really noticeable when it is on). I love that this is a bronzer that wears neutral on me and not orange. Love it! It is subtle, but nice!
Creme Blush: This creme blush is a nude/neutral shade. I am excited about this color as I really have no other duplicates in my makeup collection. I tend to go for bright blushes. So, a neutral blush is a nice switch for me. It works nicely its own or layered with the powder blush for a *super-duper* long lasting blush look. The product is quite creamy and smooth. It blends well. I apply using my fingertips.
Blush: This blush is the perfect peachy-pink shade (the swatch above looks more peach, but it really is a pink/peach). It has some subtle shimmer and it looks somewhat luminous on. So pretty! This blush was one of the main reasons that I purchased the palette. I can see how this shade would be flattering on many skin tones.
Luminizer: This luminizer is a shimmery champagne-pinky sparkling cream. The shimmer/sparkle is noticeable in this product when it is worn on the skin. I like to use just a touch of this on the tops of my cheekbones. The pan size is small on this one. But, that is fine as you just need the smallest touch of product!
The Face "Basics":
(source)
The Basics: Brightener and Concealer:
Last, but not least, the Brightener and Concealer!
Concealer: The concealer is creamy without feeling overly dry. It covers well and blends fairly well too. It is a wee-bit chalky. But, it should work with careful blending and without applying too heavily. Unfortunately, this shade is too dark for my skin tone. So, I really haven't played around with this concealer that much. Darn! I guess 5/6 products working for me in this palette is good enough. I am VERY fair skinned. If you have light-medium skin, this concealer will likely work for you.
Brightener: I like to use the brightener underneath my regular concealer in the inner corners of my eyes. It seems to cover/correct my very dark areas and gives my concealer's coverage some extra "punch".
The Skinny:
Retails for $39. That is pricey. But, look at how many products are in this kit! I think it is totally worth the price!!!
Available at Sephora, Sephora.com, and toofaced.com.
I really adore this palette! I think it is a must-have for fair-skinned girls who are looking to create a natural look with ease. Almost all the products in this palette worked well for me. If the concealer was just a tad lighter, every single product would be just perfect!