Confession: I have strayed from my typical brown eyeliner...Yes, I have found a way to bring a little more color and sparkle to my everyday neutral eyeliner look: Pixi's PixiGlow "Straight On Till Morning" Liner from the
PixiGlow Tinkerbell Collection
! If you haven't had a chance, be sure to check out my other reviews of Pixi's delightful
PixiGlow Collection
:
Pixi Fairy Face Palette
and the Pixi Piroutte Pink Nail Colour.
I am already a huge fan of the
Pixi Endless Silky Eye Pens
(be sure to check out my review!). They are silky soft and glide on almost like a liquid. But, they are in a user-friendly pencil form. They glide on easy, pack major pigment, and last all day. What else could one possibly want in an eyeliner?
This
PixiGlow "Straight On Till Morning"
is a great addition to my eyeliner collection. A "neutrals girl" at heart, my brown liners get the most use out of my collection. This beautiful sparkly olive-jade green glimmer liner is a great way to shake up my neutrals! It wears like a neutral but has just enough color to perk up my whole look. It is just so darn wearable...and it doesn't scream "I'm wearing colored liner".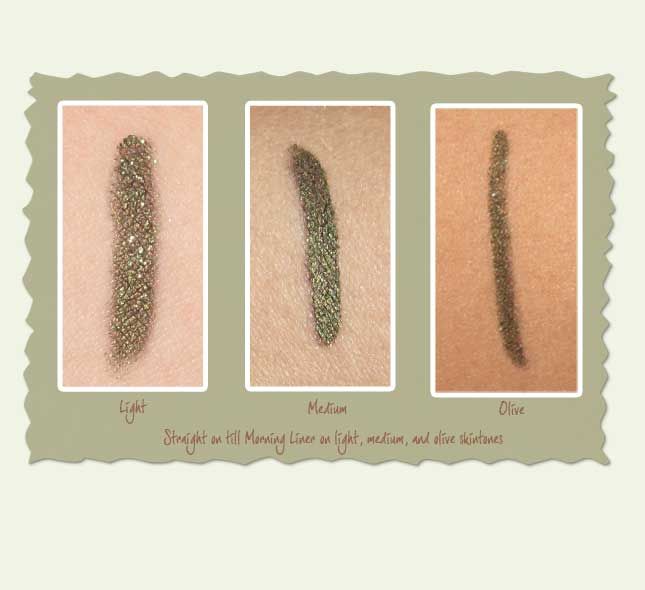 The Skinny:
Part of the Spring 2012 PixiGlow Tinkerbell line available at Target.
Retails for $15.00.
Gel formula is waterproof and long-lasting.
Tip: Put pencil in the fridge before sharpening. It has a super soft tip.
I just adore this color! I have been reaching for it continuously. It is destined to be my new favorite! It is a great way to add just a bit of subtle color to your look without looking over-done or obvious. Fellow brown and neutrals lovers: this is a great way to do color!
Sneak a peek at the whole collection:
Have you tried any of the PixiGlow liners? Also, any other fans of pencil/gel liners? They are quickly becoming my favorite form of eyeliner. So easy to apply!