Hello Beauties! It's time for another "box opening" post! If ya'll read yesterday's Julep Maven Intro Box post, you know that I am a new subscriber to
Julep's monthly Maven beauty box program
.

I am no stranger to monthly beauty subscriptions! I am a beauty-subscription junkie of sorts. But, Julep is the only one (that I know of) that offers all full-sized products in their monthly box. Yes, you pay a bit more for the Julep Maven subscription at $19.99 monthly; but, what a great value in each box! Their polishes retail for $14.00. So, the value is clear! You get over $40 value of products in each box. Plus, if you want to place an order on their site, you get an automatic 20% off plus free shipping.What else is great? Your polishes are all on-trend and selected for you based on your style-profile. If you don't like what is offered for your particular style that month, you can switch your box! This way you are guaranteed to get something that you will not only use, but also like and get excited about!
So, I subscribed last month, and got my first intro box. Then, not even a week later, I got the next monthly box. I was a bit surprised that I got it so quickly. Actually, I even emailed Julep to make sure that I wasn't getting a duplicate box in error. Just so you know, the intro box is not your first "Monthly Maven Box". You will pay for the monthly box in *addition* to the intro box. The good news is that the intro box was only 1 cent! Customer service replied quickly and assured me that I would be getting a different box and that boxes are billed at the 27th of each month for the following month. You can make changes to your account between the 20th-24th of each month. You can choose a different box or choose "skip a month". I do like that Julep offers a few options here. I mean, there might just be a month where you don't want to fork out the $20. Or, you might already have polishes that are similar to your box so you can choose a different box (or opt out completely). For next month, I am going to plan ahead and get on the Julep site during their 20th-24th window to make sure that I select the box that I would like! :)
Okay, enough about all that...lets see what is in this month's box for the
"Boho Glam" style
! My style profile quiz revealed that I am "Classic" with a twist, but since I opted for the Boho Glam intro box, the Boho Glam Monthly box was automatically sent. What is Boho Glam? When I think Boho Glam, I automatically envision Nicole Ritchie.
Am I happy with this subscription service? Will I continue to subscribe?
Since I was getting 2 Julep boxes back-to-back (my Intro box and my first Maven box), this second box was not as highly anticipated. Would I just be getting more of the same thing?
Well, let me tell you, I just adore this month's Boho Glam box!!! It far exceeded my expectations. Really! I love all the items in the box and can't wait to get to using everything. There is no question that this box values for more than the $19.99 price.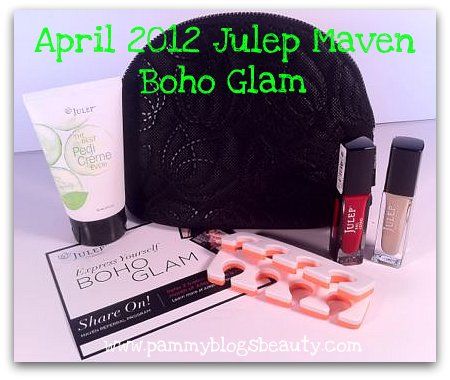 Let's dig-in shall we...What is inside the box?
This month's box is so cute! It was packed with green shredded paper (reminiscent of Easter Basket grass) and little chocolate eggs. Awhh!!! Its just those little touches that make these type of monthly box subscriptions totally worth it for me. That whole "opening a present" aspect! Granted, the chocolate eggs melted a bit in this Georgia heat. But, still, the gesture was appreciated. Things like this just make getting and opening these boxes *fun*!
The
Julep Maven Boxes
come with a Description Card which tells about the items in your box. The theme is "
Express Yourself
".
So what did the
"Boho Glam" Maven Girlfriends
get this month?
The Best Pedi Creme Ever (2 fl oz): Julep, did you read my mind? I literally just finished my Ahava foot cream a few days ago and was desperately in need of a replacement. This foot cream has a lovely cucumber mint scent. My feet are in rough (literal) shape. It is already sandal season in Georgia and my feet need some TLC! I am so excited to try this. It looks promising as it has both heavy moisturizers like Shea Butter and Coconut oil *plus* AHAs! This is a great combo in a foot cream. I have some serious callouses and dryness. I will certainly put this product to the test (ya'll let me know if you would like a full review of this foot cream!).
Exfoliates with alpha hydroxy acids, hydrates with shea butter and coconut oil, nourishes with
vitamin E. Apply nightly for noticeable results in just one to two uses.
Julep Nail Polish in Alyson (.27 fl oz): Almond creme featured on all the runways for spring. This is a unique color. It is a creamy beige/greige color. It is the type of color that I do not purchase often as it is not "exciting nor bright". But, it is a great color to have in your collection nonetheless! I think that beige nails can look so classic! I really can't wait to try this color.
Julep Nail Polish in Molly (.27 fl oz): Classic cherry red creme. This is a very deep true red. You really can't go wrong with a true red polish! While I don't normally think "spring" with red polish, I can't resist loving this pretty red!
Makeup Bag: I just love this black zippered makeup bag! Yes, I already have a zillion makeup bags. But, this one is way nicer than the average GWP type bag. It features quilting with the Julep logo flower and a silver zipper with a Julep logo flower zipper-pull. The quality is very nice and I like the medium size. All my latest travel bags are black and I think I will use this for travel. The inside features little attached elastic pockets that help your products stand upright (just the right size for 3 Julep polishes plus something else. Also, I love the cute shape. I am really glad that Julep included this great bag!
Extra: Toe Spacers: With as much as I paint my toe nails, I can't believe that I actually don't own toe spacers. Well, not until now! Julep always includes an "extra" in the Maven boxes...and toe spacers were the little extra treat for this month. Perfect! I will certainly use these!
Funny, I think the shades selected for Boho Glam this month are actually more classic in style! You don't get more classic than red and beige. :) But, I do think the mix of these two shades worn together (either alternating nails) or beige on tips and red on toes can be very modern (and even Boho depending on your outfit!).
I really like the polish shades and think that they are wonderful additions to my polish collection. With all the shades I already have, I honestly did not have anything else exactly like these! Sweet! I am also totally loving the beautiful makeup bag. I am very impressed with the quality and think it is a great size. There is no question that the pedicure cream and the toe spacers will be put to very good use as well.
Thanks
Julep
for a great April Maven Box! I am a happy subscriber. :)
Note: While I am not an affiliate,
I can earn points towards a discount
box with referrals using my link in