Wow! Ya'll, this nail polish is just straight-up beautiful! I am talking about
Layla's Hologram Effect Polish
. Ever since trying the
Magneffect Polish
, I have been a huge Layla fan. I have been eagerly anticipating the arrival of these hologram polishes and I am so happy that they did not disappoint!
The sparkle is just insanely pretty in these hologram polishes. You get just that...a beautiful hologram effect. It is like a rainbow of sparkle is emerging out of the middle part of your nail where the light hits it and bends with the curve of your nail. My photos can not even come close to capturing the beauty of this polish.
For this review, I tested out
Layla's new Hologram Effect Nail Polishes
in
#02 Coral Glam
and
#07 Ocean Rush
. If you love shimmer, sparkle, and special effects polishes, then you for sure need to check these hologram polishes out!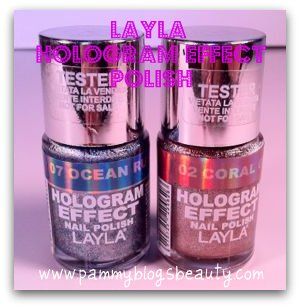 What is the Holographic Effect?
Unlike traditional polishes and glitter polishes, the holographic effect comes about as the hologram particles in the polish catch the light. It gives a rainbow like stripe in the middle of the nail and follows the curve of the nail and the hit of the lighting. When not refracting the holographic effect, the overall look of the polish is metallic. It even applies like a liquid metal. So, the effect totally depends on the lighting and how the light hits your nails.
The colors are so right for Spring and so pretty! The holographic effect really is amazing! There is no question that these are totally unlike traditional polishes.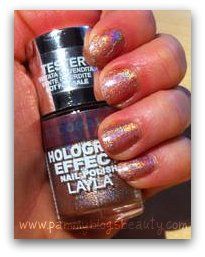 #02 Coral Glam
is a pretty Champagne/beige hologram. It wears surprisingly neutral! I am totally loving this sophisticated color! The hologram effect with this shade is absolutely amazing. I mean, really, I can't stop looking at it!
#07 Ocean Rush
is a gorgeous medium teal-ish blue. This one is certainly more trendy and perfect for summer! The hologram effect seems less noticeable in this one (when compared to Coral Glam).
This Polish is "different"
:
The feel of this polish is almost "gritty"...like it is just a suspension of these metallic-like hologram particles.
Application:
For best results use with the
Layla buffer file
to create a "base" for the hologram polish. Unlike applying regular polish with color that spreads, it feels like you are laying down a layer of metallic pigment. The particles have a bit of drag and slip. When you don't apply over a buffed base, the hologram polish is prone to patchy spots (note: I do not own the Layla buffer file yet. So, I applied over my typical base coat). Typically, I apply 2 coats. I need to let the polish dry a bit in-between coats for better application. Otherwise, your second coat might actually remove a bit of the first coat (and leave those patchy spots that I mentioned). I am not sure if the buffer file eliminates this issue. But, I am thinking it does and I am sure it applies better over the intended buffered base. Either way, I plan on getting a buffer file soon! But, with that said, I am still able to get good results over without it. Although application can be tricky without using a buffer file.
Top Coat?
You do want a top coat with these hologram polishes. This will help increase the wear. The polish can last up to 5 days.
I get about 2 days of wear with this polish before chipping. That is just below average for me. What can I say? I am extremely hard on my nails and they are very prone to chips. So, I am generally pleased with the wear as that is about as good as it gets for me. Also, I did not apply over the Buffed base as recommended as I do not have the Layla buffer. I am assuming it will wear longer over this.
The Skinny:
Retails for $15.50
8 shades
Available at Ulta.com
For best results, apply over buffed base (with buffer file $2.75 at Ulta.com) and top with a top coat.
What do ya'll think? Are you into hologram polishes? What shades from this collection are you interested in? I, for one, think that I have found my new day-to-day fave with Layla's Coral Glam!