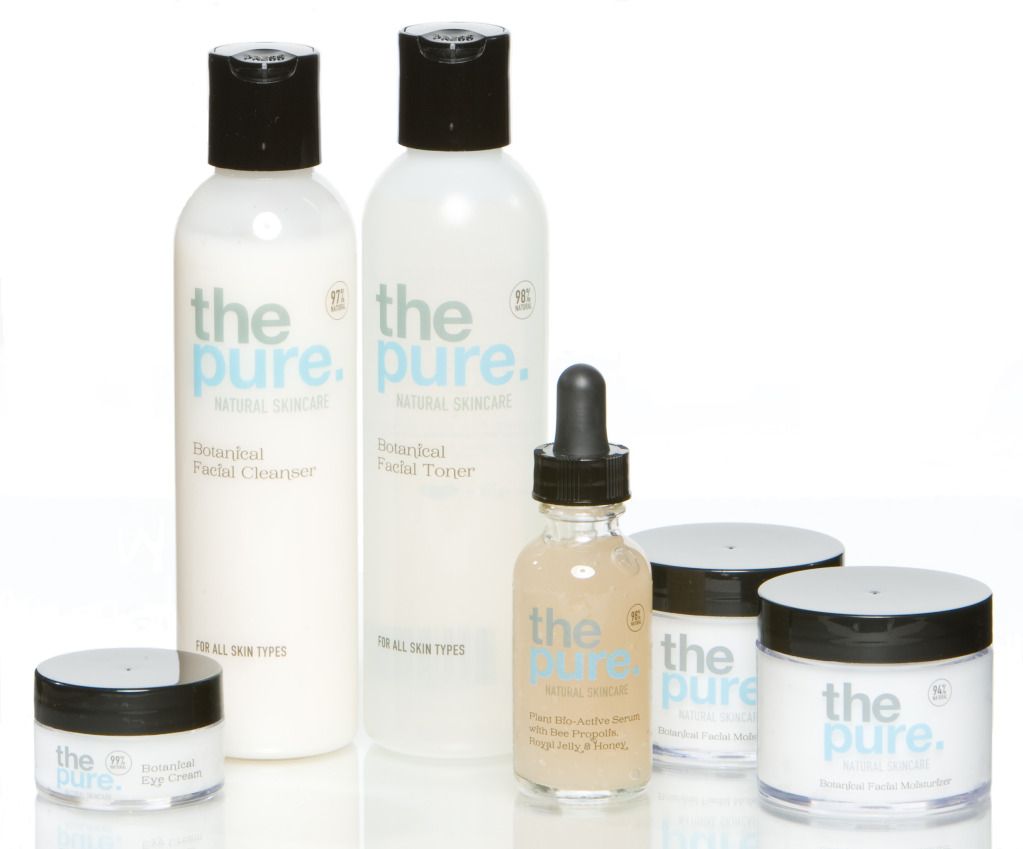 Those of you who follow my skincare reviews know, I like my "basics" (cleanser, toner, and moisturizer) to be simple: gentle and fragrance-free skincare products that are effective without irritation. Scent often irritates my skin. So, my ideal products have no scent. Do I like scented products? Sure I do; but, who knows if my skin will tolerate the added scent.
So, with that said, you can see why these products from
the pure
appeal to me. The name and simple/clean packaging style say it all: Pure and simple natural skincare products.
I tested out
the pure
's
Botanical Facial Cleanser
and the
Botanical Facial Toner
from
Green People
. Since I am a nursing mother, I am avoiding and/or limiting many common product ingredients that may pass through my breastmilk. Also, with breastfeeding in mind, I am always thrilled to try products that are natural.
the pure: The Line at-a-glance:
All products in the line are between 97-99% Natural.
the pure has 3 skincare lines: Botanical (what I tested), Vitamin C Skincare, and Advanced Skincare.
Moderately priced: The Botanical Facial Cleanser costs $18 for 6 fl oz and the Botanical Facial Toner costs $20 for 6 fl oz.
Available online at Green People.
Packaging: Simple and basic with a clean esthetic. Plastic squeeze bottles with flip top lids.

the pure's Botanical Facial Cleanser
:
This is a super-mild creamy cleanser. The product has a lotion-like feel and is non-scented. The pure states that this cleanser is for all skin types including sensitive skin (me!!!). This cleanser contains ingredients such as: Chamomile Flower Extract, Aloe Vera Extract, Cucumber Extract, and Green Tea Extract.
How I use
(and results):
I used this product twice daily in the am and pm. After removing eye makeup, I just wet my face with tepid water and then apply a dime sized amount of product with my fingertips. Then I rinse. I follow this step with toner and a gentle moisturizer and/or treatment product.
This cleanser feels gentle going on. It feels lotion-y and slick on the skin. It rinses pretty well...but, like most lotion-type cleansers, it leaves a slight residue on your skin. Some people might like this residue as it leaves and extra layer of moisture. But, I prefer a cleanser that rinses completely clean. It is just a matter of preferance. Either way, my skin feels and looks clean and not tight nor irritated.

the pure's Botanical Facial Toner:
This is a gentle toner that pairs beautifully with the Botanical Facial Cleanser. It deep cleans your skin and leaves it lightly moisturized. I like using it after the Botanical Cleanser to get my skin feeling even more fresh and clean. It
takes away pore clogging impurities and excess oil.
This toner is extremely gentle and soothing. It does not sting my skin as many toners do. My only critique is that I wish that it came in a spray type bottle. But, that is just me. I like toners in spray bottles. This toner contains: Tamarind Seed Extract, Chamomile Flower Extract, Cucumber Extract, Green Tea Leaf Extract, Aloe Vera Extract, Wheat Protein, and Marine Minerals.
How I use
(and results):
I use this right after cleansing my skin. I apply by decanting the product 2x onto a cotton pad or cotton ball and swiping across the skin. I follow this up with moisturizing.
All-in-all, this
the pure
hosts a great line of basics! If you need gentle basics for your cleansers, toners, and moisturizers because you have sensitive skin or because you use strong treatment products, then this is a line that you should scope out! I know I am curious to explore this line further...especially the eye creams and serums.