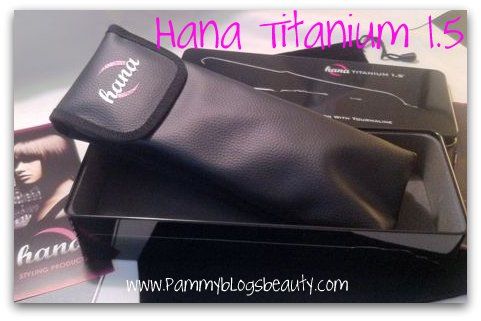 As the weather gets hotter and more humid, my hair gets "bigger" and more frizzy. In times like these, I need a good flat iron to rescue my bad hair days and to smooth out the frizz. Yes, I have straight hair, but even straight hair need some smoothing sometimes!
I don't heat style my hair every day. I try to limit heat exposure to my hair. But, when I do need to heat style (lets face it...nothing works better than heat for styling!), I make sure to heat style with high quality appliances and to do so using heat protectants on my hair.
This flat iron by Hana is a great option! I tested out the Hana Titanium 1.5 " Professional Ceramic Iron with Tourmaline. To find out more, keep reading after the jump break...
My Hair Background:
My hair is super long fairly straight and highlighted. While it is straight, it can get "puffy" or a bit frizzy on the top layer. Usually combing it out well when it is wet is all I need to do to make it straight. But, it is prone to frizz. I remember being surprised many years ago when my hair stylist used a flat iron on me for the first time. I was like, "Isn't my hair straight already?". But, soon, I saw that the use of a flat iron on straight hair produces silky smooth and shiny hair. Wow! I was immediately hooked. Plus, it only took a few minutes.
Hana Professional Titanium Flat Iron 1.5"
This Hana Professional Titanium Flat Iron is from
Misikko
. It is their top-of-the-line premium flat iron. I did get a bit of "sticker-sock" when I saw the price on this flat iron: $174.99. Yes, it is very expensive. But, you are getting a high-quality and nicely packaged professional tool.
The Packaging:
The iron comes in a black metal tin that holds an inner heat proof Velcro pleather storage bag. The bag is nice as the iron slides in one compartment and the cord in the other. It is such a simple thing. But, keeping the iron and cord well protected and in good condition will make your iron last longer. My iron also came with a heat mat which is nice for when you are heating it up and laying it down on the counter during use.
So, what are the features? (adapted from site):
Titanium plates
Tourmaline infused heating
Ceramic heaters
Heats in 3 seconds
Smooth mirror-finish surface (this is so different from my previous flat iron!)
Large 1.5" plates (works great for long hair)
Adjustable temperature control (5 settings from 140-450)
Curved edges
Swivel cord with hanging loop
includes heat proof silicone mat, storage tin, and heat proof storage pouch.
Two Year Warranty
There are a few differences between this Hana iron and the iron I had been previously using (which was not "professional" caliber). The plates on the Hana are much larger. I find that I really do prefer a larger plate for my long hair. Also, the super smooth mirror surface of the plates makes your hair glide through so quickly. It feels like the contact of the plate to the hair is minimized as the slick surface provides so much "slip". Also, this iron heats up super-duper fast! Seriously, it is just 6 seconds! It gets very, very hot. But, the heat is adjustable. So, I turn it way down since I just the iron just for smoothing my already straight hair. This iron really feels just like the high-quality ones that they use in the upscale salon that I go to. It always impressed me how fast the irons heat up in the salon (and now I have one at home that heats up just as fast!).
My Experience with this Iron:
I love how fast this heats up. I can get super straight shiny and frizz-free hair in just a few minutes. I just run the iron over the top layer and sides of my hair. I think the larger plates are ideal for my long hair. The silky smooth plates allow my hair to glide through very quickly. Since my hair is already straight, I adjust the dial to the lowest setting. Since this is a heat tool (and heat tools can always be damaging), I spray a hair protectant through my hair before using the iron. Lately I have been using Got2b's Guardian Angel Protectant.
I know that not everyone will want to pay this much for a flat iron. But, if you are looking for a professional quality iron. This one is a great option.
Thanks for reading!