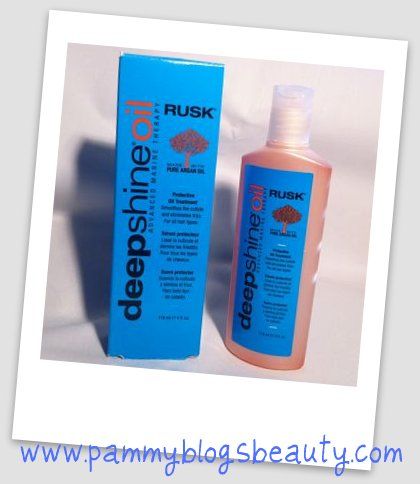 With Argan Oil being all the rage in hair treatments these days, I was so excited to test out
RUSK's version: Deep Shine Oil Protective Oil Treatment
.
My hair has been massively dry lately and in desperate need of some deep moisture! Alas, that is the price I pay for heavy blond highlights and the use of heat styling tools. Typically, I use some sort of "serum" in my hair plus a leave in. But, honestly, with the exception of the long-discontinued former holy grail Redken All Soft Addictive Transformer (why, oh why did Redken discontinue this???), I really do not have a lot of experience with "hair oils". It just "sounds" like they would leave your hair greasy? Right?!?! When I think of a hair oil, I think of those hot oil treatments that I tried in the 80s (yes, I am dating myself here). Well, keep reading, because I thought wrong! That's right, this product nourishes without actually leaving your hair feeling oily. So, just set aside your pre-conceived notions of a hair oil.
RUSK's Deep Shine Oil
line
'
s
Advanced Marine Therapy infuses hair with superior conditioning, renewing the natural integrity of the hair.
So, what exactly does this product do? According to the box,
Deepshine Oil is an alcohol-free argan oil treatment that smoothes the cuticle, elminiates frizz, and improves elasticitiy, leaving hair soft, silky, and manageable. This lightweight formula imparts brilliant shine
...
To me, this product falls somewhere between a serum and an oil. Yes, it feels like an oil, but there is very slight gel-like nature to the consistancy. It is not a greasy oil (if that makes sense). If you rub it on your hand it actually absorbs right into the skin leaving it soft with no oily residue. Well, that is exactly what it does in your hair too. My hair just seems to "drink" it right up. It absorbs quickly and absolutely does not leave your hair feeling greasy. It just feels super soft and my comb and brushes just glide right through it!
How I use it:
You can use this product on wet or dry hair. Actually, I use it both ways.
Wet:
When my hair is wet, I apply a "small amount" (about a blueberry sized amount for my very long hair, I am sure a pea sized amount would do for most people). I put the product in my hands and then rub them together. Then I just work my hands through the lengths of my hair trying to distribute the product evenly yet also focusing on the ends. I then style as usual.
Dry:
When my hair is dry. I add a very small amount (not even a pea size) to my hair ends only. I work it through with my fingers and it absorbs and leaves an extra shine.
Results:
This
Deepshine Argan Oil Treatment by RUSK
leaves my hair detangled, shiny, smooth, and uber-soft (be careful to not use too much or your hair will get "too soft" and not hold your style). I love how this product not only leaves your hair looking shiny and tames frizz (like how a serum would leave your hair), but also conditions it as it shines. I have been using this product for a few weeks and honestly feel like I can "give up" my usual serum! I would rather use this product because it isn't just a shine product! It is a moisturizing treatment too and a serum in one! So, continued use will leave your hair looking shiny from day-to-day and it will moisturize it as well!
The Skinny on
RUSK's Deepshine Protective Oil Treatment
:
Price: about $20.00 for a 4 fl oz bottle
Contains Pure Argan Oil (and Dimethicone: so that gives it a "serum" feel)
Contains a soft and pleasant scent
Have any of you tried RUSK's Deepshine oil or any other Argan Oil products?