Good SPFs, you are wanted! I know that my perfect sunscreen is out there somewhere. I am looking for everyday sunscreens/everyday moisturizers with SPF, sunscreens for the face for "heavy-duty" sun exposure (pool, beach, etc), and body sunscreens. I live in sunny Georgia and I have a love for the outdoors. A great SPF is a *must*!
About my skin: I have very fair skin (Casper the friendly ghost might be darker than me, lol!), I burn easily, and I have a family history of skin cancer. I need my sunscreens to work well! Also, my skin is very sensitive. Protect fragrances and some chemical SPFs irritate my skin. I am looking for an effect yet gentle and non-irritating sunscreen. I don't break out often, but want a product that will not clog my pores. Typically, my skin falls into the normal-dry category. But, I just gave birth a couple months ago and the hormones have made my skin a bit hard to predict!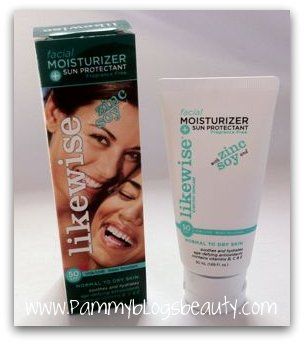 How did I like Likewise's SPF?....
Likewise is a brand that specializes in Sun Protection. They offer a range of sunscreens based on your skin type. These sunscreens are absolutely packed with effective SPFs and antiaging powerhouse ingredients like antioxidants and soy...not to mention the inclusion of Niacinamide (great for anti-aging for calming rosacea, and for inhibiting acne).
Product Specifics (from packaging):
Daily Moisturizer + Sunscreen
Dermatologist Developed
Calms and softens dry, irritated, skin with Niacinamide
Anti-aging antioxidants reverse daily damage and rejuvenate skin
Contains Vitamins B, C, & E and Natural Soy to improve skin tone and texture
Works wonders as a night time moisturizer, too
Non-greasy light coverage (apply 1 pea sized drop)
Delightfully fragrance-free
Water Resistant
Sun Protection: Wow! This daily moisturizer hosts a SPF of 50! Impressive! This would be a contender for a daily sunscreen/moisturizer as well as a SPF for heavy sun exposure days.
My Impressions:
This is a great sunscreen for sensitive skin! I was delighted that the sunscreens included in this daily moisturizer are totally non-irritating. Whoo-hoo! This sunscreen is soothing going on and it moisturizes nicely. Also, the fact that this product is fragrance-free is a big plus in my book.
At first I thought that the finish it left was way too greasy. Then I realized that I was applying way too much product (I tend to slather on sunscreens)! Please note that the box says to apply only a pea sized drop! When I reduced my application to a pea sized, the product applied perfectly with only a slight dewy finish/product residue. Despite the high zinc content, I did not feel that the product left an overly white cast to the skin. But, keep in mind how fair I am, white sunscreen casts are not as noticeable on me.
Product Cost: $44.00 (for a 1.69 fl oz tube): Keep in mind that you only need to apply a pea-sized amount. This tube should last you awhile.
Results:
I am thrilled that I experience no irritation from the SPFs in this product. In fact, I found this moisturizer to be very soothing. I find the SPF of 50 and the high concentration of zinc to be quite impressive!!!
I must note that I experienced a minor breakout around my nose while in the process of testing this sunscreen. But, honestly, I can't attribute my breakout to the use of this product. Since I just recently had a baby, my hormones are a bit haywire. While I usually have normal-dry skin, my skin has been on unexpectedly on the oily side these last few weeks. I wonder if I should switch to Likewise's Normal-Oily Formulation instead? That might work better until my skin calms down a bit.
Because of the high SPF, I plan on using this Likewise moisturizer while at the Pool this summer and for my Beach trip (Cape San Blas, can't wait!).
If you are interested in a high SPF, be sure to check this line out!