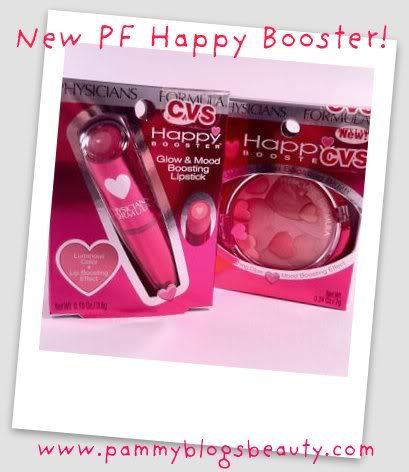 Many of the Happy Booster products that came out last year have become my favorite products or daily staples. Seriously, these blushes, face powders, and bronzers are amongst the "Best of the Drugstore". The Translucent powder is probably my favorite every day "glow" powder (I reach for this more that my Dior Amber Diamond!) and the blushes are totally high quality!
So, with my love of this line, you know that I just had to pick up a couple of the new items to test them out!
The new items in the line include 2 lipsticks, a bronzer/blush duo, and 2 new blushes. This is a nice expansion to an already great collection! Prices range from $9.00-$14.00. Yes, the items are pricey for a drugstore line. But, you girls know to check for those sales and coupons! ;) You can almost always find a BOGO 1/2 off sale!
After much deliberation, I decided upon the
Blush in Warm
and the
Lipstick in
I <3 Rose
. I *almost* got the blush/bronzer. But, I couldn't resist the lippie! The whole idea of this line is universal colors that flatter and make you "happy"...so, this lipstick must be great? Right?
As you can see from the photos, the packaging is just adorable. The blushes and bronzers are packaged in the typical Happy Booster compacts. If you are a lover of things pink and girly, you will love the look of these. Super girly, fun, and cute! The lipstick is in a hot pink metallic tube. The top is clear to reveal the 3-shade heart-shaped layered design of the lipstick.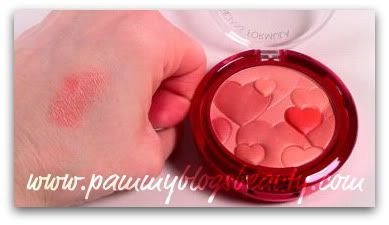 Scent:
This blush carries the lovely floral/lilac scent that all the Happy Booster blushes have. The scent is really very lovely and herbal. Honestly, it smells like a high-end blush! Almost reminiscent of the lovely smell of BeneFit blushes. Just like with my BeneFit blushes, I sniff these Happy Booster blushes each time I open the compact. LOL, you don't have to even tell me...I am a *nut*!
Shade, Finish, and Pigmentation:
In the pan, there are peach, bronze, light pink, and coral hearts. When you swirl them all together and apply, you get a highly pigmented lovely peachy-coral blush with an overall matte finish (with a hint of shimmer).
Impressions:
This is a lovely shade on my super pale skin! It is certainly wearable all-year. But, I am sure I will reach for this even more during the warmer months. It looks very pretty and natural on my skin.
Scent:
Like the blush, this lipstick carries the typical "Happy Booster" floral/herbal/lilac scent. Does that sound like an odd scent for a lipstick? It kinda is. I was surprised that this was scented like the blushes. While I love the scent for the powder products, I am not a huge fan of this scent in a lipstick. But, with that said, I pretty much only like vanilla scents for lip products.
Shade, Finish, Texture, and Pigmentation:
The color is a fairly bright pink with some peachy tones. Wow! I was so surprised! I honestly thought this product was going to apply more sheer. But, this is a bold lip color on me! It is heavily pigmented with a bit of a glossy finish.
Packaging:
While the packaging of the lipstick is super-duper cute, the quality seemed a bit lacking considering it was a $9.00 lipstick. Its cute and all...just not sure how this tube will hold up long term. It just feels very "light".
Impressions:
There is no question that this lipstick is cute. Honestly, packaging-wise, it is probably the cutest darn lipstick that I own. But, I am just not totally sold on the wear. Somehow this lipstick seemed to accentuate any flakiness on my lips and the color was a bit "cakey". While the color is very pretty, the application is tricky. I found that I needed to apply to moisturized and exfoliated lips and then top with gloss to be pleased with the look.
I am so glad that Physican's Formula is continuing to expand their super-duper cute Happy Booster line! There is no question that I am going to have to head back to the drugstore to pick up the bronzer/blush duo! The quality of their
Happy Booster
powder products is just amazing. Cute and wearable. While the lipstick wasn't a total hit for me, it certainly is wearable when my lips are in better condition (I am soooo prone to dryness...especially this time of year).
Have you ladies seen this collection in drugstores near you? What have you picked up and tried?
Thanks for reading!
XOXO!