Hello my dears! I have another review for ya!
Have you seen the
Physician's Formula Cashmere bronzers
? After wanting to try these for quite some time, I ended up finally giving in one day at my local CVS. With the adorable packaging, this product seemed to "jump" right into my shopping basket, lol!
So, I purchased the shade "Light Bronzer". Did it work for me? Keep reading for my review, more photos, and color swatch!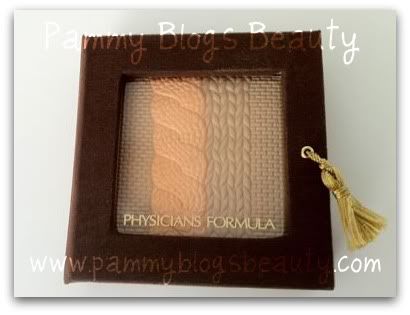 Okay, so let me start off by telling you about what I love:
Flippin adorable packaging! I mean, seriously! Physician's formula is stepping up their game with the super-cute package design. It almost reminds me of BeneFit. The box is "fuzzy" and brown with a little gold tassel. Seriously, how cute is that? I am an admitted *total sucker* for good packaging.
The box features a clear lid which reveals the adorable design of the actual bronzer pan. The bronzer is embossed with a cable-knit design. Hence the name "Cashmere Wear", this product evokes the image of your favorite luxurious cashmere sweater. The bottom also has a clear window which reveals a little brush (I never use those) and a mirror. When you remove the brush you have quick access to a mirror without having to actually open the package (you can see the mirror through the clear window). The box closes magnetically on both the top and the bottom and stays secure.
The powder itself is a very light matte taupesh-brown color. There is one "cable knit" stripe of a goldish-orangish shade.
The cost: As usual with Physician's Formula, the price is a tad high for the drugstore at $14.99, but the deal...I had a $5.00 off coupon. Keep collection your coupons girls!!! It is so worth it to shop with coupons!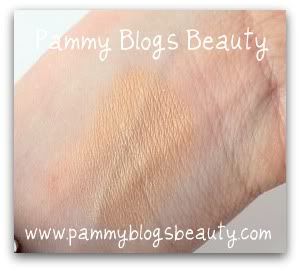 The Verdict?
Well, as much as I hate to say it, this product didn't really work for me. It just wasn't the right color for my skintone. I have a cool skintone. This product is much better suited to those with warmer skintones. While I dislike being negative, I want you to know that you will always get my honest opinion here. I will always tell you why a product doesn't work for me, as it may totally work for you if you have different coloring!
On my super fair, cool toned skin, this product wears yellowish-orange. I mean, it is just honestly a shade that I can't wear and doesn't work for my particular coloring. But, if you are warm toned, this product might just be perfect for you! So, I was bummed. This one is just a fail for me because of my coloring.
But, if this color works for you, then you will get an *adorably packaged* bronzer that would look so pretty sitting on your vanity! You would want to display this cute little bronzer.
Thanks for reading!!!