Hey Dolls! I am here with another review. This one is for the
L'Oreal The One Sweep Sculpting Blush Duo in Poppy.
L'Oreal sure is in to this "One Sweep" concept, right? You may remember my previous One Sweep review for the
L'Oreal One Sweep Eyeshadow
. Well, you know that I just had to try the
One Sweep blush/bronzer duo
as well!
L'Oreal's One Sweep products revolve around the idea of one "tweaked" applicator that can apply various shades in a contouring or dimensional way. So, the key is to do all of this with "one sweep" of the applicator. For all of us used to
blending, blending, blending
(the cardinal rule of good makeup application), it just sounds "too easy"..."too good to be true"? Well, is it? You are just going to have to read the full post to find out! ;)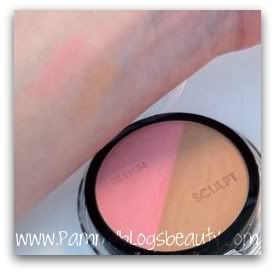 The Product Itself: The Basics
The product pan is a pretty standard sized .30 oz split pan with one side a bronze shade and the other side a blush.
The compact is basic clear plastic. The size of the packaging is nice and not too bulky. The pan flips up to reveal a mirror underneath and the "One Sweep brush". The plastic is a bit scratched up after just a couple months of use. But, that is about what I would expect from this type of packaging.
Retails for approximately $12.99. Yes, I know what you are thinking...this is quite pricey for a drugstore makeup item! Watch for those sales and coupons ladies! I think I paid about 1/2 price for mine.
One Sweep Blush Duo in Poppy:
The blush side is a pretty rose pink matte blush. The bronze side contains a matte light-medium toned bronzer. I do not find either of these shades to be very pigmented. I mean, actually, it is really hard to even get the color on the brush. I feel like I have to "scrub" the brush on the pan to release the pigment. So, what can I say, I am a bit disappointed! I was drawn in by the beautiful shade of the Poppy blush. But, I have such a hard time getting it to show up on my super fair skin. Now, I think L'Oreal may have intentionally made this product less-pigmented so that it would require little blending? Just a guess!
The One Sweep Blush Applicator Brush:
The brush is quite similar to others you will find in drugstore blushes with one key difference: the shape. The middle is dented in in a concave fashion. The idea is that you position this middle part right in-between where your blush and bronzer would go so that the blush can "blush" you and the bronzer can "contour".
Now ladies, honestly, when I think of all the blending I do with my blush and bronzer every day. I really didn't have high hopes that this little brush was going to do the trick in one sweep. But, I was still intrigued enough to purchase this product. I was even thinking "I could apply with the One Sweep Applicator and then blend out the line with a clean blush brush." But, One Sweep it is not. As I mentioned above, the lack of pigmentation requires repeated layering of the product to get the color to show. So, I am averaging about 3-4 Sweeps of the One Sweep applicator brush. So, lol, it is a 4-Sweep brush. :)
So, all-in-all, this product was just not my favorite. Between the high (for a drugstore) cost and the lack of pigmentation, I will not repurchase. I might continue to use occasionally just to see if I can get it to work any better. Because, like I said, the blush is a very pretty color.
Now, if L'Oreal could just work on the pigmentation in the product, I actually think that the brush design/concept could totally work with a more pigmented product!
Have any of ya'll tried this one? I would love to hear if you had any better results!
Thanks for reading!
XOXO to you all!