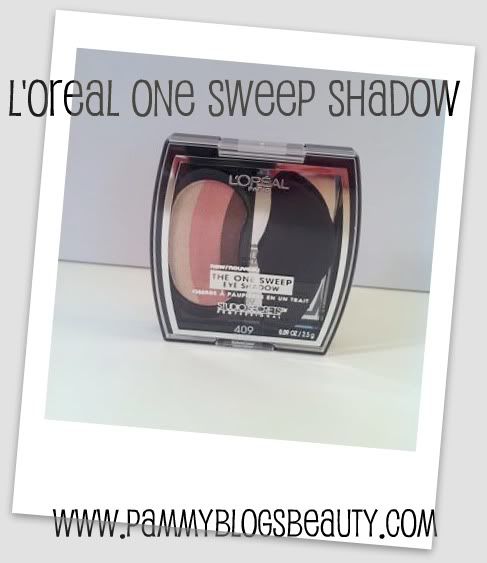 Hello dolls!
Now this is a unique and intriguing concept! The L'Oreal One Sweep Shadows are designed to create a dimensional eye look with lid, crease, and highlight colors applied with only "one sweep" of a specifically designed large applicator sponge.
The L'Oreal Studio Secrets Professional "One Sweep" shadows are 3 shadow shades packed into a one pan palette. They come in shades to compliment your eye color as well as in additional shades for all eye colors. I tested out the set that is designed for blue eyes.
L'Oreal states that the One Sweep shadows can "define, color, and highlight in one easy sweep". So, does it work? Do I like it? If you are curious, please keep reading after the jump!
Lets start off with an overall description of the palette and the basics:
The "One Sweep" Eyeshadow Kit:
The compact contains three shadow shades pressed into a one pan palette. I have the shade blue eyes. These shades truly do compliment both my blue eyes and my coloring. It contains the following shades: a light shimmery champagne color, a light pink lid color, and a dark brown definer shade. Actually, it would be a nice neutral palette for most people regardless of their eye color.
The kit also includes the "One Sweep" Eyeshadow applicator: This is basically an over sized sponge-tip applicator that is curved and tapers down to a tip. It is somewhat "eye shape". But it took me awhile to figure out how it was supposed to fit to the eye lid area. *Tip (from L'Oreal): Align the tip of the applicator with the inside corner of your eye and then sweep across lid (while blending outwards and up).
The packaging is kinda unremarkable. Its your basic drugstore eyeshadow compact. There are no frills here. But, the compact is sturdy and features an nice sized mirror(under where the applicator is stored).
Each "One Sweep" kit retails for approximately $9.00. Yes, it is a bit steep of a price for a drugstore brand and a small pan size. But, keep a lookout for coupons!
The Shadows: How did I like the actual shadows?
I really loved the shade assortment. These are exactly the type of shades that I like to wear. What can I say, I am a neutrals-girl at heart. These pretty shades are very suitable for your day-to-day look for work or for just a casual and subtle look. The colors truly are flattering on blue eyes and with my fair skin tone.
The three shades all have a satin/shimmer or pearl like finish. You will get a nice sheen or shimmer without any sparkle.
Average pigmentation. I would describe the pigmentation as light-medium. When applied with an individual shadow brush, the shadows applied and blended well. The texture is smooth and not powdery. The light shades are rather sheer, especially the pink shade.
As always, I recommend wearing a primer underneath these shadows to bring out their vibrancy and to increase wear time.
You are not going to get a "bold" look with these soft and medium-pigmentation shadows that give a sheer and soft look. The effect is subtle. Actually, subtle shadows are often what I prefer in the mornings when I am in a hurry and don't have a lot of time for blending. So, these are good basic day-to-day shades! I experienced some slight fading of the colors throughout the day.
Please see my swatches below! Both swatches were done on unprimed skin.
Here are the swatches done separately with a few swipes with a q-tip.
Here is the swatch made by using the "One Sweep" applicator.
As you can see, it applies the colors separately.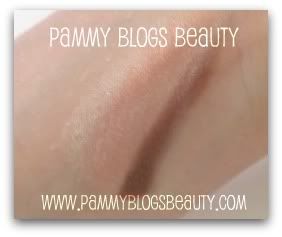 The Applicator:
Okay, I am going to have to admit, I am not a fan of the applicator. Honestly, I did not have "high hopes" of being able to create a dimensional and well blended eye-look with one swipe of an applicator.
Granted, with some practice, you might be able to achieve better results than I did. But, I found the applicator to be a bit "awkward" and hard to adjust to the "right angle". So, maybe I just need to get the hang of it. For me, using a makeup brush is easier.
Generally speaking I *never* use the applicators provided in any makeup kit. So, not using the applicator is nothing new for me. But, the applicator does seem to be the whole "point" of the kit (that and the unique kidney shape of the pan).
The applicator does provide some dimension and variation in color in "one sweep". The issue I have is that it is hard to control the *exact* placement of the color. I like to really working the colors down into the crease and lash area well and I was not able to do that with the "one sweep" sponge.
My own cosmetic brushes are easier for me to use for application. But, if you have limited experience with using brushes, the one tip applicator might not seem as awkward and the "one sweep" idea might seem more appealing.
For Makeup Beginners (or someone who doesn't use brushes to apply shadow):
This kit might be a good starting place for you. If you are a beginner or a woman or girl who usually uses only one shade, this might be a way for you to branch out with variation of your shades beyond one color (if you can get the hang of the applicator).
Final Thoughts:
So, my preferred application method? Most defiantly using my own eye shadow brushes! Do I like this kit? Well, despite not liking the applicator, I really liked the shadows in this set!!! They are very flattering to wear and blend easily. I love using these pretty shadows for "every-day" subtle makeup that is daytime and work appropriate. You are not going to get a punch of color, but a soft and subtle look. Will I continue to use this kit? Absolutely!!! The shades are pretty and flattering. But, I will apply using my own cosmetic brushes.
Have any of ya'll tried this kit? How did you like it?
As always, thanks for reading and stay beautiful!