Hey there readers!
I just love that drugstore brands like Wet n' Wild release special limited edition items around the holidays! So, if you are on a budget and can't splurge on some of the high end limited edition items at the department stores or Sephora, then you can still get your "Holiday Palette Fix" right at the drugstore for less than $5.00! The best part? Not only are these inexpensive, but the quality is great too! It is a win-win for me. :)
So, far, I am have loved all of the Wet n' Wild Holiday Palettes. So, what do I think of this one? Keep reading to find out!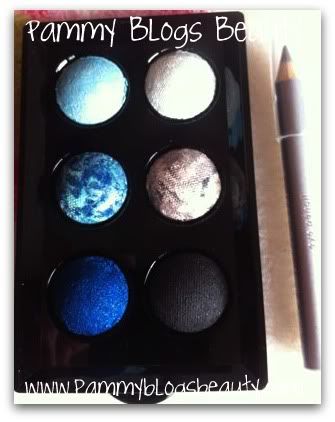 At first, I was not going to pick up this palette. I have blue eyes. So, usually I don't want to over-do the matchy-matchy idea of blue eye shadow with blue eyes. Plus, I am primarily a neutrals girl. With that said, I do get in the mood for blue eyeshadow occasionally. I have many pretty blue eyeshadows in my makeup collection. But, honestly, I didn't have any quite like these. The other selling feature of this palette (for me) was the inclusion of neutral shades. Not only do you get a range of blues, but also a great range of unique neutrals! This was a great idea for this palette. I always like mixing blues with neutral shades.
Apply Damp!
As with the other Wet n' Wild Baked Palettes, my tip is to apply these shadows wet or "damp" (I apply damp by lightly spraying my eyeshadow brush with Evian Spray or Maya Water Facial Mist before tapping the brush to the shadow). When these shadows are applied damp the color and intensity of the shadow increases.
Pigmentation, Texture, Finish, and Wear:
When applied damp, the pigmentation is bold. The entire palette has a metallic shimmer finish with the exception of the black which is a matte shade. These shadows wear all day on me without fading.
Shades:
Left:
Metallic Sky Blue
Medium Metallic Blue
Dark Metallic Cobalt Blue
Right:
Silvery White Metallic
Silvery Champagne/Taupe/beige metallic
Matte Black
My favorite shades in this palette are the beautiful and unique Silvery Champagne/Taupe/beige metallic shade (middle right), the Sky Blue, and the Medium Metallic Blue. Very pretty!!! I love using the white applied damp in the inner eye corners! Great staying power and it really brightens up your eyes.
Overall, I am pleased that I own this palette. While I usually go for neutrals. This palette provides a great option for when I want to mix up my look a bit with some color. Plus, there are some great metallic neutrals included as well as a deep black. If you are a fan of cool tones, you are probably going to want to pick up this palette.