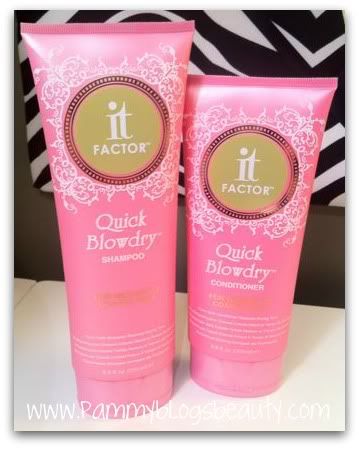 Hey dolls!
Don't you just hate how long it takes to blow-dry your hair? I sure do! With my super-duper long and thick hair it just takes me forever! So, when I heard that there was a shampoo that could possibly reduce blow dry time...as you can imagine, I just knew that I had to try it!
It Factor Quick Blowdry Shampoo and Conditioner
is a brand-new release for this Fall/Winter.
Now, I didn't set out on this product test expecting miracles. I mean, how much of a difference can a shampoo and conditioner make??? For my test, I timed my hair dry time with my normal shampoo and conditioner. I compared this time to the dry time with the it FACTOR products.

Hmm...was there a difference? How did the it FACTOR products fare? Keep reading to find out!
My Hair Background:
My hair is notorious for taking a long time to dry. It is very long and very thick. Plus, my hair is somewhat coarse from heavy highlights. So, it just seems that my hair soaks in water and wants to "hold onto" the water.
What I generally look for in a shampoo/conditioner:
I honestly feel that good hair products can make a drastic difference in the look of your hair. Note: Good products can be inexpensive or high end. I don't discriminate! :) When it comes to hair products, I just want quality products that produce results.
Because of the length of my hair and the highlights, I tend to go for hair products that are very nourishing. I need lots of moisture and protein. While my hair is dry, thick, and somewhat coarse (from the highlights), it is also very fine in texture. So, the products need to be rich and moisturizing. Yet, I don't want the products to weigh my hair down or make it look "dirty".
it FACTOR: Quick Blowdry Shampoo and Conditioner:
It Factor
has come up with a unique concept...a shampoo and conditioner that decreases your blow dry time? It sounds too good to be true! I always seem to be in a hurry when fixing my hair. Shaving precious minutes off of blow-dry time could be pivotal in streamlining my get-ready-quick routine. Plus, I have a new baby arriving in a couple weeks. Wouldn't it be just great to blow-dry my hair faster!
It Factor states that their
Quick Blowdry Shampoo and Conditioners
can reduce blow dry time by up to 50%.
How Does it Work?
It Factor Quick Blowdry Shampoo and Conditioner
contain the "VaporBoost System". This
speeds up the natural process of evaporation by reducing the bond between water and the hair shaft. When heat is applied, the water releases from the hair more easily and turns to water vapor more quickly...in a fraction of your normal blow dry time.
The
Quick Blow Dry Shampoos and Conditioners
come in two formulas: Fine Hair and Medium to Coarse Hair. I probably could use either shampoo. But, I tested out the Medium to Coarse one. It Factor states that no additional styling products are needed with these. But, I did use my usual styling products because I wanted my test to be "equal". I use styling products with my normal shampoos and conditioners and I wanted to compare drying times exactly (including the additional of my usual products). But, I did feel that I could have gotten away with using fewer styling products because the it Factor shampoo and conditioner left my hair very soft and smooth after the shower.
My Test:
For my test, I washed, shampooed, and dried as I normally would. I always let my hair air dry for about 15 minutes before blow drying (the time it takes to get out of the shower, get a cup of coffee, and apply body lotions, etc). I used the stopwatch on my iPhone to time everything exactly.
My Dry Time with my Usual Shampoo and Conditioner:
15 min air dry
14:44 mins to dry with my drier set to Med Heat on High. This includes my round brushing time.
My Dry Time with It Factor Quick Blowdry Shampoo and Conditioner:
15 min air dry
11:11 mins to dry with my drier set to Med Heat on High. This includes my round brushing time.
WOW
!!! I am impressed! That is a difference of over 3 minutes! While I didn't have a 50% reduction, I am still pleased. So, overall, it decreased my blowdry time by about 20% (is my math correct ya'll?). Hey, 3+ minutes is great in my opinion. Plus, think of that time savings cumulatively...that is like 10 minutes per week. You know that when you are rushing to get ready. Those precious minutes count! Also, I wonder if I skipped my usual styling products, would that decrease my dry time further (it is what the brand recommends...hmm...).
Besides the decrease in blow dry time, did I like it?
This is the big question. I mean, these products could cut down on my dry-time like crazy...but, if I don't like how my hair *looks*...then, who cares, right?
Well, I am happy to report that this it Factor Quick Dry Shampoo and Conditioner left my hair looking shiny, healthy, and beautiful! Seriously, this is a Shampoo/Conditioner set that pretty much guarantees a "good hair day" for me (I don't say that about many Shampoos and Conditioners!). Frizz was reduced and my hair was left very bouncy.
My hair was left feeling very silky, smooth, and shiny. I love that while this Shampoo and Conditioner were very thick and rich, that they didn't leave my hair feeling weighed down nor greasy. It moisturizes weightlessly. Plus, the products smell just lovely. They have a fresh "green apple" type scent.
What else?
Quick Blowdry Shampoo and Conditioner are safe for color-treated hair or hair that has been chemically straightened or hair that has been smoothed with keratin. UV protection is provided by sunflower seed extracts. The conditioner contains Acai (antioxidant), aloe vera (hydration), and panthenol (nourishes). They are also free of sulfates, parabens, sodium chloride, and alcohol. Products retail for about $22.50 each (8.5 oz shampoo, 6.8 fl oz conditioner) and are available at professional salons this Fall/Winter.
The Packaging
? Super cute! I must admit. I love anything that is packaged in pink! ;)
Overall, we have a winner here! I will continue to use and love this it FACTOR Quick Blowdry Shampoo and Conditioner! Not only does it reduce my blow-dry time, but it leaves my hair looking so nice and pretty. I am super pleased.
Thanks for reading ya'll!