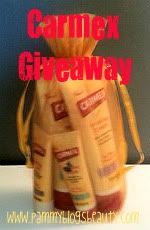 Hello lovelies!
One of the fun things about being a
Carmex Blog Squad
member is that I get to test out all of these great new Carmex products!!!
From my familiarity with the brand from a lifetime of use, I know Carmex lip products are great for dry lips. But,
Carmex Body Products
? These are totally new to me.
My Skin Type:
My body skin is dry. Now that Fall weather is upon us, the cold makes my skin even dryer (and itchy, and irritated, ya'll know the drill). Plus, working in my occupation as a Speech-Language Pathologist, I was my hands and use anti-bacterial hand gel all day long. This wreaks havoc on my hands. I need my lotions and creams to be richly hydrating. So, I am thrilled to have these lotions and creams from Carmex on hand!
For this review, I am giving my first impressions of the new
Carmex Healing Lotion
and
Healing Cream
*and* I am offering a
giveaway package for one lucky winner
!!! For my review and details about how to enter the
giveaway
, please keep reading after the jump!
Carmex Healing Lotion and Carmex Healing Cream:
Carmex has ventured into the realm of body care! The lotions are hydrating and healing. Plus, they have that great classic Carmex scent! There is just something about this Carmex scent that is so appealing to me. It is quite distintive and, I think, very pleasant. The lotion is designed for all over body moisturization while the cream is designed for super dry areas like the hands, feet, and elbows.
I am doing a first impressions review (based on my initial short-term testing of a product: a few applications) instead of a "full review" (2-4+weeks of continuous use) because these products do contain Salicylic acid which is an ingredient that should typically be avoided in pregnancy (and I am pregnant). Just thought I would mention that in case other preggies are reading this! The Salicylic Acid is at the bottom of the ingredients list. But, I still want to generally avoid it while pregnant.
The Skinny:
Carmex Lip Balms and Carmex Body care items are available at Walgreen's, CVS, and Walmart.
Carmex Body Care full-sized tubes retail for approximately $5.99 (4 oz Cream and 5.5 oz Lotion) and the travel size tubes are about $.99 (.75 oz cream and 1 oz Lotion).
Both the Body Lotion and the Body Cream have that same great Carmex scent!
Carmex Healing Lotion:
Carmex Healing Lotion
is an all-over all purpose body moisturizer. It has a light Carmex scent and is super moisturizing. It absorbs quickly and has a totally non-greasy feel. It leaves skin feeling soft, hydrated, and lightly scented. This lotion contains ingredients such as aloe and Vit E.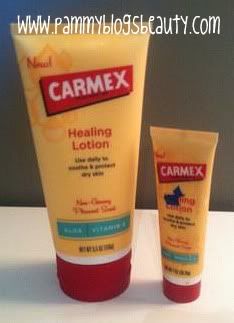 Carmex Healing Cream:
Carmex Healing Cream
is like a heavier version of the
Carmex Healing Lotion
. The Healing Cream is thicker, richer, and more moisturizing than the Healing Lotion. It is designed for use on your very driest areas such as your hands, knees, and elbows. I personally love this as a hand cream. The travel size is ideal for your purse. Since this cream is concentrated, you only need a very small amount. This cream leaves your skin feeling soft with no greasy residue.
The Giveaway!!!
So, I know ya'll are curious! What is the scoop with the giveaway???
One lucky winner will receive the following:
One 5.5 oz Carmex Healing Lotion
One 4 oz Carmex Healing Cream
One 1 oz Carmex Healing Lotion
One .75 oz Carmex Healing Cream
How to Enter:
Please enter form below to be entered into giveaway. Also, please read and follow the rules! Failure to do so will get you disqualified.
The Rules:
This contest is for US residents only! USA only!!! I have to stress this point as some of my previous giveaway winners turned out to reside elsewhere and I had to find new winners. Please do not enter if you do not live in the USA. Carmex can only ship to the USA.
Only one entry per person. People with multiple entries will be disqualified. You can gain extra entries by doing "optional bonus entry" activities such as blogging about this giveaway, doing a blog side bar post, tweeting about this giveaway, and doing facebook posts about this giveaway (please enter all your "extras" in form below one time).
Contest ends Midnight November 30th!!! The winner will be announced/notified and will have 48 hours to respond or a new winner will be selected.
For One Entry (1 entry):
You must be a public follower of Pammy Blogs Beauty through Google Friend Connect/Blogger. This is easy! Just click "Join this Site" on the right hand side of my blog and you will be added!
Fill out form below.
For Optional/Bonus Entries:
Do a blog post about this giveaway (

+3 additional entries): please provide your link to your post in the form below.

Do a blog side-bar post about this giveaway (+2 additional entries): please provide your link in the form below.

Follow Pammy Blogs Beauty on Twitter and tweet about this giveaway (+1 additional entry).
"Like" Pammy Blogs Beauty on Facebook and do a Facebook post about this giveaway (+1 additional entry).
Thanks so much for reading my blog! I am happy to host giveaways for my loyal readers!!! Good luck with the contest!
XOXO!