I am so excited!!! There is nothing like a new makeup find from one of my favorite brands to get me inspired to do a blog post the minute I get home!!! :D
While stopping by (stalking!) my local Walgreen's in search of the elusive new offerings from Wet n' Wild, I was thrilled to stumble across an end-cap display from Sinful Colors (darn, I should have snapped a photo of it!). The display housed some beautiful Sinful Colors polishes and...drum roll please, a great assortment of Sinful Color lip glosses!!!
Now, I knew there were going to be some changes coming up with the Sinful Colors brand since they were recently acquired by Revlon (I believe?). But, I wasn't expecting lip gloss! So exciting!
For those of you not familiar with Sinful Colors, you must stop by Walgreen's and check it out! Sinful Colors offers great quality polish for only $1.99!!! Sinful Colors polishes have been my go-to brand for trying out new shades. And the quality is really great for a $2.00 polish.
I honestly have no idea how long these glosses have been out, but to me...they are new! :)
For my first impressions and swatches, please keep reading!
Oh how I wish I wasn't on a huge "get ready for baby budget"! LOL! Even though these lip glosses are only $2.00, I only picked up two glosses. I was so tempted to buy the whole range, but I refrained. This display had about 20 glosses in a beautiful range of colors (excellent variety!).
After contemplating all of the beautiful options, I choose two pink shades:
#2221 Fushia
and
#2280 Virginia Beach
. It seriously was hard to choose! If I end up totally loving these, I am heading back for a couple nude shades.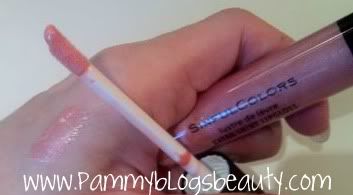 Fushia
is a shimmery and beautiful
true fushia color
.
Virginia Beach
is a light and shimmery
baby pink
. The tube says "extra shiny gloss" and let me tell you, these glosses pack a high shine and some beautiful shimmer. The color is dense and pigmented. So, these wear more like a liquid lipstick (and remind me somewhat of the Revlon Color Stay Mineral Lip glazes).
The Skinny:
Tube features a doe-foot applicator. Packaging is sleek and modern. This "looks" more like a high end gloss. .25 fl oz tube
Available at Walgreen's and Cherry Culture (note: $3.00 each on Cherry Culture).
Scent: Yummy!!! The scent is vanilla-like. Vanilla is one of my favorite scents for lip gloss. Honestly, all lip glosses should be vanilla scented. Now, it is not a "pure vanilla" but that semi-plasticy vanilla scent that glosses sometimes have. Some might be turned off by the plasticy scent...but I like it!
Very Pigmented (not sheer): Wears like a liquid-lipstick.
Texture: Sticky. I would say "medium-thick" stickiness.
While this is a first impressions post and not a review, I can already tell that I love these glosses! They provide beautiful color as well as shine. Only time will tell if they are moisturizing. But, they do apply well and evenly. The product "feels" good on my lips. Wear? Only time will tell on that too. But, I would assume that this wears about as well as any liquid lip color.
For $1.99? You can't go wrong with these pretty glosses!
Have any of ya'll tried these? Would love to know your thoughts!
XOXO!