Hey there my readers!
As ya'll know, I love samples! I am so excited to share my 2nd delivery of the Target "Beauty is my Bag" samples! I love it that Target is really promoting their beauty department online as well as in-store. The prices are great and some of their online sales are just *total steals*! My tip, check the Target website (
Health and Beauty Tab
) often for their makeup deals of the day and these totally free sample bags! This cute sample box was delivered right to my doorstep, for free!
I am not sure of the frequency of the Target "Beauty is my Bag" sample boxes. But, it seems like they do one of these special sample/promotional boxes once each season. Too see what came in the most recent "Beauty is my Bag" sample box, please keep reading!
First of all, lets start off with the best part: The actual bag!!! The cosmetic bag (by Contents) is adorable!!! It is a pink/purple/cream patterned satin-like bag with a zipper. It is just the perfect size for your purse. Nice quality and pretty! This sample box is a total win just for this cute bag! :)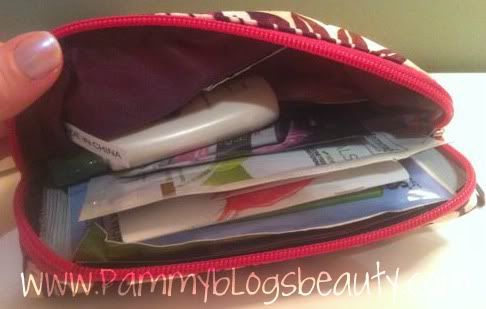 As you can see, the entire inside of the bag is stuffed with samples and coupons. Yipee! The other thing that I love just as much as samples...coupons! Just like with the last bag that I got a few months ago, this bag has a little booklet of Target coupons (with the coupon value totalling over $20.00). As always, if you combine the Target coupons with manufacturer coupons and sales...you can get truly great deals on beauty items! This coupon book is going to go right into my purse!
Okay, now on to the samples! They are primarily foil packet samples (but lean to the larger size). While I prefer deluxe samples in general...this box was *totally free*, so in that case, I am totally fine with foil packet samples.
Here is what I got:
L'Oreal Youth Code Youth Regenerating Skincare Day/Night Cream
John Frieda Full Repair Shampoo and Conditioner (with $2.00 off coupon)
Garnier Fructis Fortifying Shampoo and Conditioner
Tresemme Naturals Shampoo and Conditioner
Pond's Evening Soothe Wet Cleansing Towelettes (a travel pouch with 5 towelettes)
Burt's Radiance SPF15 Day lotion (can't wait to try this!)
Aveeno Daily Moisturizing Lotion (How funny, this is my daily moisturizer lately! So, I am happy to have a purse size!)
So, that's it! Did anyone else get a Target sample bag? What a fun way to try out a few new products! Plus...the cute bag!
Thanks for reading! Stay beautiful!
XXOO