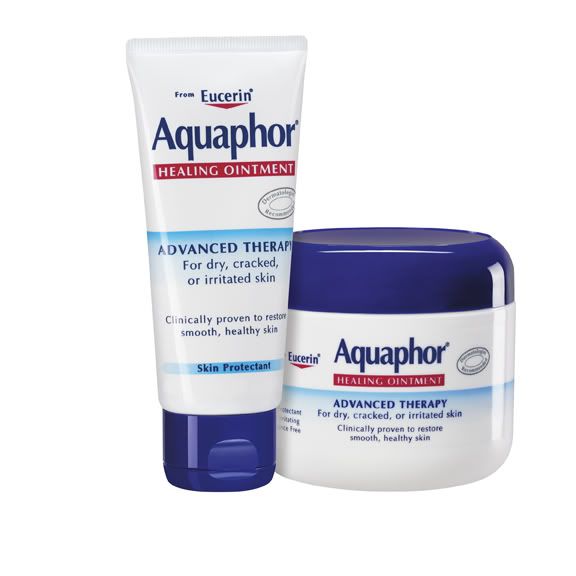 I am so excited about this post! Don't ya'll love it when you discover a new use for a trusted and classic product?
I am sure that many of you have heard of or use
Aquaphor
. I have used Aquaphor off-and-on over the years as a lip and cuticle moisturizer. Actually, I used to keep a mini tube with me in my purse at all times specifically for those purposes. But, like all product enthusiasts, I switch up my products frequently. Somehow, I just got out of the Aquaphor habit. Shame on me!
Well, I am so excited that I not only rediscovered my love of Aquaphor but also learned about a fabulous new use for this classic and trusted product!
The Aquaphor Challenge:
A few weeks ago, while going through my inbox, I noticed an email from Aquaphor. It generally stated that consistant nightly use of Aquaphor can soften feet and reduce callouses. I became so intrigued that I just had to try it out. Besides, my feet needed some TLC!
Do you want to find out how the challenge worked out for me? Keep on reading!
From Aquaphor:
Aquaphor
® Healing Ointment

was proven to significantly improve cracks, scaling and roughness on heels in just 
one week, with continued improvement throughout the four weeks. 94%** of 
participants confirmed noticeably smoother heels in only one week. Simply slather 
your soles in Aquaphor every night before bed, slip on some socks and 
get ready to show off your new flip-flops and your beautiful heels, courtesy of Aquaphor
® Healing Ointment
–SRP: $5.49 for 1.75oz tube, $8.49 for 3.5oz jar
My Feet: (some background):
I have what I call "ballerina feet". I blame my former ballerina days for my "bad feet", but honestly, my calluses bunions are more likely a result of hereditary and poor footwear (I love flip flops and high heels). Either way, I enjoy pampering my feet. Especially since I am pregnant!
So, what exactly is in Aquaphor?
It is surprising how basic this product is!
Aquaphor Healing Ointment
contains the following key ingredients: Petrolatum, Panthenol, Glycerin, and Bisabolol (from the Chamomile plant).
Common Uses of Aquaphor Healing Ointment:
Dry and Chapped Skin
Cracked Hands and Feet
Chapped Lips
Eczema-related
Minor Cuts and Burns
The Challenge:
For four weeks I applied a thick layer of Aquaphor to the bottoms of my feet focusing on the callouses and the dry cracked areas (ewwh...I know, yuck!). Then I would cover my feet with cotton socks overnight. For the purposes of this test, I did no other foot treatments during this test period. Normally, I do routine exfoliation with a pumice in the bathtub.
The Results:
Within a week, I saw significant results. By two weeks, my feet were completely smooth and soft. The callouses were softened and the cracks disappeared. I extended this test for almost a month and my feet have maintained their nice appearance and smooth feel. I am thrilled with the results!
What a simple and effective way to soften your feet! It is just so easy and it works! The best part? Aquaphor is inexpensive and readily available at most drugstores and grocery stores. Upcoming Aquaphor use? Since I am pregnant (FYI: Due Dec 31st!), I can't wait to explore Aquaphor's uses as a baby-care product!
Fellow Aquaphor lovers? What do you use Aquaphor for?
Thanks so much for reading!