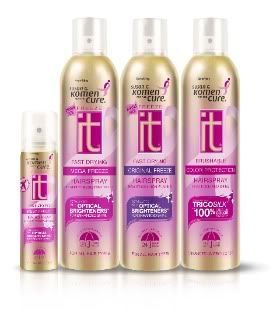 Doesn't time fly? We are in the midst of September which means that brands are starting to gear up for
Breast Cancer Awareness Month in October
!
Freeze-It Hairspray
is launching a special
Power of Pink Campaign
in October to raise awareness and funds for the
Susan G Komen "For the Cure" program
. Freeze It Hairspray will line up their 3 best-selling products in pretty pink limited edition cans: Mega Freeze Hair Spray, Original Freeze Hair Spray, and Color Protection Brushable Hair Spray.
I had the opportunity to test out the
It Color Protection Brushable Hairspray
and
It Fast Drying Original Freeze Hairspray
. For my review, please keep reading after the jump.
It Hair Sprays: At a glance:
Available at most drugstores: Walgreens, CVS, Rite-Aid, and WalMart.
Price ranges from $2.50-$5.99 for travel and full sized (10 oz) cans.
Not tested on Animals
It Color Protection Brushable Hairspray:
This hairspray helps eliminate tangles by creating a residue-free brush-through hold. I don't use a lot of hair spray in my hair. But, when I do, I want my hair to be touchable and soft. I primarily used this product to give my bangs a bit of lift and direction. The scent is light and pretty "standard" for a hair spray.
This formula is "weather proof" and it resists humidity. I live in the very hot and humid Georgia, so I was able to give this hair spray a try in very high humidity. I am pleased to say that this hair spray holds up well! There are also some ingredients included to help protect hair color from the sun.
It Fast Drying Original Freeze Hairspray:
As the name implies, this is It's original formula. This is a non-sticky hairspray with long lasting hold. The formula has UV filters and brighteners so that the application does not dull your hair (like many hairsprays do). It has a nice scent and it dries quickly.
I tried out the "Special Edition" Can of the Original Freeze formula. The pink ribbon is featured and pink was added to the can design as well.
I really liked both of these hair sprays and will continue to use them. I seem to reach for the Color Protection formula more because my hair is heavily highlighted. But, both formulas are very nice!
Inspired to make a Power of Pink purchase? These Hair Sprays are available at most drugstores. If you need to replace your hair spray anyway, you might as well choose one that raises money and awareness for the fight against Breast Cancer! I can't think of a better cause!
Thanks so much for reading!
Stay beautiful!