Hello beauties!
What is one of the main reasons that I like makeup? Its fun. Period.
Well, if fun is what you are after, then you will love
LA Splash Cosmetics
. This line is totally *fun*! Its packed with glitter, bright colors, and extremely unique products. Yes, even a mascara that lights up! That's right, it literally lights up. Wow, it makes me wish I was still back in my clubbing days!!!
I tested out the following LA Splash Cosmetics: Spotlight Lengthening Mascara, Lash Tease Eyelash Extensions, Tamed Brow Gel & Pencil Duo, Nail Polish and Glitter Top Coat, and Nail Art Glitter. There will be a Part 2 coming soon too with more nail polishes and nail art glitters.
LA Splash Cosmetics:
LA Splash Cosmetic's, also known as Splash Cosmetics, vision is for Bold, Vibrant, Sexy, Intense Color Cosmetics. This is certainly a line for us trendy girls who love to experiment with color and sparkle.
LA Splash Spotlight Lengthening Mascara:
This mascara "had me at hello" with its adorably sleek packaging and its, gasp, light up wand! But, what is even better than all that? The mascara formula is fabulous!
Now, ya'll, I am so picky about mascara. I have a terrible time finding mascaras that do not smudge. Also, I have short, blond, and sparse eyelashes. So, I need a mascara to (at the minimum): not smudge, lengthen, and thicken. I also like mascaras that don't require extra combing for declumping. Generally, I prefer mascaras with rubberized-type brush heads.
My thoughts on LA Splash Spotlight Mascara:
First of all, I love the wand. The brush head is a rubberized comb-type brush. I love these brushes as they provide perfect separation with no need to comb out. Honestly, since these types of brushes were invented, I rarely use mascaras without this kind of brush. The wand itself is a nice length and easy to control. I apply by bringing wand to base of lashes and wiggling out and up (my typical method). This brush lengthens and separates beautifully! I don't find this mascara to be particularly thickening. But, it does the trick and honestly, I love the results! Oh, and no smudging either!
The Light Up Wand:
I know, I know...it sounds like such a gimmick. But, I love this sort of stuff! Its little things like this that get me excited to try out a product. There are two blue/white lights on the underside of the lid that point towards the mascara brush (see photo below). When you apply the lights are placed in just the right location to illuminate your lashes without getting the lights "in your eyes". The blueish light contrasts well with the black mascara and makes each lash very visible.
While I normally put on my makeup with lights on, as well as use an illuminated makeup mirror. The extra light-up feature still enhances your ability to "see" your lashes. But, frequently, I carry mascara in my handbag for touch ups. Especially when going out in the evenings. An illuminated mascara tube can come in handy when reapplying in dimly lit settings such as the car (not while driving of course!) or in a darker bathroom in a restaurant or club. Plus, you know you will have people asking what you are using and where to find it! Yes, this is a "get noticed" product.
Another thing I love about the Spotlight Mascara package? There is a mirror included on the side of the tube. Honestly, if I had my own line of cosmetics, all my lip glosses and mascaras would have mirrors on the sides of the tube. So convenient!
So, as ya'll can tell. I really love this mascara. Sure the cute tube and light up features make it fun to use. But, what really gets me is the quality. This mascara just works for me! I will totally repurchase this. It comes in 6 colors and retails for about $9.99.
LA Splash Lash Tease Lash Extensions:
While I love falsies, I pretty much reserve false lashes for going out on the town or special occasions. Especially when they are thick and dramatic like these. I honestly believe that nothing else can amp up your look as well as a great pair of false lashes. False lashes=instant glamour!
These Lash Tease extensions by LA Splash are a great option for falsies! Lash Tease lashes come if 4 different styles. This pair that I have, Night Life, is amongst the most dramatic of the group.
These lashes are handmade and reusable. I need to trim off about 1/8th of the length to get just the right size. These retail for about $4.99 a pair. Such fun lashes!!!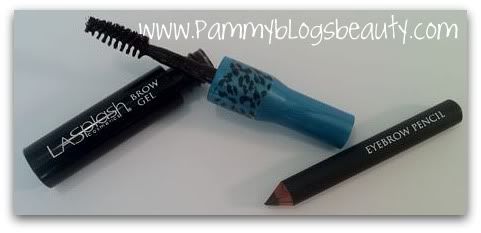 Tamed Brow Gel & Pencil Duo:
What a unique idea! A brow gel and pencil in one! I love two-in-one products. One side gives you a tinted brow gel to tame those unruly browns and the other side is a brow pencil in a coordinating shade.
This product comes in 4 colors to coordinate with your hair color. Unfortunately the sample that I got from LA Splash was too dark for me (I have blond hair). I tested out the Brunette Beauty shade. While generally to dark for me. I tested it out for performance not color.
The brow gel works well to keep those brows in place. It grooms brows and adds some color in one step. I liked the short length of the wand. The brow pencil is nicely pigmented and applies and wears well. This product retails for about $7.99.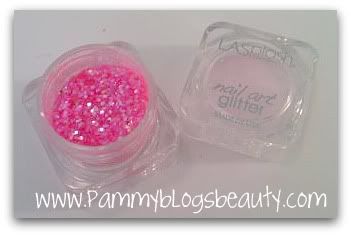 Nail Splash Nail Polish, Glitter Top Coat, and Nail Art Glitter:
Now these items were just so much fun to test out! As some of you may know, I am a bit bananas about nail polish. Out of all of my makeup, nail polish is the what I get the most experimental with color-wise. Even if you are pulling off a classic look with your face makeup, hair, and clothes...you can still add a fun pop of color on your toes! I tested out the Nail Splash Nail Polish in Blowfish Orange, the clear Glitter Top Coat, and the Nail Art Glitter in Fashionista.
Nail Splash Nail Polish (Blowfish Orange):
The Nail Splash nail polish applies very nicely. It is a thinner polish that has a somewhat sheer appearance in one coat. But, you can build it for more color without it getting goupy. The brush is pretty basic. The polish applies with absolutely no streaking. I really love the thin bottle with the rectangular shape. Square and rectangular bottles are always easier to hold while polishing and the caps are easier to open. Blowfish Orange is a *bright* neon orange. I mean, whew...bright! I think you could see my nails from about a mile away in the sunlight with this color! This is easily the brightest and most vivid neon polish that I have tried. I tested this out on my nails, but will likely continue to use as a toe color instead. This polish wore for over 3 days with the first chipping emerging at 3 days (I removed on the 4th day).
Glitter Top Coat and Nail Art Glitter:
I tested the Glitter Top Coat as both a Top Coat and a Glitter Top Coat. I applied this after polish and before glitter and then applied again as a top coat over the glitter. The glitter adheres very well to this top coat. The top coat applies evenly and spreads well. This is not a "quick dry" product (which is what I am used to using top coat wise), but it still dried rather quickly. I had a few pieces of glitter to fall off during wear over 3 days. But, generally, I am pleased with the wear and performance. I would use this product again with my nail glitters.
The Nail Art Glitter in Fashionista is absolutely gorgeous! It is a mixture of hot pink microglitter and chunky/round irradecent pink glitter. So very pretty!!! The glitter comes in a square plastic jar. The jar is easy to open and a nice size for dipping your finger in. I used this pretty glitter on my "bling finger" to give my manicure some punch and also have used this just dipped on the tips for some added sparkle. I just apply some Glitter Top Coat to a dried manicure in exactly the spot that I want the glitter. Then I dip my finger into the pot of glitter and voila! Using loose glitter will give you a much heavier coat of glitter than you will ever get with glitter polish. I can't wait to experiment with this nail art glitter some more and get more colors!
In Summary:
I really loved testing out these products! Curious to try LA Splash yourself? LA Splash is available online and at your local Ulta. I am looking forward to exploring and testing out more from this fun and flirty line of colorful and inventive cosmetics!
Thanks for reading and stay beautiful!