Hey everyone!
Is anyone else out there a terrible packer? I am a self-proclaimed over-packer! With my love of makeup and all-things-beauty, a lot of time and consideration goes into my travel makeup bag packing. Plus, with a large makeup collection, it is just hard to choose what to bring!
Where did I go? Cancun! Have you ever been there? It is so beautiful!!! We stayed at a fabulous resort called Live Aqua. I would highly recommend it! We normally don't go on such "fancy" trips. But, since our 10 year anniversary is coming up, we figured it was time for a 2nd honeymoon!
So, I hope you enjoy this blog post and YouTube "Travel Packing: What's in my makeup bag?" video! I included a list of not only what I brought, but a post-trip list of what I actually used! My desire is to better streamline my packing for my next trip!
So, if you would like to see what I brought and watch my video, please keep reading after the jump break!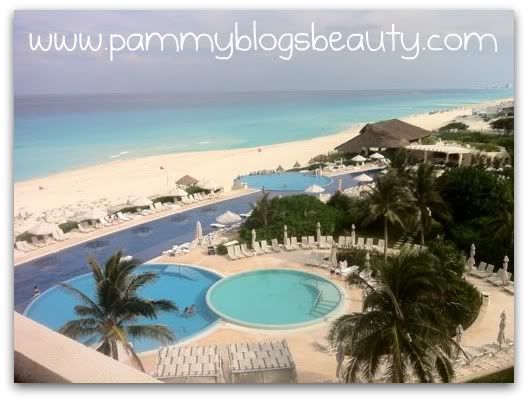 Ahhh! So beautiful! Can I go back now???!!!
This is the view from our suite's balcony.
What I packed:
e.l.f. brow gel/clear mascara: This stuff is just "ok". But, it is an easy way to manage your brows while on vacation (Alas, I was born with unruly brows, le sigh!).
Sheseido Eyelash Curler: Seriously, I can't live without my eyelash curler. A must have for short, sparse, straight lashes!
MAC Studio Fix in NC 15:. Love, love, love this powder! HG! This is the easiest and quickest way for me to achieve a flawless look. Plus, powder wears great in hot/humid weather.
Physician's Formula Healthy Wear Pressed Powder with SPF 15: I primarily brought this for mid-day touch-ups to boost my SPF.
Stila Haute in the Hamptons Palette: Stila did a good job with the color selections in this palette. Very wearable! Plus, I love including multi-use palettes when I travel.
NARS Blush/Bronzer Trio: This is the only "new" item that I purchased with summer travels in mind. Just a bit larger than a normal NARS blush, this handy palette contains blush, bronzer, and highlighter. Genius! Very travel friendly and such classic shades. Love!!!
Maybelline Stylish Smokes in Charcoal Smokes: My Hub hearts a nice smoky eye look for evenings. It is so easy to achieve a basic smoky eye with this little kit.
Stila Confections for Eyes Palette: Okay, I admit, I have had this little palette for about 2 million years. I know, I know...I probably need to throw out my old makeup more frequently. But, I swear this palette is still going strong with no signs of going bad. This palette is so sleek and compact and it contains any shimmery shade that I might need. I really wish Stila would make more palettes like this.
PUR Minerals Perfect Fit Trio: Yes, I have mentioned this in numerous blog posts/star products videos. I adore this trio! It just gives a very classic and beautiful look that always gets compliments.
Smashbox Day-to-Date Trio: This is a great basic trio!
Bobbi Brown Gel Liner in Chocolate Shimmer Ink: IMHO, Bobbi Brown makes the *best* gel liners out there. I know this won't budge in the heat nor the water. If I actually bother with eyeliner during the day while at the beach, then I don't want it to budge.
Urban Decay 24/7 Dual Ended Eye Liner (from the Naked Palette): I love that this one pencil has both black and brown!
NARS Multiple in Luxor: I love samples...so easy to pack! Multiples are so useful. I love a good multi-tasking product.
The Balm TimeBalm Concealer (lighter than light): My new fave concealer. This works wonders on my dark circles (review coming soon in my "Cover It! Concealer Review Series"!!!
BeneFit Eye Bright: This is one item that I am never without!
Origins VitaZing SPF 15 Tinted Moisturizer: Love this stuff!!! So easy to wear and gives such a natural look! This gives the slightest hint of "bronze" to my uber-fair skin. I love this in the summer as it boosts your SPF (as I always wear 30) and it looks and feels very lightweight.
Cover Girl Lash Blast Waterproof: A waterproof mascara is an essential for the beach!
Rimmel Lipstick in Pink Blush: Lovely shade! Will coordinate with any outfit!
Clinique Longlast Glosswear in SPF 15 Air Kiss: Love this gloss. Love the SPF and it is so moisturizing!
MAC Lipglass in Strange Potion: This pretty peachy pink gloss just "looks" like summer vacation to me!
CG Intense ShadowBlast Primer plus Rich Shadow in Beige Blaze: This is a new product that I am testing out from CoverGirl (review coming soon!). I love that this doubles as a shadow base and a cream shadow.
Sigma Brushes: I merged my faves from my Nice in Pink Travel Kit and the Hot in Pink Premium Travel Kit. These are both great kits! I use these brushes every day! It is just a total bonus that they are travel sized as well. Finding great travel brushes has really streamlined my packing! I also packed the Miss Taylor Retractable Kabuki Brush which I adore. I also included a few extra brushes including the Real Techniques Contour Brush (for highlighter), a brow brush/lash comb, a smudger brush (not sure of teh brand? From Kroger), and the Essence of Beauty Crease Brush Duo (my fav crease brushes ever! And only a few dollars at CVS!).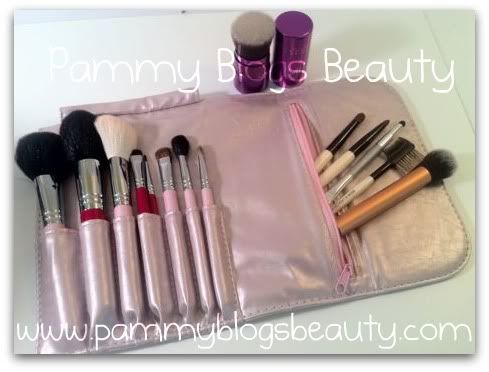 What I actually used:
e.l.f brow gel/clear mascara
Sheseido Eyelash curler
MAC Studio Fix
Physician's Formula Healthy Wear SPF 50 Powder
NARS Blush/Bronzer Trio
PUR Minerals Perfect Fit Trio
Smashbox Day-to-Date trio
Bobbi Brown Gel Eyeliner
Urban Decay 24/7 Eyeliner
TimeBalm Concealer
BeneFit Eye Bright
Origins VitaZing SPF 15 Tinted Moisturizer
Cover Girl Lash Blast Waterproof
Rimmel lipstick in Pink Blush
Clinique Long Last Glosswear in Air Kiss
Metal Hair Clip! Can't live without this to pin my bangs back!
CG Intense ShadowBlast in Beige Blaze: I love this and am so glad I brought this! I used this during the day on its own with just a touch of mascara and at night as a shadow base.
Sigma Brushes
What did I learn? Well, next time I will bring less eyeshadow. In addition, I found that I wanted really lightweight glosses. So, I only wore the Clinique and neglected the others. Also, right before I left for the trip I added a Happy Booster Blush which I used a few times on the trip.
Here is my video detailing all the items that I packed. Enjoy!
So, my fellow makeup lovers, what are your favorite makeup items to pack for trips? Any packing tips?
Thanks so much for reading!

I purchased almost all of the items mentioned.
of the Sigma Miss Taylor Kabuki brush.
In addition, I am a Sigma affiliate. Affiliate
links are included in this post.