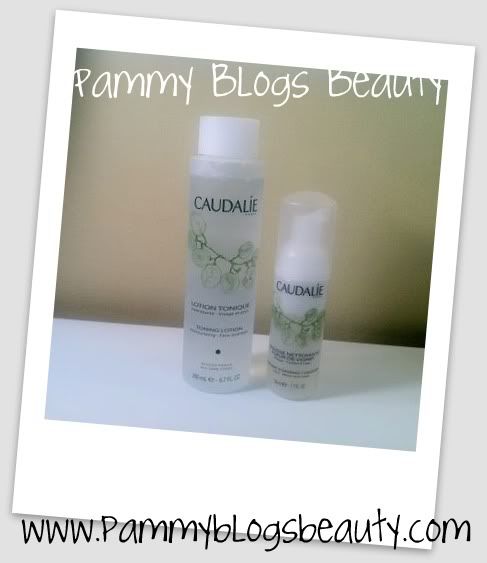 Who else changes up their skincare routine with the change of seasons? If you want to try refreshing skincare for Spring/Summer, then you might really like this
Caudalie Instant Foaming Cleanser
and
Caudalie Toning Lotion
.
Not familiar with Caudalie? Check out my previous posts for a
Brand Introduction and Vine Body Butter review
and reviews on
Vinosource Quenching Sorbet Creme and Vinexpert Firming Serum
.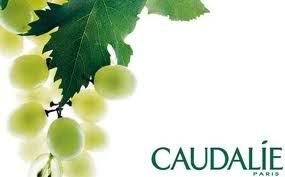 There are so many things that intrigue me about the Caudalie brand. As a wine lover and the wife of a wine specialist and beverage distributor, Caudalie's philosophy of using the entire grape plant within their skincare range is totally appealing. As we all know, wine can be beneficial when consumed (in moderation of course) because of the antioxidant properties within the grape. Well, Caudalie utilizes these antioxidants in their products to benefit your skin. Caudalie skincare is elegant and sophisticated. A total pleasure to use!
My Skintype:
In the colder months my skin is dry. But, as it gets warmer, my skin shifts more towards normal with oiliness in the t-zone area. My skin is also very sensitive. I have to test out skincare slowly to check for any reactions. Typically, I have very few breakouts. But, on occasion, I experience hormonal breakouts on my chin, nose, or forehead. I am in my 30's, but do not have any major lines or wrinkles yet. But, when my skin is dehydrated, I do have some very fine lines in the eye area. My biggest skincare concerns are very dark under eye circles and skin sensitivity. I am always in the search for gentle, yet effective, skincare that packs in some anti aging benefits, does not cause irritation, and leaves my skin feeling hydrated.
For my review of Caudalie's Instant Foaming Cleanser and Toning Lotion, please keep reading.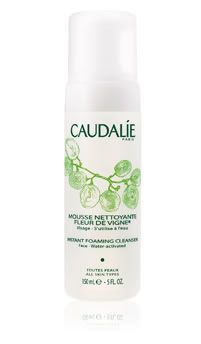 Instant Foaming Cleanser:
Cleansers with pumps, how much do I love you? lol! Okay, seriously, who doesn't love a pump cleanser? As some of you may know, I have a "thing" for pumps. I will literally like any product with a pump better, be it a foundation, eye cream, facial lotion, or cleanser. Many Caudalie products feature pump containers, and I totally love that. Okay, I digress, on to the review!
The Skinny on the Instant Foaming Cleanser:
Designed for all skin types, even sensitive!
Gentle soap-free mousse cleanser.
The ingredients include grape extracts, chamomile, and sage.
According to Caudalie: Product can be "mixed" to adjust it to your skintype! For very dry skin, mix with Caudalie's Gentle Cleanser. For extra exfoliation, mix with Caudalie's Buffer Cream to give it a "kick"! Now, I did not try these methods as I don't have those other products, but it sounds like it is worth a try! I am all about adjusting your skincare depending on what your skin needs at the current moment.
Retails for approximately $26.00 for 5.0 fl oz.
This cleanser is a clear liquid that turns to a very light and fluffy foam when you pump it. As I mentioned above, I adore the foaming action of this product! One pump is the *perfect* amount to wash your face. The product has a very light and fresh scent. It is the classic Caudalie white-grape scent. So refreshing! Typically, I am not into products that are scented. But, the Caudalie line is a huge exception. The scent is very nice and the fragrance does not seem to irritate my skin.
The Caudalie Instant Foaming Cleanser cleanses without over drying. I find it perfect to use this time of year when the weather is warmer. This probably would not work for me in the winter when my skin is extremely dry (I would need a moisturizing cleanser at that time). But, for right now, perfect! It rinses clean, is non-drying, and leaves no residue.
How I use:
Wet face with water
Pump out one pump's worth of product and smooth foam over face
Rinse off with tepid water
Skin is left feeling fresh and clean yet not tight. It cleanses without over-drying.
Toning Lotion:
Okay, I will admit, I often think of toners as an "unnecessary" step. But, when I find toners like this one, I remember exactly how much I truly enjoy using toners!
Drying toners or "astringents" are way too harsh on my skin (bad memories of using Sea Breeze as a Teenager and the Clinique 3-step system-Not that these items might not work for others, but they just weren't for me). The good news??? This Caudalie toner is not an astringent!!! This toner is actually a moisturizing toner! When toners are used to add moisture and softness to skin, I totally love and adore them!!!
The Skinny:
For all skin types.
Helps with moisture and softness.
Contains "Vinolevure" which is an active ingredient that retains up to 100 times its weight in water, keeps the skin from getting dehydrated, and strengthens the skin's "immune system".
Retails for approximately $26.00 for 6.7 oz.
How I use:
I apply this product after cleansing my face in the morning and the evening. I just use a little bit on a cotton pad and sweep across my face.
The Scent and Feel:
This product has a very light and fresh scent. Yes, it is the "classic" Caudalie white grape scent. The toning lotion feels refreshing going on the skin. It is completely non-irritating. Isn't that great? This product provides a nice "finish" to my face cleansing routine. It leaves my skin feeling hydrated and soft. A great preparation for treatment products! Now, I have dry-normal/combo skin this time of year. But, if you have very oily skin, this might be the only hydration that you need. Moisturizing toners can be a great way of adding moisture to your skin without clogging your pores.
The Container:
The bottle has a twist top with a little hole. So, you twist the cap and decant a small amount of product from the hole onto a cotton pad. This method works just fine, but I would prefer a spray nozzle. Just a personal preference.
As ya'll can probably tell, I really love these products! I enjoy using both the cleanser and the toner. I will certainly continue to use these products during the warmer months when I am not testing out other products. Even if you are not a big wine or grape lover like me, you will enjoy using these lovely products. For a luxury brand, these products are priced very affordably!
Thanks so much for stopping by to read!
Stay Beautiful and Feel Beautiful!