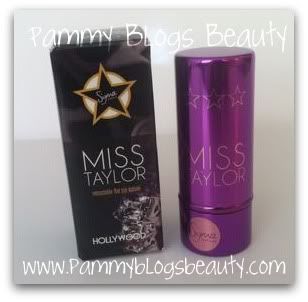 As ya'll may know from my previous review, I have nothing but love for my
Sigma F80 Flat Top Kabuki brush
! It is one of my all-time-fav makeup brushes. The F80 has totally revolutionized my foundation application.
Well, I was absolutely delighted to realize that
Sigma's Miss Taylor Kabuki
is a compact and retractable version of my beloved F80 Flat Top Kabuki!!!
For my full review and more photos, please keep reading!
The
Hollywood Glamour Flat Top Retractable Kabuki
-Purple: The "Miss Taylor Kabuki"
I will start off by stating the obvious: This is totally the cutest brush ever!!! I mean, it is metallic purple! If you are a girly-girl like me, you will love the design of this brush.
The Skinny:
It is super lightweight and portable. In fact, it is "light as a feather" ("stiff as a board", lol, just kidding, couldn't resist that! wink!). Sorry, I digress... This little compact brush is so light that it will not add any extra weight to your luggage or purse. Perfect!
It retracts very smoothly without bending or damaging any brush hairs. If any of you have had experience with retractable kabukis before, you know this is a feat! Way to go Sigma for a flawless retraction design.
Much like its full size Sigma F80 counterpart, the brush hairs on the Miss Taylor are amazingly soft. You would just have to feel this on your face to believe it.
Designed for powder makeup application: blush, bronzer, foundation, and highlighter. I personally like it for liquid or powder foundation application. You will get a totally flawless finish when you apply your foundation with this brush!
Brush hairs are synthetic Sigma Sigmax HD filament.
This brush retails for $25. Amazing deal for a very high quality brush. There is no question that you get high-end/professional quality with Sigma brushes. This brush is no exception.
Washing: Like all kabukis, this brush will take a long time to dry after washing. Tip: angle it slanting slightly downwards when drying flat. This will help the water dissipate. This brush has not shedded during washing.
Comparisons:
This brush is a compact version of the Sigma F80. If you love the F80, but think it is too bulky for travel or your purse, then this Sigma Miss Taylor is perfect for you! See comparsion photos below.
The Sigma Miss Taylor Kabuki is actually *softer* than the ecotools retractable Kabuki! I honestly never thought I would say a brush is *softer* than ecotools! But, in terms of total softness, the Miss Taylor Kabuki has the ecotools retractable Kabuki beat!
With that said, the Sigma Miss Taylor Kabuki and the ecotools retractable brush are quite different. Here are some other comparisons: The size: Overall, the Miss Taylor is more compact. The Brush Shape: The ecotools is a domed top or rounded top kabuki and the Miss Taylor is a flat top kabuki. The Brush Hairs: Both are made from synthetic hairs. The hairs on the ecotools are longer while the Miss Taylor hairs are shorter and more dense.
In summary, I completely adore the Sigma Miss Taylor Kabuki! It is not only cute, but also totally functional. You get high-end quality in a darling, lightweight, and compact package. This brush can do double duty for application of your preferred powder (or liquid)products like foundation, blush, bronzer, and highlighter.
The
Miss Taylor Kabuki
blush is a total pleasure to use! The softness of the brush will feel so good on your face. I admit, I love whipping this cute little brush out of my purse for touch ups! Your girlfriends will totally notice this cute brush (and will want one too I am sure)!
Special announcement:
Come and visit Pammy Blogs Beauty again soon as I will be hosting a giveaway for this adorable brush!!! So, check back soon! One very lucky reader will win their very own Miss Taylor Kabuki!
Thanks so much for reading! Stay beautiful!
XOXO