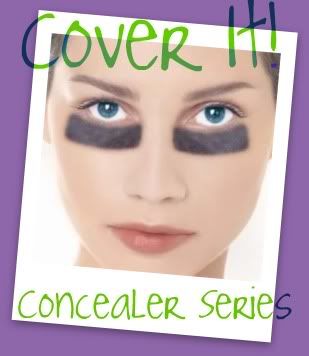 To continue my "
Cover It! Concealer Series
", I thought I would review a very inventive product: Boo-Boo Cover-Up.
Boo-Boo Cover-Up is unique because it was actually created to be a body cover up. But, it also works for the face! Yes, I know my main focus with my concealer series is to find fabulous products for covering dark under eye circles. But, in the process of searching for the "Holy Grail" under eye concealer, I know I will stumble upon other great concealers for the face and even the body.
This product is brand-spankin-new. Actually, I tested a prototype product. The good news? It is now available online! For photos, swatches, and my review, please keep reading!
Boo-Boo Cover-Up for the body: Conceal While You Heal
What a genius idea! A concealer that heals while it conceals. Honestly, I can't believe this hasn't been invented before! I am a self-admitted total klutz. Compounding factor: I bruise easily and seem to attract mosquito bites (Living in GA it is hard to avoid mosquitoes: our "state bird", lol!). So, this product is just ideal for me! How many times do you have a cut, scratch, bug-bite, or bruise that you want to heal quickly during short-short season? So, don't cover it with a band-aid, conceal it with Boo-Boo Cover-Up!
Since I tested a prototype, there was (and currently is) only one shade available: Medium. While this shade is too dark for my uber-fair skin, I was able to test it according to coverage, texture, and wear. I do think this medium shade would work for many skin tones. But, with my light skin, I am looking forward to the release of the light shade.
The Skinny:
Contains beneficial and healing skin ingredients such as: aloe, chamomile, green tea, tea tree oil, and vitamin E.
This was invented for the body, but the creator assured me that you can also use it on your face as well and is "safe for the face". If applying in the eye area, I would avoid contact directly with your eyes (just because the site states "Not intended for use in the eye area or open wounds). But, with that said, I was able to apply to my dark circles (and experienced no irritation).
$19.99 for .5 oz tube. Available at Amazon.com and Soap.com.
Shades: Medium is now available and Light and Dark are "coming soon".
Packaged in a squeeze tube. The product is thick, but still squeezes well out of the tube. I like that the tube is clear and shows the color of the product inside. It is boxed in very cute packaging. Very eye catching!
The Coverage:
Just to give you an idea of the range of coverage I consider. Here are "Possible Coverage Ranges" for any concealer I review: ultra light, light, light-medium, medium, medium-heavy, heavy, or very heavy. Mind you, very few concealers that I test end up in the heavy or very heavy range.
How did Boo-Boo Cover-Up Measure up?
Boo-Boo Cover Up: Heavy Coverage
I was able to pretty well disguise a dark body bruise with this product. Boo-Boo cover up is densely pigmented and easy to spread. It only takes a small amount to cover. The product is build able. So, you can just keep applying more product to adjust your coverage.
As a Body Concealer:
How did it work? Pretty darn good! Well, the great thing is that the product is resistant transfer once it is applied and dries. This product is much more smudge or transfer resistant than your "average" concealer. This makes Boo-Boo Cover-Up great for wear on the body! It is waterproof and very long lasting. I can see myself reaching for this product in the future for body coverage. Especially if I have a special event that I need to attend and pesky bug bites or a bruise on my leg that needs covering.
For the Face?
If you are looking for a heavy coverage concealer and have a medium skin tone, then you might really like how this wears on the face. It conceals my dark circles very well! I found that I really needed to moisturize and prime my eye area well before applying this thick concealer. This helps with the spreading and blending. While it covered well, I didn't get too much wear of this product outside of my home product testing as the Medium shade is not a good match for my very fair skin.
Thanks so much for joining me for this concealer review! I think that Boo-Boo Cover-Up is unique and inventive!