Hello my dears!
I have a skincare line review for you today! I just completed testing a variety of products from the Artisan Naturals Luxury Skin & Body Care line. As many of you readers know, I am a huge fan of natural skincare and cosmetics. If products are effective *and* eco-friendly, then they are just products that you can feel good using!
Have you heard of Artisan Naturals?
Artisan Naturals is a Natural and Organic skincare line with a focus on "Sustainable Beauty". They utilized wild-crafted ingredients, steam distilled essential oils, and natural preservatives. In addition to being organic, they are also cruelty free. Artisan Naturals products are free from: animal testing, parabens, sulfates, petro-chemicals, synthetic fragrances, and artificial colorants. I love that this brand uses organic ingredients from around the world. Artisan Naturals purchases quality ingredients such as essential oils, herbs, butters, and extracts from small self-sustainable companies and farms. These are business practices that I can respect.
For my reviews of Artisan Naturals Zine & Aloe Anti-Acne Treatment Serum, Soothing Aloe Face Cleanser, Linden Blossom Firming Eye Gel, and Replenishing Toner, please keep reading!
Artisan Naturals Products (Just the skinny):
These products are available online at Artisan Naturals and at various Spas in the US. Artisan Naturals will soon be found on www.organicbeauty.com (sometime in July).
Products are packaged in beautiful cobalt blue glass and plastic bottles. The look is uncomplicated, yet sophisticated. The aesthetic of the packaging give a luxury feel. The products would be right at home if they were for sale in a high-end hipster in town boutique. If they were for sale at a Mall, I would imagine them to be found in Anthropologie or somewhere like that.
The products are color coded by their labels: Products for All Skintypes (Purple), Normal-Dry (Pink), Oily/Acne Prone (Green), and Mature/Age Defense (Orange). I primarily tested items in the "All Skintypes" category.
These products very in fragrance from light to heavy. Some are very highly fragranced. While the scents are all of essential oils and natural ingredients, I do find the scents to be a bit strong for my personal tastes. I have allergies and sensitive skin. So, I need to be careful with fragranced products. Also, I just seem to have a general preference for unscented facial products. But, if scents don't bother you and you enjoy herbal aromas, then you will love the smell of these products.
My Skin Type:
Before I delve further into my review, lets talk about my skin type. I have dry skin (normal-dry in the summer) that is very sensitive and fair. While I break out infrequently, I do consider my skin to be "temperamental" and somewhat acne-prone. I am in my 30s. So, I am interested in age-prevention. I don't have any major wrinkles yet, but I am starting to see a few fine lines crop up when my skin is dehydrated. My most significant skin care concerns are dryness, reduction of irritation (or finding products that do not irritate), and major under eye dark circles.
Zinc & Aloe Anti-Acne Treatment Serum:
This natural acne treatment is probably my favorite item from this skincare line, so lets start with this review!
Key Ingredients: This product contains some really great natural acne fighters. Here is the breakdown.
Zinc: Heals and controls bacteria.
Alpha Hydroxy Acids: Gently exfoliate your skin (in this product at a 4% concentration)
Centella Asiatica: Helps heal existing breakouts and protects your skin from scarring.
Tea Tree Oil: Helps to wipe out acne-causing dirt and bacteria.
Aloe Vera: Soothes redness and irritation.
Cinnamon Bark Extract: Controls acne causing bacteria.
The product itself:
This product is a milky-clear lightweight gel-like serum. The serum has a prominent Tea Tree Oil scent that I find to be very pleasant. It is packaged in a glass bottle with a pump container. I found the pump to be very easy to control. It only takes a small amount of this product, so the 1 fl oz. bottle size should last forever!
Now, I must admit, I was initially a bit skeptical that a natural product could really help with a breakout. While I love natural skincare, when it comes to zits, I typically hit the pharmacy for treatment products. Well, I am happy to say that I was pleasantly surprised with the results! I found this product to be quite effective for minor breakouts or occasional zits. Who says you need harsh chemicals to treat a breakout! Now, if you have clinical acne, you may need prescription medication or over-the-counter products. But, for mild acne or occasional breakouts, I think this product is worth a try!
Linden Blossom Firming Eye Gel:
This is a lightweight and fast absorbing eye gel which aims to hydrate and eliminate fine lines and puffiness. It contains essential oils of Ylang Ylang, Rose, and Linden Blossom which very lightly scent the product.
Key Ingredients:
Dipalmitoyl Hydroxyproline: This is a botanically derived "active" substance. It has moisturizing properties which combat aging and rejuvinates the skin.
Methylsilanol Mannuronate: This comes from sea algae extract. It gives lasting moisturization, fights free radicals, and protects collagen and elastin.
Shea Butter: Shea butter is very rich and hydrating. It can impact epidermal thickness and provide extra sun protection (but does not provide SPF).
Glycoproteins: These have "growth like" properties. They stimulate cell metabolism.
How I use:
I apply to my eye area (avoiding the lash line per product instruction: be careful as product will sting your eyes). This product absorbs very well and sinks in quickly and completely. The eye area is left hydrated and refreshed. I found a very slight tingle upon application. But, didn't experience any redness nor irritation. I find this to be a very nice basic eye cream.
Soothing Aloe Cleansing Gel:
This is a sulfate free gentle cleanser. It is designed for all skin types.
Key Ingredients:
Centipeda cunnighamii extract: This is an Australlian herb in the daisy family. It is historically known for its medicinal use for a variety of skin conditions. It has anti-bacterial and anti-inflammatory properties as well as anti-irritant benefits.
Panthenol: This is a B Vitamin which increases humectant properties of your skin. Aloe vera has sooting and protecting properties.
Magnesium, Calcium, and Zinc: These minerals can penetrate the skin.
Neroli Essential Oil: This soothes irritated skin and balances oil production. It is derived from the flowers of the Bitter Orange Tree.
How I use? And my thoughts:
I apply this cleanser to my damp face and massage. Then I rinse with tepid water. This is a thin liquid non-foaming cleanser. It has a heavy "lemongrass" type scent (or it may be the scent of the Neroli?). While it has a strong scent, the fragrance does not cause irritation with my sensitive skin. It rinses clean with no residue. Skin is left feeling soft and not even the least bit tight. I find this cleanser to be both gentle and effective. But, I would prefer it with less scent.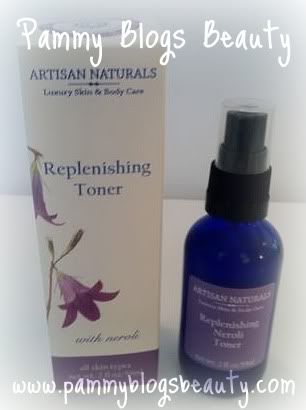 Replenishing Neroli Toner:
This is a mist-style toner. It can be applied as a toner on the face or it can be misted on the face or body throughout the day for refreshment. It provides very light hydration.
Key Ingredients:
Saccaromyces Lysate Extract: This comes from yeast. It supplies cells with energy.
Neroli Essential Oil: Helps to regulate oil production and cell regeneration.
Methylsilanol Mannuronate: This comes from sea algae and it provides mositurization. It also combats deterioration of collagen fibers, fights free radicals, and gives skin firmness.
How I used? My thoughts:
I would mist this onto my hands and then pat onto my face immediately after cleansing in the morings and evenings. I found this product to be non-irritating. This product is heavily scented. I would prefer it without the scent. But, if you like the scent of Neroli, then you may enjoy this scent.