I am very excited to be reviewing the
Vitaphenol skincare line by Spa MD
for you! I have been testing out this line over the past few weeks and have been quite pleased with the results!
Vitaphenol products are enriched with the "medically compounded" Vitaphenol Antioxidant Complex which contains a unique Blend of "Super Antioxidants": Mangosteen (a tropical fruit which has high levels of Xanthones-potent antioxidants-which are anti-aging and anti-inflamatory), Pomogranate (contains a high levels of antioxidants-can prevent cell damage from sun exposure), Green Tea (antioxidants fight free radicals and reduce inflammation), White Tea (protects and fights oxidative skin stress).
Vitaphenol has a system for all skintypes: Dry Skin, Normal Skin, Oily Skin, and Acne-Prone Skin. I tested out the products formulated for Dry Skin.
My Skintype:
I have dry and very sensitive skin. So, I tried out the dry skin range. I don't have any major anti-aging concerns yet, but I am of the age where I need to think about prevention. If my skin gets too dehydrated, I do experience some very fine lines around my eyes. Otherwise, no major lines or wrinkles. While my skin is generally clear, I do experience occasional and mild monthly breakouts. I am sensitive to many product ingredients, so I always have to ease my way into a new skincare regamin to make sure that there is nothing in any of the products to exasperate my sensitive skin.
For my full review and a special announcement, please keep reading after the jump!
The Vitaphenol range was desinged with 4 steps: Purify, Tone, Repair, and Hydrate. It is a very basic and effective system that is easy to use. Honestly, the only thing "missing" is a day lotion with SPF! So, for each skin-type you have a cleanser, toner, antioxidant serum, and moisturizer.
Vitaphenol At-a-Glance:
The Packaging: The packaging has the feel of a "high end medical spa" skincare line. The packaging is sleek and uncomplicated. The products all featured pumps (which I love) with the exception of the Toner which is a spray (my preferred method for toners). I had a little bit of trouble with the pump on the Rejuvenating Serum, but that was a quick fix when I emailed the company and they told me what to manipulate on the bottle.
The Price: Yes, the price is steep. If you buy the entire line (when not on sale), it is going to run you about $390. But, the bottles are all generously sized. So, the products should last you awhile.
The Dry Skincare System by Vitaphenol
Vitaphenol Ultra Gentle Daily Cleanser:
Oh my do I love this cleanser!!!
Ingredients Include (from packaging):
Vitaphenol Complex: antioxidant blend that "visable perfects skintone"
liposomal vitamins A, C, and E: Helps with cell turnover, improves skin texture, and brightens skin tone
CoQ10: Anti-aging-reduces appearance of fine lines
Bilberry Extract: Antioxidant-can promote cell turnover
This is a very soothing soap-free non-foaming cream cleanser. I use this in the mornings and evenings. It is super gentle and totally non-irritating. It has a lovely very light slightly "orange" scent. It feels soothing and the scent is refreshing. I use by smoothing on my wet face with my fingers and removing with tepid water or tepid water and a soft wash cloth. It rinses clean and leaves no residue. My skin is left soft and smooth after using this (no dry patches!). I totally love this cleanser and will continue to use it!
Vitaphenol Anti-Aging Toner:


Okay, so this might just be my fav item from this skincare line! I don't generally use a toner and now I know what was missing in my skincare routine! :) This is a super gentle and refreshing yet deep cleansing toner. The glycolic acid helps to remove dead skin cells to reveal brighter skin. I use this immediately following cleansing. I spray about 2x on a cotton pad and then apply to my face.


This toner's ingredients include:
Vitaphenol Complex
10% Glycolic Acid: Lifts cells and brightens
grapefruit extracts (citrus grandis)
CoQ10
Comfrey Extract: soothes skin
I really found this to be an ideal toner! Gentle yet effective: exactly what I look for in a product! It exfoliates without any irritation. I feel that my skin is well prepped after using this for any treatment product that I might like to use (typically I apply Differin cream in the evenings). I highly recommend and I will continue to use this!
Vitaphenol Daily Defense Cream:
This lotion contains:
Vitaphenol Complex
CoQ10
Ceramides: Help with skin's water retention
This is a very lightweight yet nicely moisturizing lotion. It really is more like a lotion than a "cream". It smells slightly like lavendar, which is nice and not overpowering. While I typically prefer non-scented creams, this lavendar fragrance was nice in the evenings as the scent is calming and not overpowering. One pump dispenses just the right amount for your face. It does have a slight "sting" to my skin upon application. But, that sensation goes away quickly.
Vitaphenol Cellustructure Rejuvenating Serum:
This serum seems to be the "powerhouse" of this 4-step system. It is listed as "professional strength" and has "maximum potency".

From the brochure:
Until there are daily laser treatments, this hydrating serum penetrates to profoundly improve skin. Clinicallly proven to visibly enhance skin volume, tone, texture, and diminish the appearance of fine lines, wrinkles, and uneven pigment leaving the skin perfected. Encourages collagen and elastin production.


Cellustructure Rejuvinating Serum (CRS) is supported by published clinical studies, which demonstrate its protection against free radicals and its ability to regenerate cellular growth and to heal and repair at the cellular level.
This serum contains:
Vitaphenol Complex
7.5% L-ascorbic acid: Concentrated and stable Vitamin C. Brightens complexion and helps with dryness
TGF-beta-1 liposomal delivery: a "chemical messenger" that reduces fine lines
black cohosh extract
I use about 1 1/2 pumps of this product on my face in the mornings (you can apply 2x day). I apply after toning and before sunscreen. The serum itself is a white and thick cream. It feels like a cross between a thick cream and a serum. It does have a velvety smooth feel when you apply it to your face. The serum has a light scent that is not overpowering.
The best part: It doubles as a fabulous makeup primer!!! My makeup absolutely glides on over this product! Just a dab of concealer around my nose and to cover undereye circles is all I need when I use this product! It really gives my skin a flawless look and a great feel!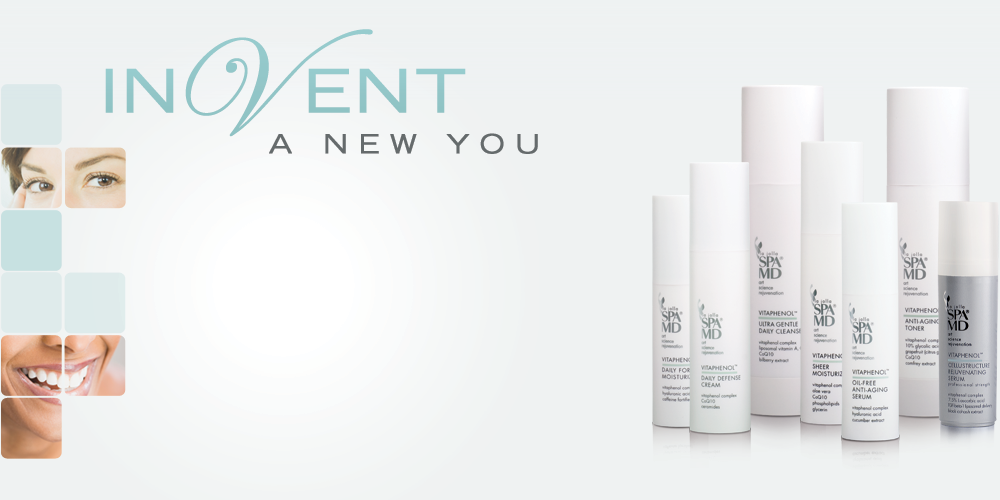 My skin has looked so nice since starting this skincare system! None of the products irritated my uber-sensitive skin! My skin feels hydrated, smooth, even toned, and plump. I really love the results!
So, as ya'll can tell, I totally love the Vitaphenol Skincare System! The Anti-aging toner even made it into my
April Star Products (April Favorites) blog post
!!! I really enjoy using all of these products and will continue to use these in-between other product testing. The Anti-Aging Toner and the Ultra Gentle Daily Cleanser might just become a staple items in my skincare routine!
If you like gentle, yet effective, products that provide antioxidant protection and anti-aging benefits, then I think you will love Vitaphenol! Now, I only tested the Dry Skin line, but there are formulations for all skin types. Also, Vitaphenol is Cruelty-Free!
Special Announcement!
Exciting News!!! Vitaphenol has offered to sponsor a giveaway for a complete skincare system-worth $390- (either normal, dry, oily, or acne-prone) for one of my readers! So check back soon for the offical giveaway post so that you can enter to win some amazing skincare!!