Have you ever heard of a shielding lotion?
According to
Skin MD, Shielding Lotions
provide(s) a natural barrier on top of the skin to protect it from outside chemicals and irritants. In addition, it also acts to keep the moisture and the oils in the skin so that the skin can heal itself...Shielding lotions are an effective dry skin treatment because they bond with the skin and protect it for long periods of time.
Not only do I personally have very dry skin, but also with my occupation as a Speech-Language Pathologist, I wash my hands and use antibacterial hand gel very frequently throughout the day. Needless to say, this wreaks havoc on my skin, hands, and cuticles. I literally am one of those people who has lotions and hand creams everywhere. On my desk, at my therapy table, in my purse, in my car, on my night stand, and next to every sink! I am determined to beat dry skin! But, even with those extra measures, my skin is dry. Especially my hands.
Skin MD is an eco-friendly company!!! This is a company with strong principals and ethical environmental practices.
Needless to say, I was excited to try this Skin MD Natural Shielding lotion! So, how did I like it? Keep reading after the jump to find out!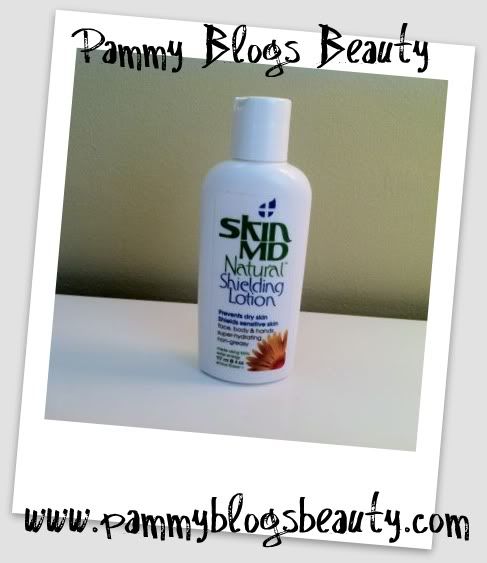 How does a Shielding Lotion work exactly? Would you like to know more?
According to the Skin MD Website:
A shielding lotion works with skin to restore and strengthen skin's natural barrier, helping to prevent toxins and irritants from damaging skin and robbing it of its moisture. Applying a shielding lotion will keep skin hydrated and protected against irritants that cause dry skin.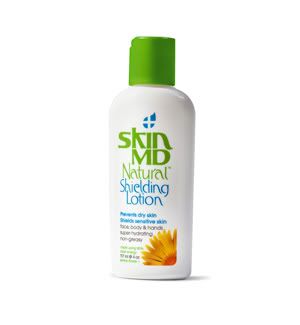 In addition, Skin MD provided me with the following information about how shielding lotions work:
A shielding lotion does the real work to prevent dry skin in two ways.
First, it assists the
inner layers of skin
to absorb moisture. The humectant (an ingredient that attracts moisture) used in Skin MD Natural is unique to it and has been laboratory tested to be 6 times more effective than any other you will find in common creams.
Second, a shielding lotion enhances the power of the top layer of the skin to resist environmental irritants while protecting the inner
natural moisture
.
This can be a big benefit for those who cook, wash dishes and garden because Skin MD Natural helps skin retain its natural moisture and oils in the face of all those irritating soaps and chemicals
.
If you have been to your local Walgreen's, CVS, or Kroger, you might have seen this by the checkout at the Pharmacy? Since beginning my test of this lotion, that is where I have noticed it on display. Otherwise, you can find this brand online at
http://www.skinmd.com/
.
Here is what the display looks like at my Walgreens (at the Pharmacy counter):
There are so many things that I like about this lotion!
Made in the USA!
Love that it is made using 100% solar energy.
Love that it contains the arnica flower. Arnica applied topically can soothe muscle aches, reduce inflammation, and heals wounds. It is a natural and safe ingredient that has been used since the 1500s. As you can tell, I am an Arnica fan (I actually use an Arnica muscle cream from my local health food store as a muscle rub after intense workouts or if I am experiencing any body aches/pains).
Manufactured in a 100% Solar facility! Wow!
No animal products or testing.
93% of ingredients are all natural or plant-based ingredients that are on the FDA's "most safe" list.
Skin MD Natural Shielding Lotion is completely non-greasy yet super hydrating!
Hypoallergenic product: Fragrance and colorant free!
Easily available and pretty reasonably priced. A 4 oz full sized bottle is approximately $18.00.
Available with and without SPF.
Ingredients:
Deionized water (Aqua)
Aloe Barbadensis Leaf Extract (Aloe Vera)
Cyclopentasiloxane
Dimethicone
Methyl Gluceth-20
Tocopheryl Acetate (Vitamin E)
Arnica Montana Flower Extract (Arnica)
Symphytum Officinale Leaf Extract (Comfrey)
Chamomilla Recutita (Matricaria) Extract (Chamomile)
Achillea Millefolium Extract (Yarrow)
Acrylates/C10-30 Alkyl Acrylate Crosspolymer
1,2 Hexanediol
Caprylyl Glycol
Butylene Glycol
Aminomethyl Propanol
Phenoxyethanol
Instructions for use:
You only need to apply a very small amount of this product! Just a pea sized amount is all you need for your hands! Skin MD Natural Shielding Lotion is unlike traditional hand creams that feel thick and greasy and are somewhat hard to spread. This product just sinks right into your hands and absorbs very quickly. I notice that my hands immediately feel more comfortable right when I apply.
The packaging states to "Apply a small amount, initially every 2-8 hours until moisture level improves, then just once every 12-24 hours."
This is exactly how I used this product and it worked great for me. I primarily use this on my hands. But, this product can be used all over your body. After about 3-4 days, I noticed a significant improvement on my hands. My skin became more hydrated and felt smoother and softer. I especially love how concentrated this product is. A little bit goes a long way! This small 4 oz bottle is going to last me forever! If you are looking for great natural
skincare
, be sure to check out Skin MD Natural Shielding Lotion!
This lotion comes in the regular formula which I tested as well as a formula with added SPF! I haven't tried the SPF formula yet, but I am curious to check it out!
Be sure to check out Skin MD here:
Social media profile links:
http://www.youtube.com/user/SkinMDNatural
Thanks so much for reading!