Hello my dear readers!
Have any of you ever experienced a change in hair texture? I have had straight hair all of my life. But, within the past year or so, I have noticed the texture of my hair slowly starting to change! At first I thought it was my imagination, but my hair colorist confirmed it! My super straight hair has started developing some waves! As someone who has admired curly hair for so many years, you would think I would be very excited about this. But, my hair is only wavy/kinky in certain spots. So, it can be frustrating to style my hair.
The folks over at BeautyStat.com contacted me to see if I would like to review this new line of
Royal Curl products from Queen Helene
. I thought, "Hmm, maybe instead of fighting the waves/curls, I could use line designed for curls? Maybe I could actually coax more curl out of my hair?" BeautyStat.com felt that my interesting hair situation could make for a unique perspective on this product for a review!
A little more about my hair: As I mentioned, my hair is primarily straight. But, there are some wavy areas right at the crown of my head. My hair is very long and highlighted. Therefore, it is somewhat dry and damaged. My hair is fine in texture but very thick.
If you are curious about the new Royal Curl line from Queen Helene (and want to hear about an opportunity to win the Royal Curl Curl Shaping Creme), please keep reading after the jump!
For this review, I tried out the new
Royal Curl Stay Clean Shampoo
,
Royal Curl Moisture Rich Conditioner
,
Royal Curl Curl Shaping Creme
, and
Royal Curl Smoothing Oil
. This entire line has the same lovely and fresh clean-smelling scent. My Husband always tells me "your hair smells good" when I use these products.
The entire Royal Curl line uses "Royal Jelly" and is free of: alcohol, sulfates, petrolatum, parabens, and phthalates.
Royal Curl Stay Clean Shampoo:
This is a very thick and rich shampoo. It lathers well and rinses fairly clean. But, it does seem as if a little bit of residue is left behind. The residue does not bother me since I have very dry hair and I like a shampoo that leaves my hair a bit conditioned. The Stay Clean Shampoo contains nutrient rich and moisturizing agents such as: Vitamins A, B, C, D, and K and sea kelp, green tea, and of course the "secret ingredient" the "Queen Bee's Royal Jelly".
Royal Curl Moisture Rich Conditioner:
This very thick moisturizing conditioner is the perfect compliment to the Royal Curl Stay Clean Shampoo. I apply after shampooing and leave on a few minutes. This conditioner moisturizes and detangles well. It has no greasy feel and rinses clean. While this conditioner is quite heavy, some how my hair does not seem weighed down after using this product. The Royal Curl Moisture Rich Conditioner contains beneficial ingredients such as: nutrient rich Royal Jelly, amino acids, vitamins A, B, C, D, and K, jojoba seed oil, and green tea.
Royal Curl Curl Shaping Creme:
This product was designed to "naturally tame frizz, define curls and smooth waves with silky hold." It is packed with vitamins and amino acids as well as aloe vera gel and agave nectar. This product does provide taming and definition for curls without being the least bit greasy. I find this to be hydrating and gave separation to my waves (as I have not true "curls"). I did not find this product to be sticky at all. I applied by just lightly touching the product and working my fingers through my hair. I work through my whole head like this applying a "touch" of the product to about a handful of hair at a time.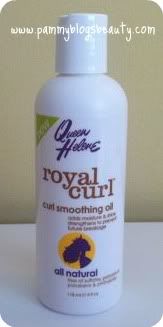 Royal Curl Smoothing Oil:
This Smoothing Oil was designed to "add moisture and shine" as well as to "strengthen, and prevent breakage." This is an oil; so, you only need a small amount. Royal Curl Smoothing Oil contains: pure corn and meadow foam seed oil as well as green tea. You can either apply this product as a hot oil treatment (which I have not tried yet) or as a leave in conditioner. I apply on a very small drop of this to the ends of my hair. It helps to moisturize my dry ends and reduce frizz. I find that this product might truly be best for those with really curly and dry hair.
Did the Royal Curl line transform my somewhat wavy hair into curly hair?
Well, no, it didn't turn my hair curly. But, it did provide more definition to the waves that I do have. However, since my entire head is not curly, I really did not experience the full benefit of this product. The long length and weight of my hair tends to "stretch out" or "straighten" my waves over time. So, after a few shampoos/conditioning/styling trials with "curls", I decided to go back to styling my hair straight.
So, does the Royal Curl line work well on Straight Hair? Yes! Actually, some of the products work very well. I found the shampoo to be nicely moisturizing for my dry and long hair. I also liked using the conditioner. I think the Smoothing Oil and the Curl Shaping Creme might be best suited for those with curly hair. But, if you apply the products sparingly, then you can use on straighter or slightly wavy hair. Since my hair is very thick, the products did not weigh my hair down. However, if your hair is fine and thin, you might notice that this Royal Curl line might be a bit too rich for your hair.
Chance to win Royal Curl Curl Shaping Creme:
The folks at BeautyStat.com are having a contest and are giving away 200 jars of Royal Curl Curl Shaping Creme: Click
here
to find out more!
Where do you find Queen Helene products? In Natural Foods stores, the Natural Foods section of your grocery store, or in the hair care aisle of your grocery store.
Have any of you readers tried this line? Or have any of you had a hair experience like mine? Where your hair has changed texture? I would love some tips!
Thanks so much for reading!

These products were sent to me by BeautyStat.com for review.
All opinions expressed in this post are my honest opinion
based on my personal experience.