The colors, design, and general flair of this collection are very current, very spring, and totally perfect for you trendy ladies out there! The collection is young and fresh...and just FUN!
Here is an image of the entire collection:
I picked up a few items from this collection a few days ago. I am loving everything that I got and I actually might pick up a couple more things! The Quite Cute collection just totally suits my slightly trendy style. I find that the shades wear very well on super-fair cool toned skin!
For my review, photos, and swatches, please keep reading after the jump!
Okay, so I picked up one blush (it was so hard to choose which one! I wanted them ALL!) and two lipsticks. I also picked up the new
Vibrancy Eye Primer
(which I will review in a future post). I might go back for a gloss and the eyeshadow quad. The primer was $30, the blush $23, and the lipsticks were $14.50 each. Whew! I know, a splurge for me. But, it was a total treat (and I don't treat myself to MAC that often!). I love all of the items that I purchased and feel they were worth it! What unique shades!
Lets start with the lippies!
I *heart* PINK!
As a perpetual lover of all-things-pink, I adore the two shades that I selected! I picked up Saint Germain and Candy Yum Yum. As much as I love all my great drugstore bargains, nothing beats a MAC lipstick! Especially in these standout shades! Plus, the yummy vanilla-like scent of a MAC lippie is totally TDF! LOL, can you tell I love them! ;)
Saint Germain (MAC Amplified Lipstick):
I absolutely adore this color! I think it is really lovely with my uber-fair cool skintone.
This is a creamy light, but bright, pastel pink. The shade seems to fall somewhere in between a Barbie and a Baby Pink color with very strong lilac tones. I know that many people can't get away with purple and lilac tones in their makeup. But, for me, lilac tones rule! :)
Now, my only complaint is that when my lips are even the least bit dry, this shows every single flake! So, be sure that your lips are nicely exfoliated and moisturized before applying.
Tips for application and wear: Try "dabbing" this lipstick on and then smudge it out with your finger. I like to top it off with a bit of gloss right in the center. I love how Saint Germain tones down and "nudes out" my very pigmented lips. This looks great paired with a smoky eye or a strong/bold winged liner! If you want to amp-up the lilac tones and go for a totally Mod look, try topping it off with Revlon's Super Lustrous lipgloss in Lilac.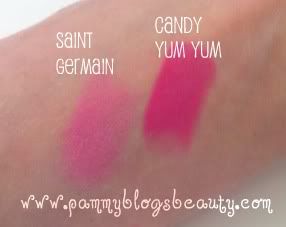 Candy Yum Yum
(MAC Matte Lipstick):
WOW! This lipstick is so *fun*!!! I mean, it is seriously B.R.I.G.H.T, but I love that about it! Now, I am not usually someone who goes for bright lips. I am all about the pastel pinks and sheer lipglosses, so this is a total departure for me. I literally said "Wow" when I tried it on at the MAC counter. Wearing this makes me want to go out for a night on the town!!! Totally hawt! ;) I really love this shade and it really is opening up a whole new world of "bright" lipsticks for me! For those of you who love MAC Candy Yum Yum and have other fav bright lippies, please leave suggestions in the comments below!
So, as I mentioned this shade is bright! I would describe it as a fluorescent or neon pink. I honestly don't have anything else like this in my lipstick collection. What a fun color!
Yes, it is matte, so make sure those lips are exfoliated and moisturized before applying! I actually like to wear this all on its own for a totally matte look (no gloss on top). But, play around with it and see what you like! It looks pretty with a sheer or clear gloss on top too.
All you fair ladies like me, this color will look great on you! What a great shade to take us into the warmer months! For me, this is one of those shades that I swipe on and think, "okay, now I am ready to go out"!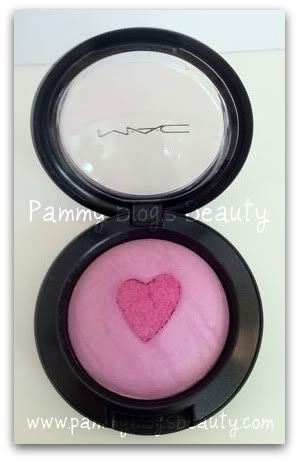 The cutest blush ever! MAC Sakura Mineralize Blush:
First of all, I must state that it was so hard to choose between all the cute blushes in this collection. But, Sakura just seemed to be the most unique of the shades. And, lets face it, I couldn't resist its purple-pink cuteness! Yes, indeed, "quite cute"!!!
As I mentioned above, with my fair cool-toned skin, purple/lilac-y shades just work on me. This blush is no exception!
While it looks totally lilac/purple in the pan, it wears MUCH more pink than it looks when you swirl the colors together. I would describe it as a purple-toned pink. The outer shade is a very light lilac, the middle pink heart is a highly pigmented raspberry-like shade, and swirled together a beautiful cool toned Barbie-ish pink.
You could wear this blush 3 ways: Just the outer lilac shade, the middle heart raspberry shade, or swirl them all together. I prefer the swirl method. When swirling, I apply with a light hand as this blush can show up very bright on my super fair skin. I also like wearing the lilac outer shade all on its own.
The color breakdown: Swirled=Bright lilac toned Barbie pink. Middle=Fuchsia/Hot Pink,
I am so happy with this blush! It pairs beautifully with both of the lipsticks that I got from this collection! Love, love, love it! (lol, can you tell that I like it!).
These swated were swiped about 3-4 times each
with a Q-tip on unprimed skin
As you can see, they show up quite bright
and pink on my skin.
What have ya'll picked up or what are you wanting from the "Quite Cute" collection? I am still considering going back for a gloss. As with many MAC collections, these shades are selling out quickly, so if you are considering some of these, you may want to head out and get them before they are gone! I know that Candy Yum Yum sold out online pretty quickly.
Thanks so much for reading!