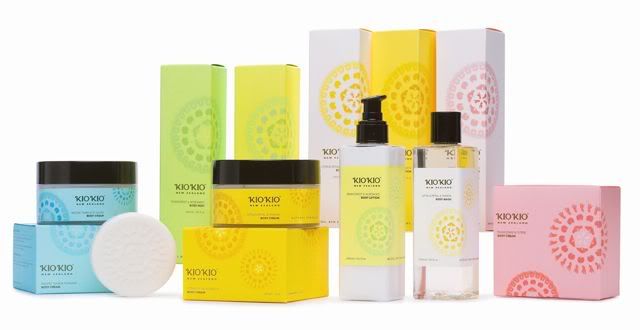 Hello my lovelies!
I just wanted to pass along this press release information from Kio Kio! If you haven't already, check out
my review of the Kio Kio Bath and Body line
. I absolutely adore these fragrances! Funny, even when writing the review, these products made me "think" of Anthropologie (one of my fav stores by-the-way).
Well, it turns out that Kio Kio is now going to be available at
Anthropologie (website)
starting May 13th!!!
Here is the press release from Kio Kio:
New Zealand's eco-conscious body care collection launches on Anthropologie's e-commerce site on May 13th, just in time to kick off the spring season. The luxurious collection of body soap, wash, lotion, mist & cream are available in four Pacific inspired fragrances matched with complementary indigenous botanical extracts. "We are very excited that
Kio Kio
is going to be featured at Anthropologie.com and see them as an ideal retail partner as we both share a love of vibrant color and innovative design", shares co-founder Fiona Terry.
Kio Kio is setting new standards in eco-friendly beauty. The packaging is uncoated and uses water-based dyes to ensure full recyclability. The unique rare botanicals featured in the products are "wild harvested" and only leaves that can be removed without damaging the plants are used. Kio Kio uses no parabens, petroleum derivatives, by-products, propylene glycol, PEGS, silicones, GMOs, artificial colors, synthetic fillers, isothiazolinone, DEA or TEA, IBPC, harsh detergents or surfactants. The company has not commissioned or conducted any animal testing on their ingredients or products.
Kio Kio Fragrances & Native Botanicals Feature:
CITRUS PETAL & TARATA (yellow) Tarata tree has sweet, lemon scented leaves & flowers that are used as potent scented healing oils.
PACIFIC TIARE & TI KAUKA (blue) Ti Kauka is naturally cleansing & nurturing. Traditionally used to heal skin, ancient people also regarded it for good luck & fertility.
RAINFOREST & KOROMIKO (green) Koromiko renews and smoothes stressed skin. It was used in ritual ceremonies & for healing skin complaints.
FRANGIPANI & PURIRI (pink) Puriri provides natural balance and was also traditionally used to treat sore throats, common aches & pains.
I absolutely adore these fragrances, so I just had to pass on this announcement to you! :)