Its review time again!
Kio Kio New Zealand Natural Body Care
is an eco-conscious brand that makes luxury bath and body products.
Kio Kio
focuses on "plant-based active ingredients" and the products are free from most of the chemicals that are commonly found in skincare. Who wants all of those chemicals anyway!
Kio Kio
makes the most *delicious* scents! It has been an absolute pleasure to test out these lovely products. Ya'll may remember that the
Citrus Petal & Tarta Body Mist
even made my "
March Star Products
" blog post and video last month? I am still loving that as well all of the pretty scents offered by Kio Kio. I still can't figure out which one I love the best! They are all unique and pretty. If you are a fan of essential oils, then you are going to love these scents!
For some *super unique and cool* background info on Kio Kio, the Eco-friendly down-low, and the product reviews (and more photos!), please keep reading after the jump!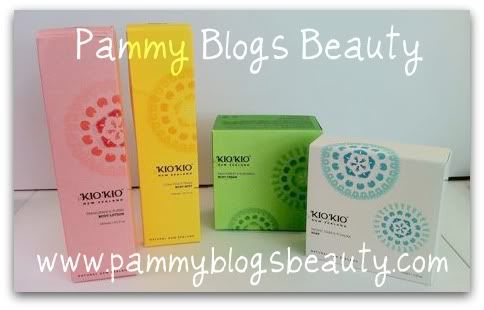 Happy Trees + Tribal Blessing =Blessed Products & Happy Consumer
(okay, if I was better in math, lol, I would have made this a more interesting equation!!!)
This company really has a
very
interesting background and principals steeped with tradition. Kio Kio is formulated with pure mineral water and organically rich ingredients. Rooted in New Zealand's Maori tribe tradition, the herbs and botanicals used in these products are "
wild harvested
" by a Maori "healer". Apparently the trees are actually asked for permission to relinquish their leaves and the harvested items are "blessed with positive intent". I am not kidding! They really do this!!! They only use the leaves that can be harvested without damaging the plant. Now, believe what you will about the ingredients "positive blessings", but I like to think that it makes the products extra special. You fellow tree-hugger friends out there, this are products that you can love in good conscience!
So much about the whole aspect of using beauty products and "self pampering" while doing your beauty-routine (be it a special spa-treatment, or just your daily application of body spray) is that "feeling" you get. When you are relaxing and self-reflecting in the bathtub, you want to be enveloped by good scents and positive thought. Kio Kio seems to strive to put extra love and care into their products. For me, this translates into me just feeling good about using the products! Okay, I digress, back to the review!
The Eco Down-Low:
Keeping with the Eco-conscious principal, all Kio Kio packaging is recyclable. The dyes used in packaging are water based and the imprints are embossed to aid with recycling.
Kio Kio
uses *none* of the following ingredients:
parabens
petroleum derivatives
by-products
propylene glycol
PEGS
silicones
GMOs
artificial colors
synthetic fillers
isothiazolinone
DEA or TEA
IBPC
harsh detergents or surfactants
no animal testing
For this review, I had the pleasure of testing out 4 luxurious and rich Kio Kio products: soap, body lotion, body mist, and a body cream. I tried one product in each scent.
Now, usually I like to "layer" my scents and have them all "match" (anyone else like this?). So, I prefer to use just one scent at a time and keep it consistent with my soap, body lotion, and spray. But, since I did not have the full line available to me. I tested them one at a time (with no other fragranced products used).
But, unlike other mass market bath and body products. The scents in Kio Kio products are much more complex than what you would typically expect in a "body spray" or "scented lotion", etc. I felt that I actually didn't have to "layer" to get the scent to last. While layering still is my preferred method, you still get great scent from using a single product at a time. I think it must be those essential oils that they use. Just such lovely and "full" scents.
The Skinny:
The Packaging:
As I stated above, the packaging is totally eco-friendly. But, did I neglect to mention that it is also totally beautiful!!! Each box looks like art! I love the artsy boxes and the soft but vibrant colors that are used. Kio Kio's packaging is chic, artsy, but also very high-end boutique looking. These boxes would fit right in nestled into a display at a store like Anthropologie or an in-town boutique or spa. These luxurious products are totally appropriate for a lovely gift!
The Fragrances:
Citrus Petal & Tarata (The Yellow Box): (Itallic text: source Kio Kio informational material)
Tarata tree has sweet, lemon scented leaves & flowers that are usd as potent scented healing oils.
Fresh, clean and uplifting. Tarata was traditionally used as a perfume in thermal pools to revive tired muscles. The Tarata tree has sweet, lemon scented leaves and flowers.
Oh my! Do I enjoy this scent!!! I got this scent in the Body Mist (remember, in my March Star products). Yummy scent! I love wearing body splashes during the week as I prefer to wear perfumes at night or on weekends. I just like a light and yummy scent for day-to-day. So, this is why I have a "thing" for body splashes!
The Scent:
While this has light notes in it, there is a real warmth to this fragrance. It is very floral and just so nice for spring. But, not a "fake floral" scent. The notes are real and remind me of smelling real flowers! Really, I feel like a flower when I wear this (smile!). I love that this scent has herbs used in this have some healing properties to "revive tired muscles".
Body Spray:
The spray itself is not only non-drying, but it also feels somewhat moisturizing without being greasy. Almost like a hydrating scented toner for the body. It contains ingredients like spring water, aloe, and glycerin to condition your skin.
Pacific Tiare & Ti Kauka (Blue Box):
Ti Kauka is naturally cleansing & nurturing. Traditionally used to heal skin, ancient people also regarded it for luck & fertility. White flowers and citrus combine in this sparkling Pacific Ocean Fragrance. Sweetly
I sampled this sweet scent as a soap. Kio Kio's soaps are triple milled and creamy. The soap comes in a beautiful and decorative box (very "gifty"). The soap is round and embossed with the same Kio Kio design that is on the box. I set this soap out on the counter in a pretty dish when we have guests over. It is just that pretty and that fragrant!
The Soaps:
These soaps are triple milled and creamy. They have a vegetable base and contain shea butter and botanical extracts that have a natural antibacterial component.
Rainforest & Koromiko
(Green Box):
Fragranced like a morning walk in the forest after it rained. Koromiko renews and smoothes stressed skin.
This body cream or body butter comes in a generous sized tub container with a screw top lid. As a huge fan of super rich body butters, I totally loved this moisturizing cream. Once the cream penetrates, there is no greasy feel. This scent really is a particular favorite of mine as it truly does smell like "spring" to me. It is a fresh and crisp scent that reminds me of grass and leaves. Like the other Kio Kio products, the packaging is so pretty. The jar looks lovely sitting out on a counter.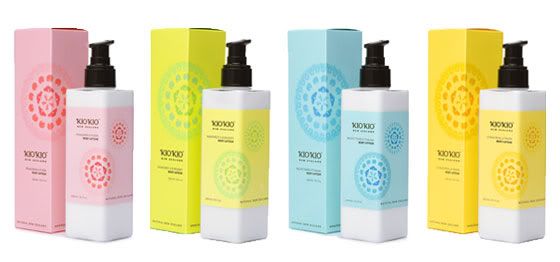 Frangripani & Puriri (Pink):
Puriri is a natural hormonal balancer & traditionally used to treat sore throats, common aches, and pains.
(interesting!)
Frangripani's rich heady perfume infuses the air with its warm tropical notes. Puriri gives balance and tranquility.
Of course I love this one...its PINK! ;) I love the pump container on this one (fan of pumps!). This ones scent really reminds me of summer. It is a rich floral aroma that makes me think of Gardenias and Honeysuckle.
The Lotion:
The lotion is nicely hydrating and absorbs quickly leaving a lovely fragrance. My skin feels soft and conditioned when I wear this. The formula contains spring water, natural perfume oils, and organic skin conditioners like jojoba oil, shea butter, and vitamin E.
These products have great gift potential! There is no doubt that these soaps, lotions, and body sprays would make beautiful gifts! You wouldn't even need to wrap them as the boxes are pretty enough! Just add a bow! :) You can also coordinate these as gifts based on your recipients personality and the intended "effect" of the various aromas.

These products are all "bio-compatible" meaning they are good for your skin *and* the environment! The aromas are all just lovely. These are heavily scented products with a lasting fragrance. You are going to need no other perfume while wearing these. I have gotten many "you smell pretty" compliments while wearing these products! If you haven't guessed already, I really love these products! :)
Be sure to check out Kio Kio online at
www.kiokio.com
and
www.ronrobinson.com
. Here are the approximate retail prices for these luxury spa Bath & Body products: Soap: $15, Wash (I didn't test the wash): $31, Mist: $32, Lotion: $35, Cream: $52.