Hello my dear readers!
I am here today with another Wet n Wild review from the new 2011 Color Icon Shadow Collection. I have been testing out the trios and will dedicate a post to each of the trios that I have picked up so far. See picture above: I'm Getting Sunburned, I'm Feeling Retro, and Silent Treatment. Also be sure to check out my review of the new
2011 Color Icon 8-pan palettes
(tons of swatches and an extensive review).
If you have never tried Wet n Wild Shadows, or if your last experience with the brand was long ago, then you need to check out this new collection! Wet and Wild has really stepped up their game ever since they came out with the initial Color Icon Palettes. Wet n Wild's Color Icon shadows are now amongst the highest in quality that you can find at the drugstore. All that...and such an inexpensive price!!! They are only $2.00 each and it almost always seems as if there is a sale! So, go ahead and treat yourself and pick up one of these awesome trios!
Being the neutrals-girl that I am, of course I have to review the most neutral of these trios first for you: Silent Treatment.
For more swatches, photos, and my review: Keep reading after the jump!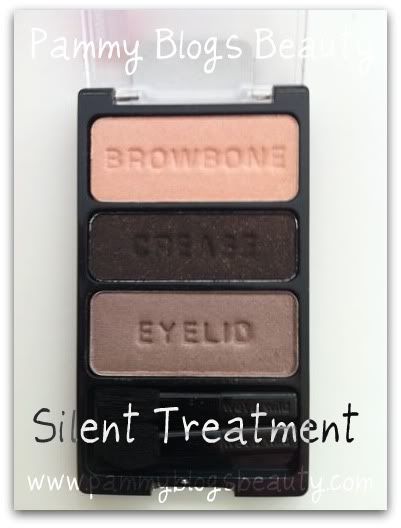 The Skinny:
As with the whole WnW Color Icon shadow range, you are going to get amazing pigmentation, a soft buttery texture, and great wear! These shadows just glide on like silk and blend like a dream.
Great shades: These colors work in such total harmony together!!! The colors are beautiful and toally appropriate for daytime wear. But, the bonus, you get such a deep crease shade that you can really build the intensity for evening! You get a lovely shimmery/satin peach "brow bone" shade, a deep rich brown "crease" shade (with gold micro glitter), and a shimmery/satin taupe "eyelid" shade. I love ALL these colors! But, possibly the real winner here is the Eyelid shade (the crease color is amazing, too).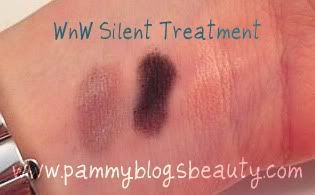 You are going to a MAC dupe with this palette. The eyelid shade is apparently a dupe for MAC's Style Snob (sorry, I don't have that shade for a comparison to show you), but I have read this from multiple sources.
What can I say, this little trio is a total winner!!! I totally love it, wear it frequently, and there is no question that I would repurchase in a heartbeat! A must have!
I hope you enjoyed reading!!! Stay tuned for more WnW Color Icon Trio reviews!
Stay beautiful!!!