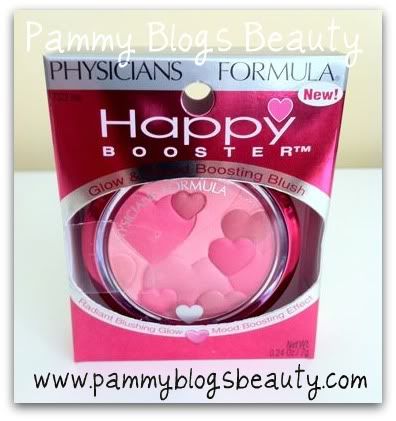 OMG! I couldn't resist a quick post telling ya'll about the most amazing sale deal that I think I have EVER stumbled upon!
I just picked up another Happy Booster blush by Physician's Formula for FREE at CVS! Yes, FREE ya'll! Now, I already have this blush in the shade "Natural" (
check out my review of that here
). This time I purchased the blush in "Rose".
Okay, so how did that happen?
First of all, I am a CVS "Extra Care" member. So, when I purchase items at CVS, the register generates coupons depending on your spending and special "extra care" deals. CVS also generates "Extra Bucks" coupons as well, which are cash-value coupons that can be used toward store purchases for the stated cash value. I combined those extra care coupons with store sales, manufacturer coupons, and an online coupon....and I ended up getting a product for free. Well, even better than that, after my purchase, I got another $7.00 "Extra Bucks" coupon, so, really, I got an item for -$7.00!!!
Here is the breakdown:
Physician's Formula Happy Booster Blush: $11.99
CVS MFR Coupon: -3.00
CVS Extra Bucks Coupon: -5.00
Physician's Formula Coupon
(it is a peel off sticker on the actual product!): -3.00
CVS email coupon 25% off: -.99
Subtotal: .00
Tax (7%): .42
OMG...AMAZING!!! So, I got an item for totally free, then I paid tax on it, and the register generated and additional $7.00 extra bucks coupon as you get $7.00 extra bucks back right now with any CVS Physician's Formula Purchase!
So, I am beyond thrilled!!! I might even go back and use the $7.00 towards the Happy Booster Complexion Powder that also had a $3.00 off peely sticker (which would make that only $4.00).
Don't you just love great bargains! So, if you haven't already, sign up for a CVS Extra Care card and register your card for online coupons! :) While you are at it, check out this great Physician's Formula deal! So, yes, I am totally thrilled!!! A new blush, for free!!! Whoo-hoo! Now, this bargain is what I call a "Happy Booster"!!! ;)

well, lol, I paid tax on it! ;)