Hey there my lovely readers!
Here I am with another SpaResource review! :) To see my previous SpaResource review on the body butter and hand lotion, please click
here
.
Today I am reviewing some SpaResource makeup brushes for you! :) These brushes are available either online at
sparesource.ca
or at your local Walmart. The On-The-Go Eye Essentials Set retails for about $15 for the set (including the travel case) and the Powder Brush retails for $13.00. These are good quality brushes at a great price! The brushes are made from a variety of hairs both animal and synthetic (and are all cruelty free: I know this is important to many of you readers, and me too!).
Overall, I am pleased with the quality and performance of these inexpensive brushes!
For more details, pictures, and my reviews, please keep reading after the jump! :)
On-the-Go Eye Essentials Kit:
This is a super cute travel-sized brush set which includes 6 mini travel sized eye brushes in an adorable black case. For real, this is one of the nicest travel sets I have tried! The brushes are very small, but still big enough to be use able. Yet, they are still small enough to keep in your purse. I know that is a hard balance to strike without sacrificing quality. But, this set hits the mark!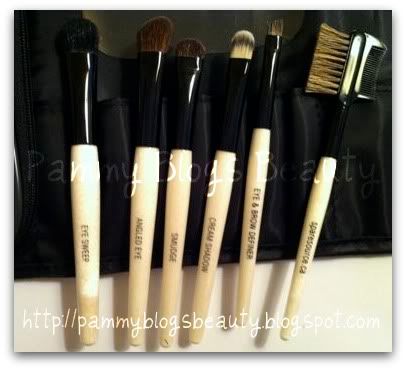 The Brushes:
Wow!!! These brushes are sooooo soft!!! Not "quite" as soft as my ecotools brushes (my barometer of total softness), but almost as soft! The SpaResource brushes seem softer than my usual e.l.f. brushes and Essence of Beauty eye brushes brushes, which retail for near the same price point as the SpaResource.
The design of the brushes is very sleek. The "look" reminds me a bit of Bobbi Brown brushes with the very light lacquered wood handle with black lettering, a black metal ferule, and natural hair bristle color.
The brushes and the case are *extremely* lightweight, which is such a plus considering these were designed as an On-the-Go set for travel. Who wants to weigh themselves down with bulk or weight when traveling! These brushes are all nice and fluffy and the bristle hairs are dense. Quality certainly was not sacrificed to make them travel sized!
All of the eye brushes washed well with minimal-no shedding and no slipping of the ferule. The brushes are sturdy and appear to be very well made.
You get a great variety of eye brushes in this set. Just about every brush you need for applying your eye makeup is included! I am able to create well defined eye-looks with this assortment. Also, these brushes don't need to be just for travel! I am one of those people that likes to get extremely close to the mirror when working on my eyes; so, I often reach for travel brushes to do my eyes anyway. This is a nice little assortment to add to my collection! :)
You get the following brushes in the
Eye Essentials Kit:
Angled Eye Brush: Nice and fluffy and soft with an angle. Can sweep shadow onto the crease for a diffused look. I likey!
Eye Sweep: This is your basic large fluffy shadow brush. Very dense and soft. Works great!
Cream Shadow: This is my first ever "cream shadow" brush! Usually I just apply with my fingers or with a concealer brush. So, you could use this for cream shadow or it would make a nice concealer brush! It's flat and stiff bristles are ideal for applying cream products.
Smudge Brush: This is a "new" shape for me too! It is flat and wide. It smudges out liner/shadow very well and I have also used it to apply shadow to the lid.
Eye and Brow Definer: This is a tiny and somewhat stiff angled brush. Great for adding powder to define your brows. Also good for doing a smudged liner look with shadow. The width of this brush would be too thick, IMHO, to apply cream eyeliner.
Brow and Lash Definer: Your basic brow brush/lash comb. No complaints here! Works great!
The Case:
Have I mentioned yet how much I love the case!!! It is super-duper light weight and has pockets for all your travel brushes from the set. Inside the case you will find a plastic panel for underneath the brush heads (keeps the inside clean) and a flap that lays over the top of the brushes. There is a tri-fold design that closes like a wallet and snaps shut. The inside features a black mesh zipper compartment where you could keep additional brushes, sponges, travel, kabuki, tweezers, etc. Totally love it!!!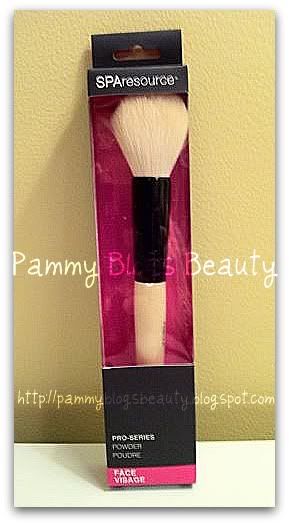 The Powder Brush:
The Powder Brush is sold separately from the Eye Essentials Kit. This is a full-sized powder brush. Like the travel kit, the handle is a sleek lacquered light wood color, with a black metal ferrule, and natural fiber brush hairs (the hairs on this brush are white and are made from goat hair-cruelty free). I kinda like that the brush hairs are white! Different!
The bristles on this brush are *extremely* soft!!! This brush's softness is quite comparable to the softness of ecotools brushes. I found it to be even softer than the brushes in the Eye Essentials Kit. It feels so good putting powder on you skin with this uber-soft brush! The bristles are dense and fluffy. There was only very minimal shedding with washing. I would say this is a medium-large size powder brush. I generally prefer a medium to large sized brush for powder application, so I am really pleased with the size of the brush. This is now the primary powder brush that I am using!!! I love it for loose-powder application. :)
Well, I did initially have a minor issue with this Powder Brush. When I first opened the box, I detected a slightly odd scent to the brush. It reminded me of how a craft store brush or a paint brush smells (kind of like paint or glue?). Upon washing the brush, and when the brush hair and handle is wet, the scent seemed to intensify. The scent is not as detectable when the brush is dry. Since I really liked the softness and feel of this brush, I was determined to get rid of the odd scent. I put the brush through a cycle of about 10 wash/air-dry/repeat cycles over the course of a few days. I am sure that was a bit of over-kill on my part, but I really wanted to make sure the odor went away completely. After about 3-4 washings, the odor really diminished, but I kept washing it to try to get rid of it almost completely. After washing it multiple times and airing it out the smell dissipated; and I am pretty satisfied.
FYI: I contacted the company to inquire about the brush odor. I was told that the brush had very recently been produced and that I might have been detecting the paint odor from the new paint on the handle. They literally sent it to me right after it had been made in the factory so that I could test it out. I was advised to just keep washing the brush as usual and to let it air out very well. This may or may not be an issue for others as most people won't get their brushes immediately after production. Either way, repeated washings and airing it out well will eliminate that "paint" smell.
I must note, even with as many washings as I put this brush through, the shedding was very minimal (like, one stray hair)! Impressive!!! This brush has pretty much replaced my old powder brush as the SpaResource powder brush is much softer!!!
All-in-all, I think that the SpaResource brushes are a great option for affordable brushes that are readily available at your local Walmart. I plan on using the little travel brush set not only travel, but for everyday use as well! I absolutely adore the little travel brush case and love that there is extra room to add more brushes. This little set just might take up a permanent residence in my handbag! The powder brush I have been using every day for a light dusting of loose powder to set my makeup. Works great!!!
Thanks so much for reading!