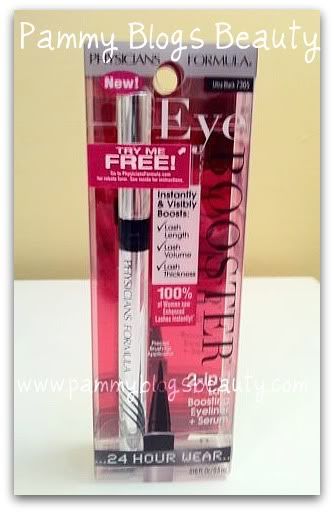 Hello my lovely readers! I am so excited about this new Physician's Formula Eyeliner!!! It's official, I have a new favorite liquid eyeliner with this product!!!
This review is for the
Physician's Formula Eye Booster 2-in-1 Lash Boosting Eyeliner and Serum
in the color Ultra Black. It retails for about $10.99 at CVS (Which, let's face it, is a pretty steep price for a drugstore makeup item). But, check around your local stores as mine was stickered with a "try for free" rebate sticker. So, for free, its totally worth a shot, right?!?!
And, yes, I know...another product promising "lash growth". I am such a sucker for these!!! (see my previous reviews for Revlon's Grow Luscious Mascara and Rimmel's Lash Accelerator Mascara). These lash growth products seem to be everywhere now! It is certainly a big trend!
Now, I really don't buy into the "hype" of these as I have not seen any results with any of the non-prescription formulas that I have tried. But, I wanted to try this liner none-the-less as it had a free rebate and I badly needed a new liquid liner! The promise of lash growth would be a "secondary" benefit for me. Plus, I admit, I was a bit intrigued by the package claims for growth as well as the promise of "24 hour Wear" (LOL, seriously??? Who wants or needs their liner to last that long!!! But, hey, I bet it wears well!).
According to the packaging, this product "Instantly & Visibly Boosts: Lash Length, Lash Volume, and Lash Thickness." Physician's Formula claims that the "lash boosting complex targets the root of the lashes where it is the most effective in providing nutrients associated with growing long, thick lashes". Check out the photo here of the back of the packaging and more claims. I must note that in the before/after photos the "before" pictures are of eyelashes without mascara and the "after" pictures show the eyelashes *with* mascara. So, yes, of course there would be a difference when one wears mascara!
So, do I love it??? Please keep reading for more photos and the review! :)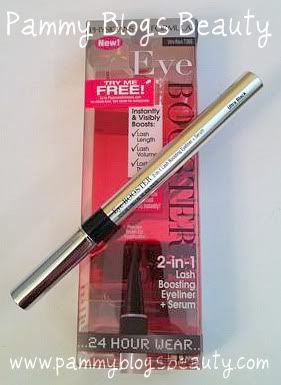 In a word: Yes!!! I totally love this
Physician's Formula Eye Booster 2-in-1 Lash Boosting Eyeliner and Serum
!!!
What is so great about this?
This is hands-down the most "fool proof" liquid-type eyeliner that I have tried!!! Seriously, it applies like a dream. Totally effortless! You can have sexy winged liner in a snap!
I find the shape and flexibility of the felt-tip "brush" type applicator to be just perfect. It allows for a lot of control over the thickness of your line. You can get a super thin line with this or a thicker line depending on how you apply.
The color literally glides right on effortlessly and solidly. You will get a thick dark line with the first swipe. The formula is thin, but not running. It dries and sets quickly.
This product will absolutely not budge or fade until you take it off. It wears *extremely* well. It will look just as perfect when you are ready to take it off as it did when you applied it!!! This is an amazing feat for eyeliner for me as my eyes really tend to water (I have sensitive eyes and have allergies, so I really need an eyeliner that will hold up well!). Honestly, it stays on perfectly! I couldn't be more pleased!!! Now, lol, the packaging states 24 hour wear. No, I did not test it that long. But, honestly, it wears amazingly on me for until I take it off (approximately 12 hours).
So, does it live up to the lash growth claims? Well, not as far as I can really tell, but honestly wasn't expecting any miracles. Yes, your lashes "look" fuller when you are wearing liner on the upper lashes as the area is more "filled in". So, I can get the "appearance" claims. But, if this liner has beneficial "good for your lashes" ingredients, well that is fine by me too. But, no, I have not seen any significant improvements in my lash growth.
In summary, I totally love and adore this liner!!! And...drum roll please, this has reached new Holy Grail (HG) status as my favorite liquid eyeliner. So, despite not achieving any increase in lash growth (which I honestly did not expect), this product, based on its stellar application and wear, is my new HG liquid eyeliner. A big YAY!!!! for that!!!!
Thanks so much for reading! Stay beautiful my lovely readers!!!