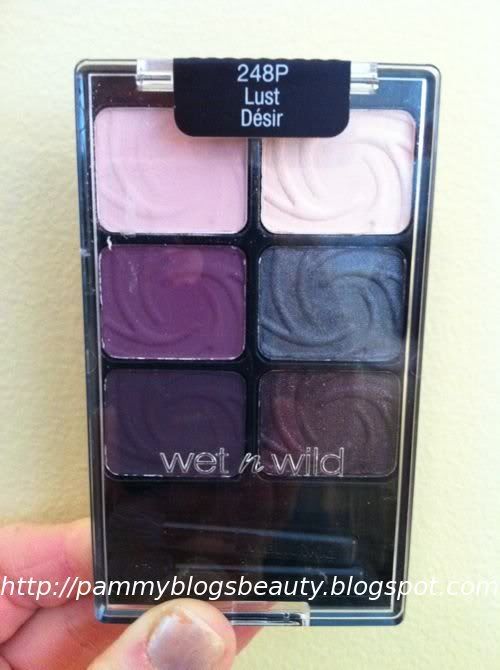 Now, I know that WnW is coming out with a whole new range of Color Icon Palettes, so I realized that I better get some of my reviews up for the "old" ones from 2010! I was able to pick up most of these on a major 50% off sale at Walgreen's before they cleared them out. I am really, really looking forward to the new releases! The formula of the shadows is apparently "better" than these color icon palettes, but I tell ya the formulation is already great, so I am expecting great things!
Okay, I digress...back to my review!!! :)
Wet n' Wild Color Icon Palette in Lust
What a super gorgeous palette!!! This has quickly become one of my faves!!! Not only have I discovered that I love WnW Color Icon Palettes lately, but also that I love wearing purple shadows!!! With my cool coloring Purples are surprisingly neutral and wearable! Plus, my chameleon like grey/blue eyes even look a little greenish with these shadows on, which is kinda cool!
Here are some high points about this great palette: (keep reading after the jump!)
Like all WnW Color Icon Palettes, you are getting an amazing value for $4.99 (or $2.50 on sale)!!!
The shadows themselves are great quality! Very pigmented (see swatches below: just two swipes with a q-tip on unprimed skin). Holy pigmentation!!!
This palette contains a mix of matte, shimmer/satin, and glitter shadows. Love the variety here. IMHO, I feel that WnW has really mastered the "matte" shadow as they have such a lovely texture without being chalky.
I love the "buttery" texture of these. They apply so easily and blend extremely well.
The shimmery vanilla shade is a pretty close dupe to MAC's Vanilla. Such an easy-to-wear shade.
My fav color combo from this palette: Vanilla shade in inner corner and on brow bone, matte light purplish pink on lid, and a mixture of the grey and matte medium purple on crease (try this!!! These colors are gorgeous mixed together!!!), and the sparkling eggplant purple shade as a liner. Just so pretty!!!
I don't know how much longer these will be available with the new palettes coming out. So, I highly recommend picking up this Vanity palette if you see it! You won't be disappointed!!!
If you haven't guessed already, lol, I totally love this palette!!! I hope you enjoyed reading!!!