Affiliate Link/Referral Code
Blogger Ambassador
I love finding online deals. I mean, who doesn't love a good deal, right? With the ability to search for codes at our fingertips these days, it almost doesn't make sense to purchase online without using a coupon code or online deal. However, it can often be hard to find a code that is valid or a deal that you are interested in or need. How many times have you tried to use a code (that you found online at a coupon site) only to find out that it doesn't work. So frustrating! This is one of the many reasons why I am excited about
Dealspotr
! Dealspotr is unique because it is a crowdsourced deals website. Plus, there are tons of great perks to being a Dealspotr user: you can both save money and earn money with Dealspotr!
Are you curious about
Dealspotr
? Do you want to find out more about how you can save money with Dealspotr and earn money at the same time? Just click "read more" below to find out all the details about this awesome deals website!
About Dealspotr:
Before diving into to the details of how to use the
Dealspotr site
, lets talk a bit more about the site in general.
Dealspotr is the "Wikipedia of deals" - the Dealspotr content is crowdsourced, meaning Dealspotr's 30,000 members add, edit, and police all the deals on Dealspotr to ensure that the posted deals are accurate and complete. Since launching one year ago, Dealspotr has saved shoppers over $15 million. The site is viewed by over 1 millions shoppers per month, and Dealspotr is one of the fastest-growing deal sites. Dealspotr is the only deal site to give you your own personal feed of deals. Similar to your Facebook news feed, you can subscribe to specific brands, topics, and people and curate a daily feed of deals personalized for you. It's super easy to earn gift cards using Dealspotr, it's even reasonably easy to earn your first $10 gift card on your first few days using Dealspotr. Plus, you're helping shoppers save money (and saving money yourself) while you're earning.
So, How does Dealspotr work?
With Dealspotr, you get rewarded for participating! Dealspotr uses a point system that translates into redeamable gift card amounts. You can easily track your points and see your points progress towards your giftcard rewards. It honestly is so fun to track point progress!
Unlike other cashback websites, Dealspotr is not just about rewarding you for spending money. You get rewarded with giftcards at Dealspotr just for your time spent validating or sharing codes on the site! The social sharing is super easy. Dealspotr provides the social media buttons right under the deals so you can easily just click and share! So, you do not have to spend a dime to get rewarded! Your time spent on the Dealspotr site can be rewarded with giftcards for some really great online retailers like Amazon!
I love how you can personalize and curate your feed on Dealspotr. That way you can use and find deals for sites you love! Say you are in the mood for some online shopping, but want the very best deals for your favorite sites. Then, just log into your Dealspotr account and browse your feed! Your own personalized feed will feature the current deals for your favorite sites! Then you can just click through and start your shopping!
Be Active on Dealspotr and Earn Points:
Being active on Dealspotr has perks! As deals pop up in your feed, you can "like" them or spot them. Popular deals are categorized as "hot"deals when they are spotted by many users. This has great perks for the user that posted the deal! The hotter the deal, the greater the rewards! There are other ways to earn points on Dealspotr, too: commenting on others' deals, referring friends with your referral code, sharing coes across your social media, adding deals, and more! All of these activities earn you points and more points mean more rewards!
The Daily Checklist:
One of my very favorite features of Dealspotr is their Daily Checklist for users. Every day when you log into Dealspotr, you can simply click on your Daily checklist where Dealspotr bullet-points a few quick and easy tasks for you to complete to maximize your daily reward points. As you complete tasks, they get checked off/crossed off the Checklist so that you can easily see your progress. Simply working through the daily checklist a few times each week translates into hundreds of points that can be saved up and redeemed for gift card rewards!
Perks for Bloggers:
The perks at Dealspotr get even better if you are a blogger! They have really awesome resources available for their blogger users! For bloggers, Dealspotr makes sharing deals on your blog easier than ever with their user-friendly deal sharing widget. Just cut and paste the code and post in on your blog within a regular post. The deal will pop right up when you publish. Plus, it is eye-catching and easy for your readers to click-through to get a discount. With all of the deals available, you will be able to find a great deal that fits within the scope of whatever content you are posting on your blog. If you are a beauty or lifestyle blogger like me, you will find tons of deals to fit seemlessly within your content! As a blogger, you can earn more from your deal blog posts with Dealspotr!
In addition to using deals that are posted on Dealspotr, you can also add deals yourself. Dealspotr makes the process super easy! Just click "add a deal", choose the online retailer, and then add the code. It is super easy! You can add more details about the deal (you don't have to, but the option is there to add a lot of information, pictures, etc).
Interested in getting started with Dealspotr?
Be sure to click through this link
or any of the links found in this post for my personal referral code. Also, you can use this referral code: PAMMYBLOGSBEAUTY
I am obcessed with using Dealspotr! It is fun and easy to share deals, find deals, and interact with other users. Not to mention, I love the easy of the points system and seeing my rewards add up. The more you use Dealspotr, the more you will be rewarded. It is that simple. Plus, it is fun! Not to mention, who doesn't like to save money! You certainly will with Dealspotr and the fantastic discount codes you will find there.
As always, thanks so much for reading!
XOXO!!!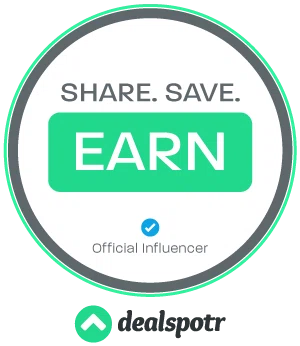 Affiliate Link