Affiliate Link
Press Sample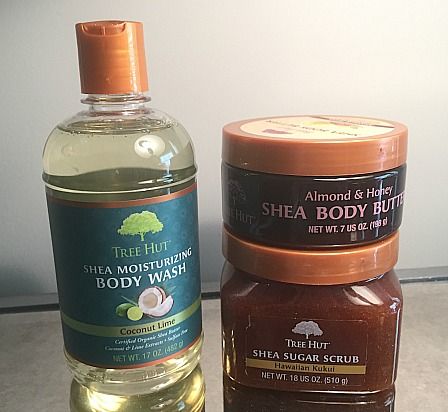 Colder weather can be a challenge when trying to find the right body products. What works for you in the warmer weather often just doesn't cut it once the weather gets cold. Plus, I like products that give you a bit of a luxury feel. Now, that doesn't mean I only like high-end. I just like products that give a spa-like feel reguardless of price. I mean, my morning shower and evening beauty routine is my "me time". So, I like to feel like my skincare is a "treat"!
I recently tried some really great products from
Tree Hut
and I just had to share! These items are great for Winter as well as year-round. To find out more about Tree Hut's Shea Moisturizing Body Wash, Shea Body Butter, and Shea Sugar Scrub, please click "read more" below. The scents are amazing and the quality is awesome!
Tree Huts
products all have Certified Organic Shea Butter as a primary ingredient. So, it is no surprise that the products are super nourishing and great for your skin. Tree Hut products are rich in moisture! Shea Butter is a fantastic ingredient as it softens, smooths, and helps strengthen skin. It also prevents dryness and hydrates to provide healthy glow, while promoting elasticity. Plus, as I mentioned earlier, the products smell divine!!!
Here is the Scoop on some of my favorites from Tree Hut: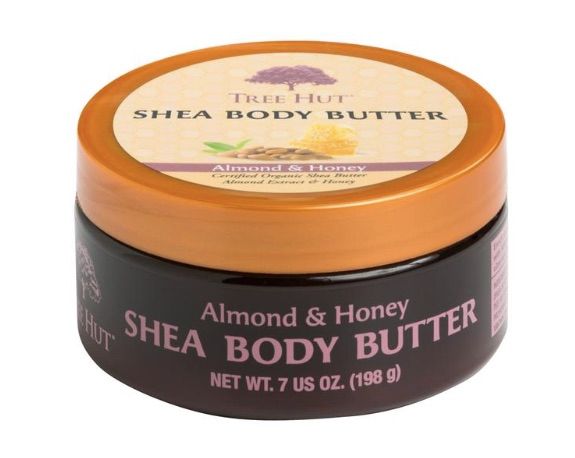 Tree Hut Almond & Honey Shea Body Butter:
Moisturize and repair your skin with Tree Hut Almond Honey Shea Body Butter! It is formulated with real honey and sweet almond oil help to naturally condition unhealthy and neglected skin, helping it to regain its natural sheen. It is designed to seal in moisture, leaving skin soft and rejuvenated. Retails for $7.99.
Tree Hut Sugar Body Scrub:
Nothing beats a great scrub for an at-home spa-like experience! Experience a soothing exfoliation session with Tree Hut Sugar Body Scrub with the warm scent of Hawaiian Kukui. The sugar grains will softly polish away dead skin cells, leaving your skin soft, smooth and healthy looking. Plus, it defends against free-radicals and works to generate healthy skin! Retails for $8.99.
Tree Hut Coconut Lime Moisturizing Body Wash:
Indulge your senses with the Tree Hut Coconut Lime Moisturizing Body Wash which leaves skin feeling clean and smelling great. The sulfate-free formula contains vitamin A and E to nourish skin, leaving you feeling radiant. The body was is infused with naturally occurring zinc which helps reduce inflammation and build collagen to reduce the appearance of wrinkles. Retails for $6.99.
If you are looking for some super nice spa-quality body products with amazing scents at a great price, be sure to check out
Tree Hut
! Have you tried any of these? Would love to know your thoughts or your other recommendations from this line.
XOXO! Thanks for reading and have a super day! :)
Affiliate Link