Affiliate Link
Press Sample
I will admit, I was a bit perplexed when I first heard about this dryer...I mean, a dryer with no handle? So different! However, as I started to think about it, I have had many salon experiences where my various hairdressers have held the dryer by the barrel when trying to get my hair dried super quick. You just get so much more control over the dryer and the air flow when you hold the barrel. So, now it makes sense! Why have a handle! Sure, there is a learning curve with this dryer while you get used to holding it a different way. However, once I got the hang of it, I really appreciate drying my hair with this new method. This dryer is so quick and easy to use. You get more control. Plus, having no handle decreases the weight. So, it is lighter on your arms and less tiring to dry your hair. CHI also promotes that this dryer is "hands free". I think the idea here is that with the different shape, you can set the dyer on a flat surface to dry your hair. Thus, using no hands.
The Dura CHI Hand Shot Hair Dryer surmounts the time constraints of hairstyling providing efficiency and comfort through its cutting-edge design, even allowing for hand-free use. With the absence of the conventional dryer handle, the hand shot dryer allows for consistent control over the dryer to produce a multitude of styling techniques. Catering to all hair types, the dryer features a state of the art, touch sensitive control screen that offers numerous heat and speed setting combinations to deliver optimal results.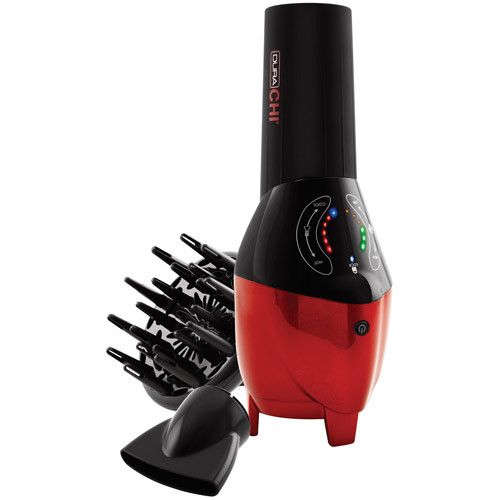 Key Features:
Hands-free drying stand enables the dryer to stand alone on a flat surface.
Handle free design for a more balanced and efficient drying angle that allows for the wrist to sit in a more comfortable place.
Touch-Sensitive Screen that regulates temperature and speed levels.
1875 Watts of power that allows for consistent heat from ceramic heat technology.
Non-slip, soft touch grip that provides optimal control and molded finger groves for added comfort and support.Special Features and Controls:
Special Features and Controls"
Screen Design:
Touch sensitive control dial with LED lights display, provides easily adjustable temperature and speed levels with a single touch.
Adjusting Speed Settings: Using the left control panel changes the speed of air flow from Low to High.
Adjusting Temperature Settings: Using the right control panel changes the temperature range from Cool to Hot.
Screen Locking Feature: Lock the screen during use to prevent accidental temperature or speed changes by pressing the Lock button.
You can find the
DURA CHI Handshot dryer at Loxa Beauty
. It retails for $144.99. If you are looking for an innovative new way to dry your hair, be sure to check out this dryer! I am loving it!!!
Affiliate Link