Affiliate Link
Press Sample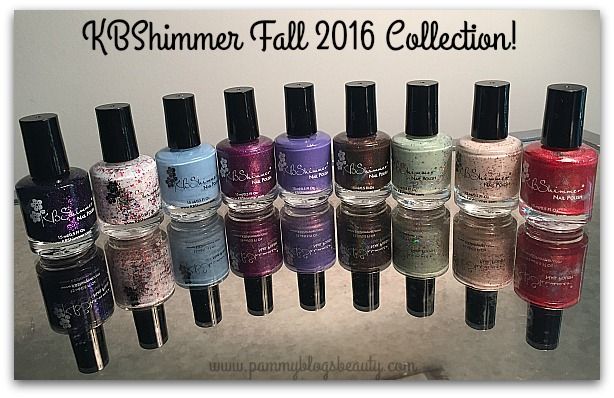 Nothing marks the season change better for me, beauty wise, then my rotation to Fall nail colors! Nail polish is absolutely a seasonal thing for me. While I loved my Summer shades, the change in weather makes me excited to change up my nail color!


KBShimmer is one of my favorite go-to brands when it comes to nail color. The
KBShimmer polishes
are just so unique and so special! From their beautiful cremes to their unique glitters and their fantastic holograms. You are going to want to check these out! Lets dive right into the collection. Please click "read more" below to find out more!
The KBShimmer Fall 2016 Collection:
KBShimmer knocked this one out of the park! This collection is fantastic. Such a great asssortment and such variety. It is honestly hard for me to pick a favorite from this collection. I have been wearing Sweet Devotion a lot on my tips as it sets off my late-summer "tan" nicely. I am also really loving The Best Mum Ever a lot and it is my go-to lately for my pedi color. The shade that excites me the most for Fall is Poppy Kisses! I know that I am going to wear this one throughout October!!!
Sweet Devotion: Sweet Devotion is a candy inspired white crelly. Inspired by a picture of those fun sized goodies, this polish is filled with candy wrapper colored hex glitters in blue, red, yellow, orange, green and brown. A scattering of micro slice glitters completes this sweet polish. 2-3 coats recommended. In the bottle, I thought that this one might be too "little girly" for me to wear...but, it is not! It is whimsy...but, it is super wearable and fun, too! I love wearing white polishes, in general, on my tips. This is such a fun twist on a white polish!
Grin And Gerbera It : A new addition to our line of creams, Grin And Gerbera It is a warm deep pink leaning color that has a kiss of red to it. This shade will work well in any season. 1-2 coats recommended. I didn't try this shade, but it sounds so pretty! I love pinks. So, I might have to try this one, soon!
Poppy Kisses: A bright, orange toned red, this linear holographic polish brings to mind that famous poppy-filled field. Technicolor has nothing on this bright polish. 2 coat recommended. This is my quintessential Fall/October color! I am not normally a fan of orange polish, however this one has just enough red in it to make it super wearable and just is all-around pretty!
Turning Pointe: A new addition to our Mega Flame line, this soft peachy pink color brings to mind ballet slippers and tutus. This girly polish is sure to be a favorite with its super holographic sparkle and delicate color. 2 coat recommended. I didn't get a chance to try this one either, but I would love to!
Tiers of Joy: Wedding season may traditionally be spring, but wedding cake is good all year round. A soft cake batter color base is filled with pops of gold holographic glitters and pink glitters, while nutmeg and micro holographic glitter adds a hint of spice. 2-3 coats recommended. This is such a pretty and unique shade! While it is certainly year-round wearable, it is particularly nice for fall. Love the little pops of gold glitter in this off-white polish. Love wearing this one!
Sage It Ain't So: A soft sage green, this earthy polish is filled with copper, lavender and silver glitter. A sprinkling of holo dust adds subtle depth. 2-3 coats recommended. Talk about unique! I honestly do not have any other polishes quite like this one in my vast polish collection. Very nice for Fall and so super unique.
Flake Me Home Tonight: This minty metallic polish is loaded with silver flakes and holographic sparkle. If you loved our birthstone collection, this is a must have! 2-3 coats recommended. I didn't try this one but it sounds super pretty!
Little Boy Hue: This soft "baby" blue was inspired by the 2016 Pantone color of the year Serenity. The creamy pastel blue is the perfect transition shade for fall, with its calming feel and 2 coat coverage. Such a pretty shade! I am reaching for this one frequently for both tips and toes.
The Best Mum Ever: This deepened lavender color polish is loaded with a pinky red micro flakie that adds a fun dimension to this mum inspired polish. Best in 2-3 coats. This is hands-down one of my favorites in this collection. Such a pretty lavendar color and the micro flakes make it extra special and pretty!
Orchidding Me?: Orchids come in a wide mix of colors, from pale whites to deep purples. Inspired by the orchids of Christy's mother, this polish has a warm purple base that leans fuchsia, amped up with some linear holographic pigment for a fantastic rainbow flame. With 1-2 coat coverage, this is a must-have floral polish. As the weather turns colder, I know that this one is a polish I will reach for throughout the colder winter months. It is so deep and exotic. Love it!!!
Oh My Ganache: We hate to admit it, but chocolate cake is our weakness! Moist, deep and dark, there is nothing that can make chocolate cake better, unless it is ganache! Inspired by that rich chocolate glaze, Oh My Ganache is a rich chocolate-colored linear holographic polish. 2-3 coats recommended. A chocolate holographic color, what a stand-out in this collection. This one will be perfect for cold Fall and Winter tips and toes.
Fright This Way: Fright This Way is a Halloween inspired polish with a deep black base and a scattering of holo dust and loads of purple glitter. At certain angles this polish looks plain black, but when the light catches the glitter, the purple pops! 2-3 coats recommended. Pair with the loose bat glitters we include with this polish! Black with purple screams Halloween. Adore this one! So cool!
If you are looking to amp up your polish for Fall, be sure to check out this gorgeous new collection from
KBShimmer
! So, so, pretty!!! :)
Affiliate Link