Press Sample
Affiliate Link
Blogger Ambassador
It is Lavender Season: Celebrate Lavender's Full Bloom with Luxury Products from L'Occitane:
Summer is in full swing. For us in Georgia, it means that the heat has reached its peak at almost 100 degrees every day. In France, the peak of Summer means it is Lavender season! France has beautiful rolling hills of Lavender in the South of France. From now through August, the gorgeous purple fields will be in full bloom. For those of us who will do pretty much anything to de-stress (like me!), this is our prime season!! What better time to self-indulge with some luxury Lavender bath products from L'Occtiane!
I had the opportunity to try out a few items from
L'Occitane's gorgeous Lavender range
. To find out more details about each of the items that I tried, please click "read more" below!
L'Occitane's Limited Edition Lavender Collection: Celebrate L'Occitane's 40th with these amazing products!
On the occasion of its 40th anniversary, L'OCCITANE celebrates Provence with this limited-edition collection based around its most iconic flower. The new design of the packaging is inspired by fields of lavender. When seen from the sky, they trace blue and violet diagonal lines across the high plateaus of Provence.
The essential oil used in these soaps is PDO* lavender essential oil from Haute-Provence. This quality label is awarded to essential oils from Haute-Provence, distilled using traditional methods from fine lavender that grows at an altitude of over 800 meters, within a specific geographic area.
NEW L'Occitane Lavender Rough-Cut Soaps:
I don't know what it is, but I just love the look and feel of artisinal style soaps. These soaps are gorgeously packaged in a set of 2 soaps. The soaps contain pieces of lavender flowers which help to gently exfoliate the skin. The soaps produce a rich and gorgeously scented lather. It is so decadent to bathe with these luxury soaps! Plus, the soothing lavender scent really lingers on your skin afterwards.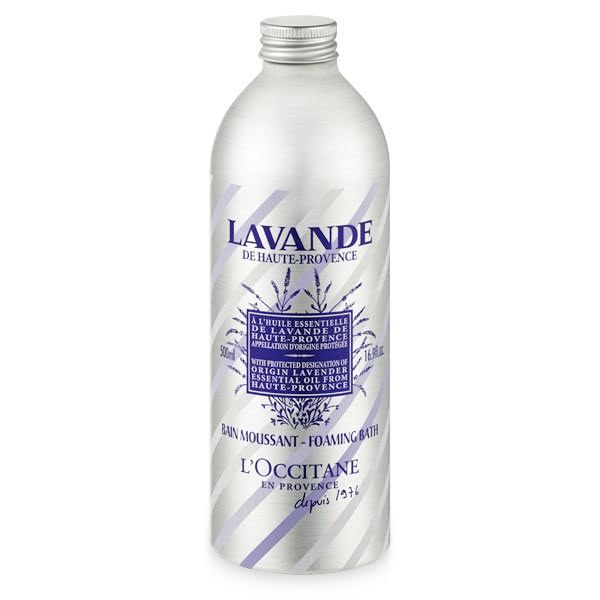 NEW L'Occitane Lavender Foaming Bath:
If you only get one thing from this collection, it has to be this Limited Edition Lavender Foaming Bath! There really is no better way to relax and unwind at the end of the day than a lavender scented luxury bubble bath! The brushed aluminum bottle is just gorgeous. It looks amazing in my bathroom. Plus, when I take a bath with this, the entire bathroom has an amazing lavender scent that lingers for hours. So soothing!
L'Occitane Lavender Relaxing Candle:
What better way to create atmosphere during a bath than with a candle? For me, I always like coordinating or matching my bath scents to my candles that I burn during bathtime. So, it thrills me to have this pretty Lavender Relaxing Candle from L'Occitane to complete my bath experience. It is prettily housed in a glass jar with a lid. The scent is lovely! This would really make a nice gift, too.
L'Occitane Lavender Perfumed Sachet:
Ooooh! This is just so fancy! I have not had a sachet in years. They remind me of my mother as she loves using pretty scented sachets in her drawers. So, somehow, by using this lovely sachet, I just feel more sophisticated and glamourous. I added it to my lingerie chest and it is just a treat every time I open the drawer where it is housed.
If you are looking to treat yourself, or if you are looking to create a pretty bath gift basket, you should certainly check out these lovely Lavender Season Limited Edition items from L'Occitane!
XOXO!!!
Affiliate Link