Sponsored Post
Affiliate Link
This shop has been compensated by Collective Bias, Inc. and its advertiser. All opinions are mine alone. #SpeakFreelyCarefree #CollectiveBias
As we all know, life is full of surprises! Some surprises in life certainly are wonderful. However, there are certainly others that are not so much enjoyed. My fellow women out there know what I mean...it can be hard to be a girl sometimes! We need to be prepared for emergencies and surprises as they will happen, it is just Murphy's Law. Nothing is worse then being caught unprepared when you have female needs. So, I try to avoid that situation at all costs. I strive to always be prepared because, yes, life certainly is full of surprises!
As a stay-at-home Mom of a toddler and a preschooler, my life is very busy. Most of the time I am taking care of everyone else's needs above my own. Kids schedules, family meals, keeping the home, and doing some part-time work are more than enough to keep me busy. I am always thinking and planning ahead for my family. The last thing in the world that I need clogging my brain is worrying about being unprepared for my period. I need to be prepared not only for my kids' needs, but also I need to plan ahead for my own basic needs!
I am going to speak freely: My period is irregular (since having my last child). My cycles are now very short and they sneak up on me! So, why be caught unprepared? Right? I have found that my best defense is just to wear a Carefree® Liner almost every day when I am even remotely nearing my cycle. They are super thin and comfortable. So, you honestly don't feel like you are even wearing a pad. This method has worked so well for me! Why be caught unprepared for life's emergencies when you can just be Free to be you™with Carefree® liners!
My Period Survival Kit:
My best tip for being prepared for life's little emergencies is to have an emergency kit! Every woman's handbag or diaper bag should have one of these. Sure, we need the supplies for the babies and kids, but we need our things, too. I honestly can step out of the house that much comfortably knowing that I am armed with the basics...especially my Period Survival Kit which contains my Carefree® liners and some other necessities.
Another great way to stay clear from life's little emergencies is to create a period survival kit! This is a simple little kit for your handbag that can make all the difference! If you carry this with you all of the time, you will always be prepared. It is that simple! My kit contains my favorite Carefree® liners as well as other essentials like Ibuprofen (nothing works better for me for cramping), some chocolate or chocolate covered raisins (the cravings are real, ya'll! Nothing beats chocolate for me during that time!), moist towlettes to help clean or freshen up, and small baggies for hygienic disposal).
My Period Survival Kit items:
Carefree® Acti-fresh® Thin
Carefree® Original Regular
A travel pack of Ibuprofen
Chocolate
Small bottle of water
moist towelettes
small baggies
Carefree® is a brand that I have used and trusted for years. There is no question that using Carefree® liners has simplified life for me and allowed me to avoid many little surprises! Here are my current favorites from Carefree®. I am sure you would love these items, too! Being prepared lets you be Free to be you™with Carefree® liners!
Carefree® Acti-fresh® Thin: The Carefree® Acti-fresh® Thin liners are a new addition to my period protection arsenal. These super absorbent thin liners have technology to lock wetness away which results in a super soft and comfortable cotton-like feel next to your skin. The Carefree® Acti-fresh® Thin liners do an awesome job at keeping you feeling fresh and comfortable all day. The Carefree® Acti-fresh® liners have a unique 8-hour odor control system that gives you freshness confidence all day long!
Carefree® Original Regular: I have used these Carefree® Original Regular liners for years! They are the classic Carefree® rectangular shaped liners with a soft cover and stay-put adhesive. These liners give trusted protection while also protecting against odors* (*select products contain baking soda).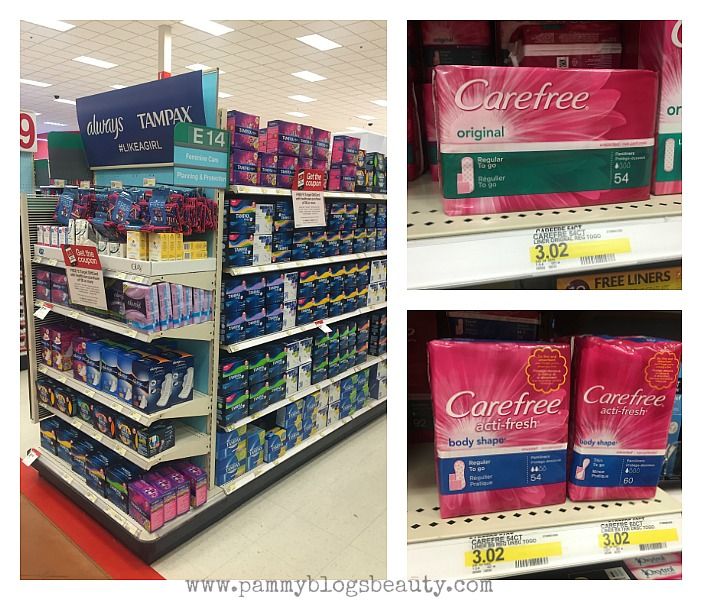 It was easy to pick up all the items that I needed for my Period Survival Kit while on a routine shopping trip at
my local Target store
. The Carefree® liners were conveniently located in the drugstore area of the store (adjacent to the pharmacy and across from the grocery aisles in the front of the store).
Target Cartwheel Offer:
10% off Carefree®
Are you ready to be prepared for life's emergencies? Be prepared with Carefree® liners! Shop
Carefree® liners at Target
with this special offer: Get 10% off Carefree® liners through August 7th!
As we all know, life is full of surprises! Why be caught unprepared for life's emergencies when you can just be Free to be you™with Carefree® liners!
Thanks so much for reading! :)
Affiliate Link