Affiliate Link
Press Sample
Get Glowing with Pixi's Glycolic-Infused "Glow" line expansions:
I have long been a fan of Pixi's cult-classic Glow Tonic. Well, exciting news: Pixi has expanded their Glow line to include a variety of exciting new products! Introducing
Pixi's new Glycolic-infused Glow Mud Cleanser, Glow Mud Mask, Glow Peel Pads, and Overnight Glow Serum
!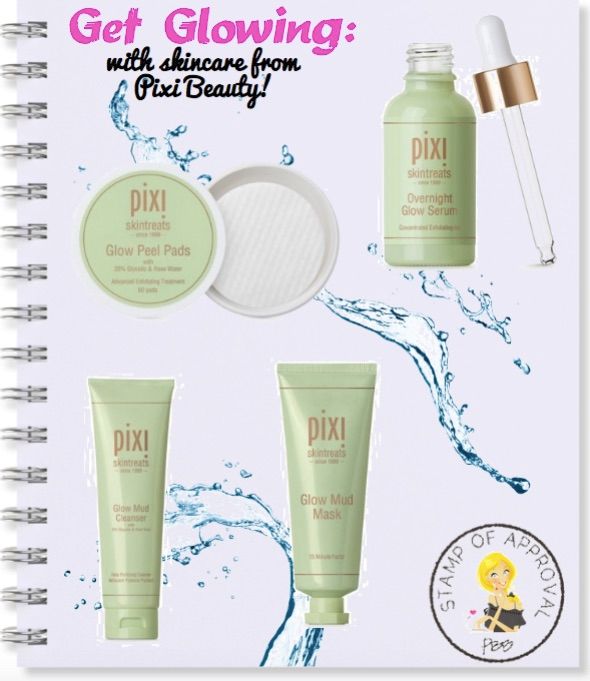 Glow Mud Cleanser:
This pore-purifying cleanser is a gentle exfoliant and cleanser in one. It is an excellent start to your skincare routine and it can give a "boost" to the other products in the Glow line by Pixi. It is actually quite gentle on my skin. It contains 5% Glycolic acid (to exfoliate), Mud (deep cleans and detoxifies pores), hyaluronic acid, aloe vera, and avacado (to plump and nourish your skin). Retails for $24.
Glow Peel Pads:
I am kinda obsessed with peel pads. They are one of my biggest skincare "secrets" for clear skin! I like to use a peel pad about 2 times a week to resurface my skin and keep breakouts away. Whenever I explore a line, I always want to check out their peel pads right away! So, when I found out Pixi now had peel pads, I just had to try them!!! These peel pads contain Pixi's highest concentration of Glycolic acid. They are a powerhouse treatment that helps refine your pores and skin texture. Now, I do have sensitive skin. However, I can still use these with no problems. I just can only use them about 2 times a week. You do feel a slight tingle after you apply them. However, it is not that uncomfortable. To use, you simply swipe them on your face (after cleansing and patting dry) and leave on. After about 2 minutes, rinse off. I follow this with a heavy-duty moisturizer (and no treatment products). These Glow Peel pads give me the most deep-down clean feeling. I just LOVE these!!!
Glow Mud Mask:
I adore skincare masks. I honestly look forward to my home "spa" nights. I try to do a mask at least 1-2 times a week to keep my skin clear and refreshed. This 15-minute facial absorbs oil, draws out impurities, and fights breakouts. The mask contains kaolin and sea salt (to purify skin) and ginseng and aloe vera (to balance skin). I apply after cleansing and leave on 15 minutes. Then I rinse off with tepid water. My skin is left so soft and baby smooth after I use this! I feel that consistent use has helped keep breakouts at bay.
Overnight Glow Serum:
This Overnight Glow Serum works while you sleep! I just love the idea of applying something before bed that will do the work for you overnight. This soothing serum works to smooth fine lines and texure to leave you with smooth glowing skin. This serum contains 10% Glycolic acid, Vitamin A, Cucumber, and Aloe Vera.
I am really loving the
Glow line from Pixi
! There are so many options for adding Glycolic Acid into your skincare routine. The trick for me is that I can't use all of these products at the same time (that would be too much for my sensitive skin). However, I can pick and choose the items that I am in the mood for or that will work for my skin on that particular day. So, a combination of the cleanser and the Peel Pads, etc. I am loving the results and feel that these products to keep my skin more clear and glowing!
Have you seen or tried these products yet? I would love to hear your thoughts!
Affiliate Link
@pixibeauty