Affiliate Link
/Press Sample
Back-to-School and Early Fall Looks from JustFab!
Fall brings Back-to-School time and cooler weather...what better time to update your wardrobe with some super affordable pieces! When I am looking for trendy items on a budget, JustFab is one of my go-to online shops.
What is JustFab?
JustFab
has long been my go-to site for affordable and trendy shoes, handbags, and accessories. If you haven't been on JustFab.com lately, they also have a full line of clothing now, too. Yes, that is right, you can now shop from head-to-toe from JustFab for complete looks. You can browse items individually on the site or shop the looks to get everything you need to complete your outfit. Personally, I have always loved shopping outfits! It is just so easy that way to make sure that you have everything you need and don't end up with individual items that don't go with anything you have already. Shoes and Handbags start at $39.95 and clothing starts at $9.95. When you join as a VIP you get the option to purchase items monthly from a personal boutique created with your style in mind, or can skip the month if you don't feel like spending.
For my most recent wardrobe update from
JustFab
, I opted for 3 basics: a black handbag, a pair of jeans, and some ankle boots. To find out more details and to see more photos of each item, please click "read more" below!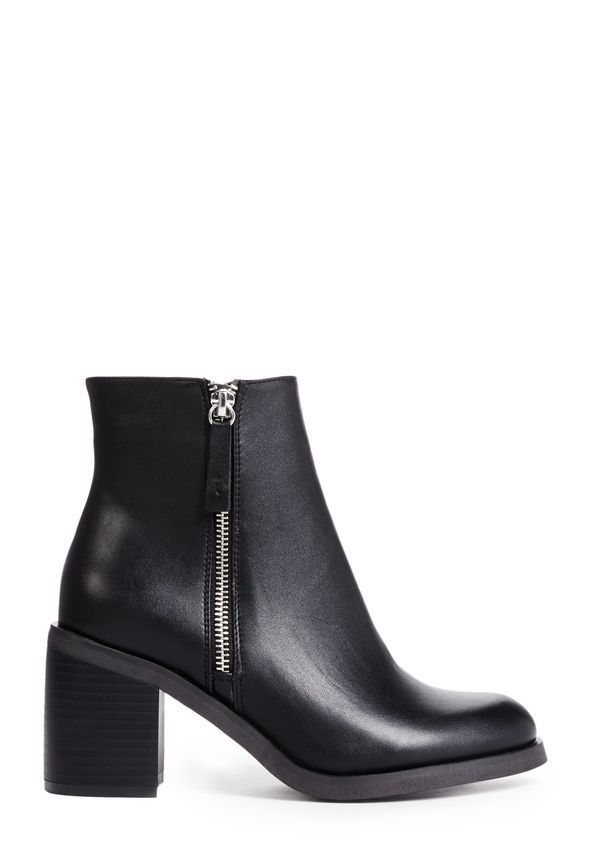 The Northa Boot:
I am slowly making the transition to Fall boots. The weather does stay warm for a long time here in GA for the Fall. However, it has really just recently started to get a bit cold in the mornings and evenings. So, I have started rotating boots into my Fashion looks. The Northa Boot by JustFab is a great basic for Fall! They are the quintessential boot for jeans. They feature zippers on both sides and a small heel (about 2 1/2-3 inches). They do run a bit big. So, if you are on the fence with your size, I would order down. If you like fun chunky boots to wear with your jeans, these are a great option!
The Allen Handbag:
I am pretty much in love with my new Allen Handbag. It is the perfect go-to bag for Fall. As a busy Mom of a preschooler and a toddler, I need a huge purse that I can stuff with my things as well as sippys, snacks, diapers, and toys. This bag fits all of that and more stylishly! I keep getting compliments on it as well. So, I love that, too! :) The Allen handbag is a classic black tote with 2 inside pockets, one exterior pocket, zipper detailing, faux leather, and a 9" drop for the handles. When the bag is fully stuffed, it stands up perfectly and still closes well. The faux leather is soft and supple and really does look like real leather. I am pretty amazed at how much stuff I can cram into this awesome bag! I feel like a chic Mommy when I carry it! Love this bag. It is going to be my go-to bag of the season.
The Baby Boot Jeans:
If you have not tried JustFab jeans yet, you seriously need to! The quality and fit are just so good! This pair of Baby Boot Cut jeans might just be my new favorite pair for everyday wear. So, what is a "baby boot cut"? Basically, there is just a very ever-so-slight flare to the bottom of the leg...a "baby boot cut". They are slim fitting through the leg and have a medium rise. The quality, thickness, and softness of the jean material are amazing. So super comfortable to wear! Now, I am 5'6". However, my height is all in my torso and I have rather short legs. So, I did have to have these jeans altered a bit (I got about 2 1/2 inches taken off of the bottom. The inseam of the jeans is 33"). So, I did "lose" a bit of the flare in the altering. However, I am still loving these! I frequently do have to get jeans altered to fit. I got the shade "mystical blue" which is a classic medium-light denim wash. These jeans are awesome: super soft and very flattering!
Are you a JustFab member? What are you loving lately from JustFab? I want to order more handbags and would love your recommendations! I would also love to know what boots you are loving for Fall!

As always, thanks for reading!
xoxo


Affiliate Link