Affiliate Link
Press Sample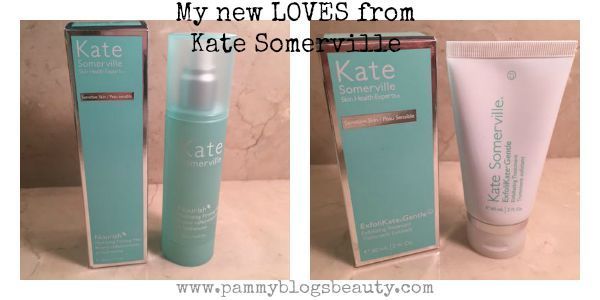 It is time for an update in my "My Skin Loves" blog series! Now, you all may know that finding great skincare is one of the driving forces behind my blog. I am on an absolute quest to find the best skincare out there for my skin type and specific skincare concerns. I think that good skincare is the foundation of a great beauty routine. I have found that there are just certain brands that work for my skin. Kate Somerville is certainly amongst my Top 5 Skincare Brands. So, I am always excited to explore the line and try out new products!
My Skin:
Before diving into my review, lets talk a bit more about my skin type and skincare concerns. My skin is "classic combo" skin in that it is normal to dry in the Winter and normal-oily in the Summer. My t-zone area is where I get a bit of oil and I occasionally get a breakout or two around my chin or nose. I am in my early 40s. So, preventing aging is a primary concern. I am lucky in that I have no major signs of aging yet. Just some fine lines around my eyes and mouth area (more pronounced when my skin is dehydrated). My skin is also quite sensitive. So, I need to be super careful with aggressive anti-aging formulas, chemical sunscreens, highly scented products, and abrasive ingredients.
For this review, I tried out
Kate Somerville's Nourish Hydrating Firming Mist
and
ExfoliKate Gentle
. to find out more about how I liked these products and how they worked for my skin, please click "read more" below!
Kate Somerville Nourish Hydrating Firming Mist:
When it comes to categories of skincare products, hydrating mists are at the top of my list of skincare loves. Using a hydrating mist or toner after washing my face is one of my integral parts of my skincare routine. It is a step that I never skip and really enjoy doing! So, I love trying out new hydrating mists and this one from Kate Somerville is so good!
This mist was designed to instantly refresh and hydrate your skin. It is a weightless hydrating spray formulated with anti-aging ingredients and botanicals.
Key Ingredients:
Matrixyl 3000: which is clinically proven to lift and firm skin while reducing the appearance of lines and wrinkles
Extracts of beet root, algae, ginger and green tea: extracts combine to hydrate, nourish, tone and firm skin
montmorillonite clay: helps detoxify and refine pores
Hints of aromatic lavender and orange essential oils: helps you relax and de-stress
How I Use:
I use this mist after cleansing my face in the mornings and evenings. I just spray a little bit onto my hands/fingertips (3 sprays) and then pat it onto my face. You can also spray it directly on your face while closing your eyes. I like to spray it like this for mid-day refreshing (3 sprays).
I do, indeed, find this spray very refreshing to use! I like how it lightly hydrates my skin and just leaves my skin feeling more comfortable and refreshed. I must mention that this product does have a lavender scent (which, honestly, is not my favorite scent in the world). So, just keep this in mine. While I am not in love with the lavender scent, I still really do enjoy using this product. I just think I would prefer it even more if it was unscented or had a different scent.
ExfoliKate® Gentle Exfoliating Treatment:
If you only try one item from Kate Somerville skincare, it must be an ExfoliKate® product! I have used the classic ExfoliKate® in the past and really have loved it. So, I thought it was time to try out the gentler version of ExfoliKate®: ExfoliKate® Gentle Exfoliating Treatment!
ExfoliKate® Gentle Exfoliating Treatment is a dual-action treatment that exfolicates your skin mechanically while also using enzymes and lactic acid to chemically exfolicate your skin.
Key Ingredients:
Retinyl palmitate (vitamins A, C and E): Purest form of vitamin A, strong antioxidant, regulates cell turnover
Papaya and pumpkin enzymes: Natural potent enzymes dissolve cells with no irritating friction
Pineapple enzyme: Potent enzyme accelerates the exfoliation process, acts as an anti-inflammatory
Aloe extract: Healing agent
Sage oil: Anti-inflammatory
Lactic acid: Skin softener and natural exfoliant
Micro-beads: lift dead skin cells gently from surface. - Stimulates circulation and increases oxygen flow, immediately promoting younger-looking skin.
How I Use:
I use the ExfoliKate® Gentle Exfoliating Treatment 2x times a week after cleansing my skin. You simply apply a very thin layer of the product to your skin that is still wet after cleansing. Very gently massage the product on your face for about 1 minute. I feel a gentle tingle on my skin when I use this (but that is okay and to be expected).
My skin is so super soft after using this treatment! I feel like consistent use of this product keeps my skin clear and has diminished the appearance of my fine lines. I like that I can get an anti-aging treatment within this product without it irritating my skin. So, which do I like better? The classic ExfoliKate® or the ExfoliKate® Gentle Exfoliating Treatment? Honestly, I like them the same, lol! The difference? Since the ExfoliKate® Gentle Exfoliating Treatment is more gentle, I can use it more frequently (2 times a week) where I can only use the classic ExfoliKate® 1x per week. I highly recommmend both products!
Are you a Kate Somerville fan, too? I would love to hear about what products you enjoy using from the line. I would love to explore the line further and need some recommendations! :) As always, thanks for reading!
Affiliate Link