Affiliate Link
Press Sample
Summer Makeup: Fresh, Easy, and Pretty!
When it comes to my Summer Makeup looks, I really want to keep it simple. Summer is a time for easy and non-fussy looks. Days are spent with kids activities and lots of outdoor time. Even evenings out are casual. So, who wants fussy makeup? Not me! I want a fresh and pretty "no makeup" makeup look. I want to look effortless and honestly...I don't want to put a lot of effort into it anyways! So, I mostly stick with concealing the dark circles, a touch of lightweight foundation, liquid lipstick/gloss, a little mascara, and maybe a touch of blush.
These items from Mally Beauty are great additions to your makeup collection for and effortless and pretty look: Mally Beauty High-Shine Liquid Lipstick Pens and Mally Beauty Poreless Perfection Foundation.
Mally Beauty High-Shine Liquid Lipstick Pens
:
Your lip primer, lipstick, lip gloss and lip liner are all included in one formula. Leave your lips feeling smooth and creamy all day in a shimmering pool of color. This 4-in-1 product will give you the perfect pout effortlessly ($20, MallyBeauty.com).
I really love the formula of these lipstick pens. While they are called a liquid lipstick, they really are more of an opaque lipgloss (with nice pigmentation). They are hydrating while also giving great color and shine. The formula is thick without being sticky and the shade assortment is beautiful! I am not a huge fan of fruity scented/flavored glosses, but the fruit scent is somewhat subtle with these. I have a variety of shades: Orchid (the darkest shade in the assortment, a cool-toned, almost purple-y medium pink), Starburst (nude light pink with iridescent microglitter), Perfois Peach (shimmery pale peach), Must Have Pink (cool slightly shimmery soft pink), and Nude Light (light peachy pink nude cream).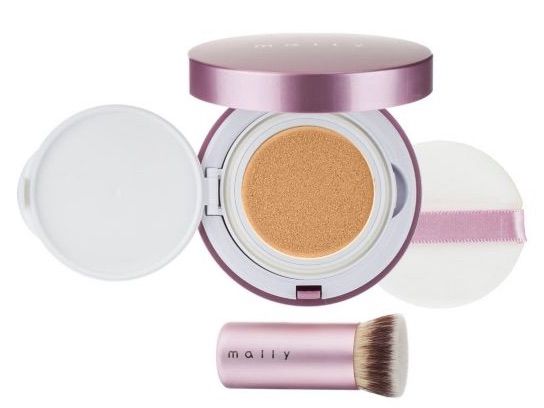 Mally Beauty Poreless Perfection Fluid Foundation with Brush
:
This all-in-one foundation, finisher and concealer makes your makeup routine efficient and reliable. Give yourself smooth, silky skin that with a foundation that will stay on throughout the day ($45, MallyBeauty.com).
I use this in the shade Fair. When I first saw the shade, I thought it looked way too dark. However, when you apply it, the shade really melted right into my skin tone. It is just ever-so-slightly too dark. However, I can make it workable with a light application and powder. I absolutely love how light this feels on your skin! It looks so incredibly natural and light that it almost feels like you are wearing nothing. It gives lovely sheer coverage. The packaging allows for a really great and unique application. It is a liquid housed in a compact with a sponge overlay over the product. You simply touch the sponge applicator to the spongy overlay and then tap/press it onto your skin. It transfers such a light layer of foundation and allows for such a natural-looking application. I adore it! You can also swirl the brush over the product and apply that way. For more coverage, simply go over those areas again with the sponge or brush.
Affiliate Link