Blogger Ambassador
Affiliate Link
Press Sample
Scentbird
: Monthly Envelope Opening and First Impressions!
As we all know, beauty Sample Subscriptions have really exploded! I subscribe to quite a few "beauty box" programs and will fully admit to being a complete beauty sample subscription addict, lol. However, Scentbird really does offer something unique and different...a monthly service for perfume!
I do adore perfume and love trying new ones. However, perfume really is expensive and a bottle lasts a long time. Lets face it...buying a bottle of perfume is a commitment. Well,
Scentbird
has found a genius way for fragrance-lovers to really try a scent: 8 ml. purse-size vials filled with 100% authentic designer perfume that fit into a travel-friendly case. These vials are sent out monthly and provide enough perfume to keep you scented all month long! After using Scentbird for a few months, I can tell you that they do send just exactly enough fragrance to get you through a month.
Do you know what else I love about Scentbird? I have discovered a few fragrances that have become top favorites that I might have never purchased otherwise! After wearing a few of my Scentbird fragrances day-after-day, I grew to love them! I feel that I have added a few bottles of fragrance to my arsenal that will be long-term favorites and signature scents of mine. You see, with Scentbird, you get to really give a fragrance a long-term test. Then, if you love it at the end of your month-supply vial, you can make a great decision regarding if you want to purchase a full size!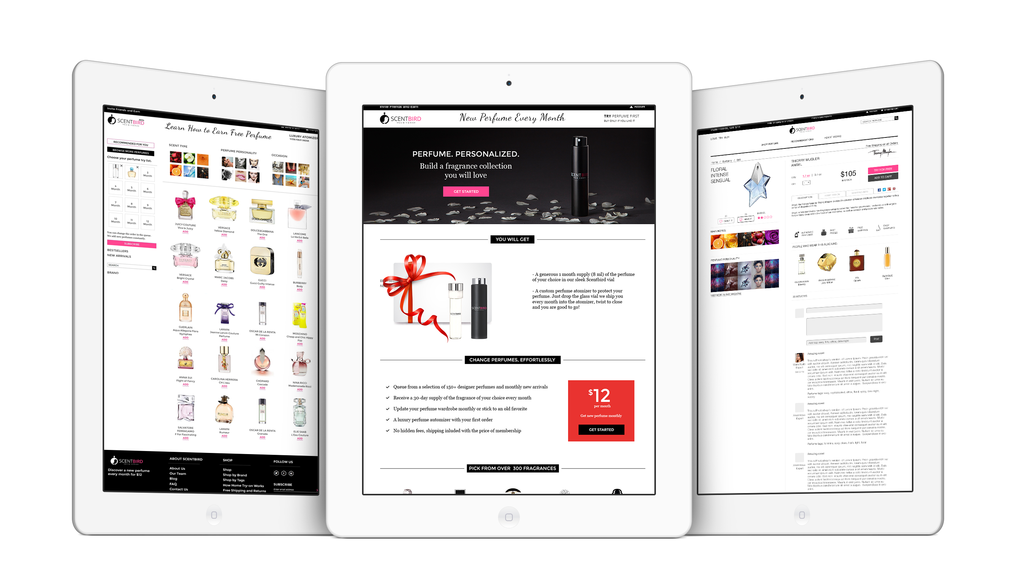 The Scoop:
Just $14.95 a month gets you a 30-day supply of a designer perfume of your choice right to your door. Choose from 300+ top brands. The selection really is amazing! They have many scents that I have had my eye on for quite some time!
The perfume you select comes in a sleek purse-size spray that is super portable. Each month you just swap out the old scent and pop the new one into your Scentbird purse spray container.
Getting Started with Scentbird
: How does it work
Go to www.scentbird.com and answer a few quick questions.

Scentbird

gets to know your scent preferences in minutes. You can search for something in particular that you have been wanting to try...or you can go with their monthly featured selection.

Set up a "Perfume Calender". Think of this like your trusty "Netflix queue. You can add favorites here if you like to be consistant or switch it up by adding new fragrances each month (Scentbird is always adding new scents!).

$14.95 gets you a monthly purse spray. You get a complimentary perfume case with your first order.

Drop purse spray into the case, twist and it's ready to go.

Shipping is free and you can cancel anytime!
Curious to find out what scent I got from Scentbird this month? To hear that info, please click "read more" below!
Scentbird: May Envelope Opening:
This month's selection: Marc Jacobs Honey
If you are looking for a light and fun girlie scent for Summer, you must check out honey! I must say, it is not exactly what I expected...it does not smell at all like honey to me. It is actually a very light and fresh fruity scent. This is exactly the type of scent that I like for everyday wear in the hot Georgia Summer! It has notes of green pear, fruit punch, and juicy mandarin with a heart of orange blossom, honeysuckle, and peach. It dries down to a warmer base of vanilla with just a hint of honey.
This is a beautiful and complex scent that is also fresh and fun to wear! I fall in love with it more each time I sniff it! I think I am going to have to buy a full size bottle of this one! It has been my go-to for everyday wear. Plus, can we just take a moment to talk about how cute, whimsical, and fun the bottle is! So cute!!!
What scent are you loving for Summer? Have you smelled Marc Jacobs Honey? What are your thoughts on the other Marc Jacobs scents? This is my first time wearing one! :)
Affiliate Link