Affiliate Link
Press Sample
Are you ready for Summer? With the end of school and Summer activities starting, Summer is already in full swing at our house! ;)
Let me tell ya'll, in GA, the heat and humidity really give my makeup a workout. If I am not careful with my selection of products and application, my makeup will melt right off from the heat and humidity. I need highly pigmented, long-wearing, and even waterproof formulas to truly stand up to the heat! Enter
tarte's Summer collection: Poppy Picnic
! Tarte is known for their incredibly pigmented long-wearing formulas. So, I was super excited to dive into this beautiful collection of products!

From the
Poppy Picnic Summer Collection from tarte
, I tried out the Poppy Princess Palette, the LipSurgence Lip Cremes in Serene and Wonder, and the Lights, Cameras, Lashes Precision Longwear Eyeliner in Brown. To find out more details about all of these products, please click "read more" below!
The Poppy Picnic Summer Collection from tarte
:
What a gorgeous collection! Let's dive right in...
The Poppy Princess Palette
:
O.M.G.!!! I adore this palette! First of all, lets admire this gorgeous packaging. I love the luxury of the gold sleek case with the pretty floral/poppy design. Also, I love how slim the palette is! Plenty of product inside without any un-needed/bulky packaging. It is a great palette for travel!
Inside the palette, there are 6 lovely matte neutral shadows and a gorgeous peachy pink shimmery blush. All of these shades are universally flattering and can be worn by pretty much all skin tones. The shadows on the left (Summer Breeze: vanilla, Sweet Tea: medium brown, and Ice Cream Cone: dark brown) are cool toned and the shadows on the right (Barefoot in the Grass: warm vanilla, Peach Poppy: peach, and Picnic Basket: dark brown) are warm toned. I tend to gravitate more towards the left hand side cool-toned shadows but I can wear both since my coloring is somewhat neutral (and I am a huge fan of peach eye shadows with my blue eyes!).
The blush is the standout product for me in this palette. The shade is Glisten. Peach pink blushes are my go-to favorites. They are just so flattering and certainly a Summery blush! This blush is shimmery. So, if you like shimmery blushes, then this one is for you. I absolutely adore it!
What a pretty palette! I am reaching for it all the time these days! :) The shadows are buttery and pigmented and the blush has incredible long wear. Total hits!
Lights, Cameras, Lashes Precision Longwear Eyeliner
:
This eyeliner is so easy to work with! Longwear eyeliner is a total must in the Summer. My eyes are always the first area of my makeup to smear or smudge. So, I really need budge-proof wear here. This liner wears all day with no problem. It is a felt-tip pen liner. The tip gives a very fine line. I love that! The brown shade is very wearable for me with my light coloring (black often is too harsh for me to wear as a liner). Love, love, love this one!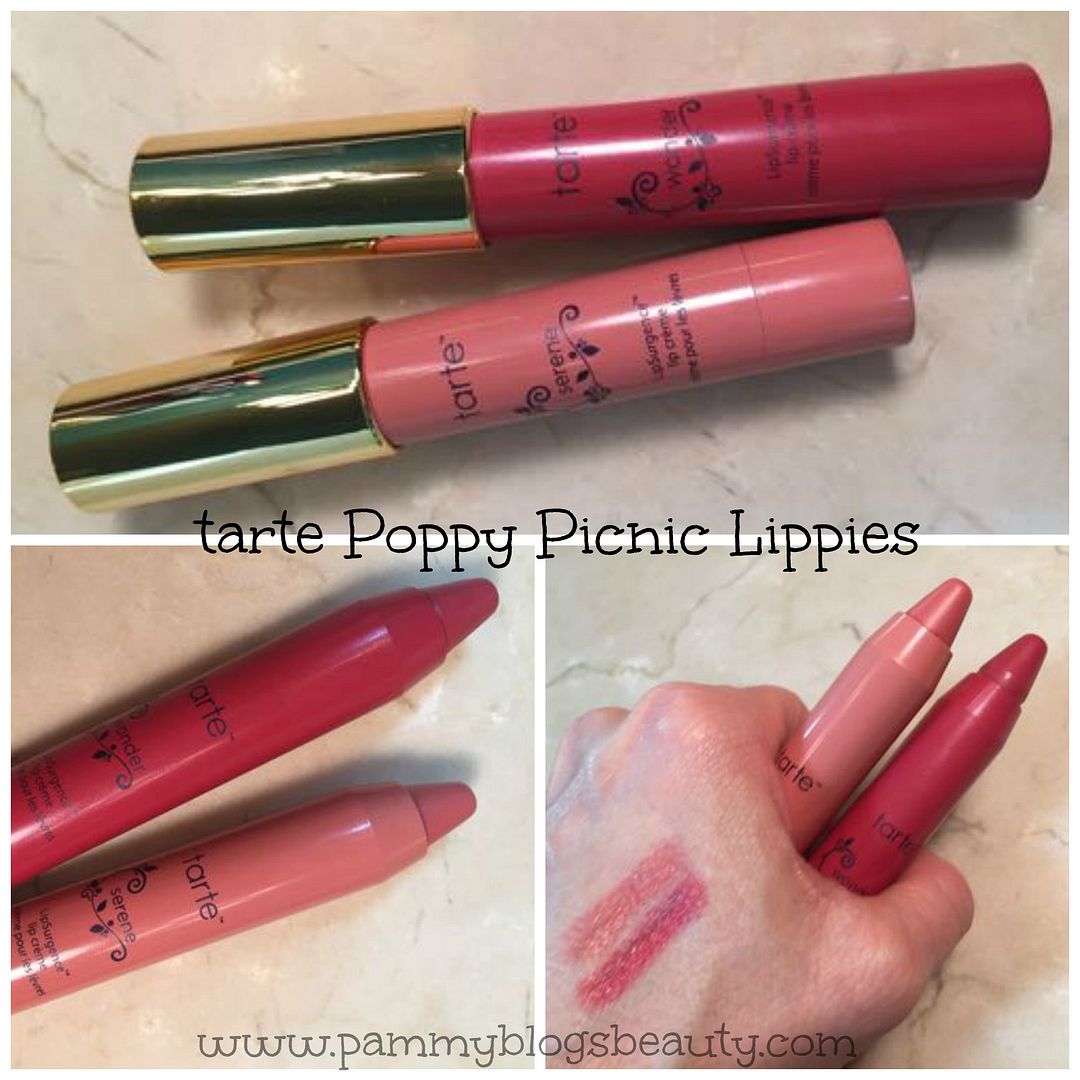 Lipsurgence Lip Cremes
:
Lipsurgence Lip Cremes give gorgeous and highly saturated color with the incredible long wear of a lipstain while also being creamy and glossy. The shade Wonder is a gorgeous Poppy color (a peach/orange/red) and Serene is an Apricot Pink shade. I tend to reach for Serene more, but really like both shades.
Not only is the color beautiful, but also these lippies have great ingredients for your lips like maracuja, jojoba seed oil, shea butter and vitamin E. Also, I love the minty scent/taste. These are really great!
Affiliate Link