Affiliate Link
Press Sample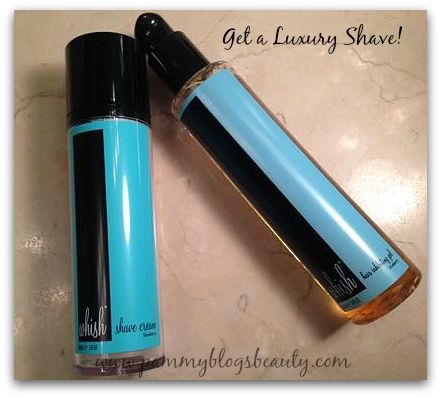 I will fully admit, shaving is a chore. It is really my least-favorite part of my shower routine. Perhaps it is because I have to do it every single day. Yes, that is the case for me. I know that many women can skip days. However, I have way to much hair to do so. Plus, years ago my dermatologist recommended daily shaving for me as a way to avoid the ingrown hairs that I was getting on my legs.
Now, I certainly do have my everyday favorite shaving products. I go through shaving cream pretty fast with daily shaving. However, when I heard of this shave cream and
shave gel from Whish
, I was excited to try...luxury shaving products? This is exactly what I need to turn shaving from a chore to a treat for my legs! ;)
I actually do remember trying a small sample of Whish's Shave cream from my Birchbox subscription (or was it another beauty box?). So, I already knew I was in for a treat!
This cream is everything you've ever Whished for in your shave! The Whish Shave Crave Shaving Cream's revolutionary formula was created with the power of a men's shaving cream, but without the harsh chemicals or drying foam to perfect and polish a woman's delicate skin. Lather on this rich and tasty moisturizing cream for a close shave that will leave your skin soft, smooth and pampered.
Wow! I am not kidding when I say that this is a luxury treat for your legs! This cream is very thick and rich. The texture reminds me of a whipped body butter. The scent is a decadent sweet strawberries and cream fragrance. I get an extremely smooth and comfortable shave when I use this. I would say that the only downside is that I used this product up very quickly (as I do with all shaving creams). I am absolutely obsessed with the lovely scent! Retails for $20.
Apply this never sticky or tacky formula that glides on like a smooth gel and quickly evaporates as you rub it in, leaving behind a silky, completely dry finish. Don't forget the amazing all natural hair inhibiting formula!
You smooth this gel on post-shave for nice gel-based moisture. I like the feel of this product. Did I have a decrease in hair? Perhaps? I didn't notice anything drastic since I already shave everyday. However, I will really try anything that promises to diminish hair. Even if it helps regrowth just a little bit. Retails for $26.00.
If you are in the mood for a great shave with some decadent products, be sure to scope out this Whish shaving line next time you are at Ulta! :) They have more than just Shave Cream and Hair Inhibiting Gel! The line includes body scrubs, body butters, body oils, and more. I would really like to explore the line further myself!!! I would especially love to try the Almond, Coconut, and Pomegranate scents. They sound divine!
Affiliate Link